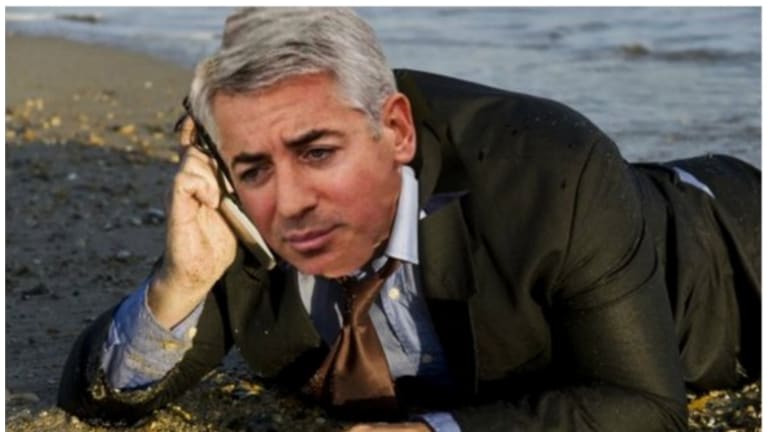 Love Wins
Bill Ackman is living proof.
Skepticism of the Ackmanaissance is certainly understandable. Could a man who had well and truly bottomed out really pick himself up and reinvent himself with the power of love and some half-century old advice from Warren Buffett? Could he really avoid the sort of disastrous investments that he'd been helplessly lured in by in the past? Could he make a major life sciences investment without losing everything? Was it real? Or was it all just a blip, a one-year stretch of good luck before Ackman descended back into the depths of despair and Ackmania?
Well, baby, like true love, the Ackmanaissance is real, and it's spectacular.
His publicly-traded hedge fund firm ended the year up 58.1%, massively outperforming the broader market and the average hedge fund.
Meanwhile, his old buddy David Einhorn also seems to be getting over his divorce, posting a (by hedge fund standards) strong year in spite of a late recurrence of his own case of Ackmania.
David Einhorn's Greenlight Capital fell 0.3% across its hedge funds in December, trimming returns for 2019 to 13.8%.... Despite the down month, Einhorn rebounded from his worst year ever in 2018, when his main fund sank 34%.
Speaking of getting over divorces, it took Chris Hohn of the (Not So Much For) Children (Anymore)'s Investment Fund six years to recover from his, but he's done so in a nearly Ackmanesque way.
The activist hedge fund surged 40.6 percent last year, according to a person with knowledge of the performance…. This is TCI's best year since 2013, when it produced gains in the mid-to-upper-40 percent range, depending on the share class, according to a TCI document obtained earlier.
Hedge fund manager Bill Ackman delivers 58.1% return for investors in 2019 [Yahoo! Finance]
Einhorn's Greenlight Gains 14% for Year After Dip in December [Bloomberg]
TCI Posts Best Gains Since 2013 [II]