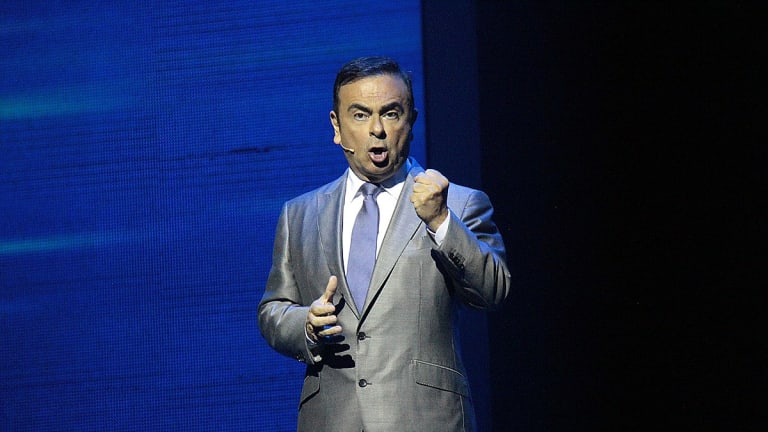 Carlos Ghosn: Music Lover
They'll be writing folk epics about the man in Lebanon for generations.
Once upon a time, the Japanese were exceptionally good at keeping foreigners out. Now, they're having a hard time keeping them in.
Carlos Ghosn, the deposed chief of the Nissan and Renault auto empire facing charges of financial wrongdoing, had fled to Lebanon, and no one in Japan — not the authorities, the media or even the auto executive's own lawyer — could explain how it had happened.
Well, the Japanese might not be able to explain it, but an old friend certainly can.
In a bizarre scheme allegedly orchestrated by his wife in the US, a group of ex-special forces soldiers posing as musicians specializing in a Gregorian band and toting music equipment strolled past Japanese security guards and entered the pad, according to the Lebanese news channel MTV.

Ghosn, who stands at just under 5-foot-6, climbed into "one of the boxes intended for the transfer of musical instruments,'' the news station said — possibly a roughly 6-foot-tall double-base case.
Despite the "around the clock" security supposedly keeping Ghosn in his luxurious central Tokyo apartment, no one decided to check in after the concert, or for several turns of the hour hand around said clock, by which time Ghosn had made it all the way to Osaka on onto a private plane bound for Istanbul.
In Turkey, the authorities detained seven people suspected of helping Mr. Ghosn escape, according to news outlets there. He reportedly left Japan late Sunday aboard a business jet from Osaka to Istanbul Ataturk Airport, where he quickly switched to another plane and flew to Beirut.
Those folks, including four pilots, may now face justice, but Ghosn won't, even if he decides to leave his pink palace in Beirut.
"If Mr. Ghosn arrived in France, we would not extradite Mr. Ghosn because France never extradites its nationals," Agnès Pannier-Runacher, a junior economy minister, told the news channel BFM. "That's a rule of the game."
Trial citizenship really comes in handy, even if your passports are still at your lawyers' offices in Tokyo. But only if you can get out, which returns us to the question of how, one also being asked by some seriously red-faced Japanese authorities right now.
The former Nissan chairman escaped from Tokyo to Beirut with the help of private security operatives, who had been planning his flight for months…. A person close to the Ghosn family said that the private security operatives hired by Mr Ghosn had split into several teams operating in different countries. Preparations were assisted by Japanese supporters of Mr Ghosn, said two people familiar with the situation…. Mr Khoury added that Mr Ghosn had entered the country on a French passport and Lebanese ID.
On Twitter, Masahisa Sato, a member of the upper house of Japan's Parliament and a former top Foreign Ministry official, asked whether Mr. Ghosn "had the support of some country" in his departure.

"It's a huge problem that his illegal escape from Japan was allowed so easily," he wrote./A former governor of Tokyo, Yoichi Masuzoe, accused the Lebanese Embassy of helping to smuggle Mr. Ghosn out.
And things are liable to get worse for Japan and Ghosn's beleaguered legal team, who had no idea or inkling or any kind that their man would ever have countenanced such a base thing as making himself scarce ahead of a years-long trial whose outcome seemed assured, and not in his favor. Maybe letting him out on bail and permitting him to speak to his wife again was a mistake, after all.
"I want to ask him, 'How could you do this to us?'" Mr. Ghosn's lawyer in Tokyo, Junichiro Hironaka, told a crush of 40 reporters outside his office on Tuesday….

He released a statement assailing the "rigged Japanese justice system where guilt is presumed, discrimination is rampant, and basic human rights are denied."

In the statement, he said he was ready to tell his story to the media "starting next week." A public relations professional has been dispatched from the United States to Beirut to help organize a press conference, the person familiar with the matter said.
Carlos Ghosn's Escape: A Lawyer in Beirut, a French Passport and a Lot of Mystery [NYT]
Nissan honcho Carlos Ghosn fled Japan by hiding in musical instrument case [Thornton/N.Y. Post]
Lebanon asked for Carlos Ghosn's return a week before his escape [FT]
France Won't Extradite Carlos Ghosn if He Goes There, Official Says [NYT]