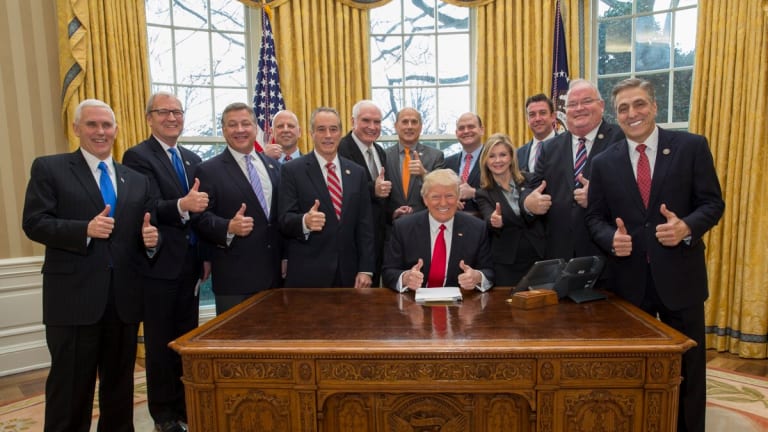 First Congressman To Endorse Trump Sentenced To Two-Plus Years For Other, Less Serious Crimes
What's insider trading compared to that stain on one's conscience?
Four years ago, Chris Collins became the first sitting member of Congress to endorse Donald Trump for president. Four years later, both have moved from New York to Florida and both have been accused of all manner of financial malfeasance. And that is where the similarities end, because while Trump is assured of acquittal in Mitch McConnell's evidence-free impeachment "trial," the very week that "trial" began Chris Collins got sent to prison.
A disgraced and highly emotional former New York congressman Chris Collins was sentenced Friday to 26 months in prison for an illegal stock tip that he gave his son from the White House lawn about a biopharmaceutical company's failed drug trial….

Collins must surrender to the Bureau of Prisons on March 17. His attorneys requested that Collins be sent to a federal prison camp in Pensacola…. Collins was also ordered to pay a $200,000 fine and one year supervised release.
That's not the only difference between the two men, apparently, for Collins is still apparently capable of both shame and need for other people.
"I left Buffalo, I went to Florida," Collins said. "I have not been back and I am leaving again tomorrow. I cannot face my constituents. What I have done has marked me for life…."

"It's awkward to the point I can't go home," said Collins, a four-term Republican lawmaker from Clarence who pleaded guilty to conspiracy to commit securities fraud and lying to the FBI. "At least where I am somewhere where no one knows me I'm not faced with that. It is awkward and it is not right for the other folks."
In the nearly three-hour hearing, he spoke for mere minutes and begged his wife and daughter for their support, asking them to please stay with him.
Ex-New York congressman Chris Collins sentenced to 26 months for insider-trading tip to son [CNBC]
Former Rep. Chris Collins, the first member of Congress to endorse Trump, sentenced to 26 months in prison in insider-trading case [CNN]
The judge's advice for Chris Collins? Go back to Buffalo [The Buffalo News]