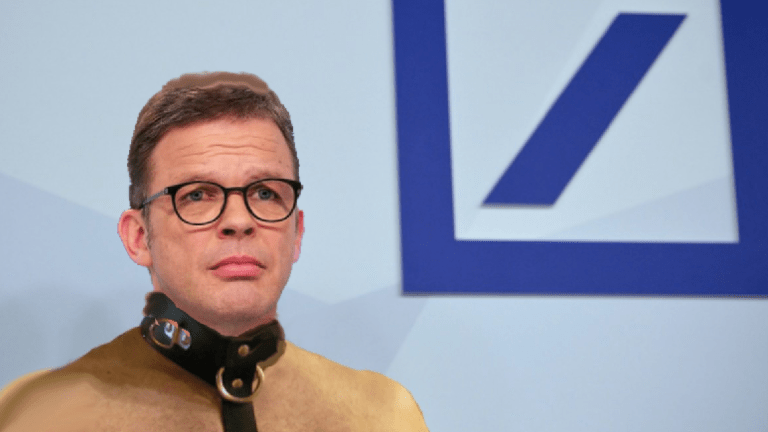 Becoming Not Deutsche Bank Is Very Expensive
Of course, remaining Deutsche Bank may be existentially more expensive.
That last year was a bad one for Deutsche Bank should come as no surprise. For one, it's Deutsche Bank. For another, the steady drumbeat of disaster emanating from the Taunusanlage should have been a clue: bad bank units, failed mergers, more money laundering, laying off 18,000 people, Jeffrey Epstein, more fines, less future, Donald Trump, attempted murder convictions, still more fines. If all of that wasn't sufficient, the fact that it lost more than €3 billion in the second quarter alone might have provided a clue as to how bad things would be. Still, as ever, Deutsche Bank exceeds expectations.
Deutsche Bank on Thursday posted a full-year net loss of 5.3 billion euros ($5.8 billion)….

Analysts had expected a 5.1 billion euro loss for the year, according to a Reuters poll, while the fourth-quarter net loss came in at 1.5 billion euros against expectations of 1 billion euros.
It seems that changing absolutely everything about yourself is exceptionally costly.
Deutsche Bank moved to shrink and reorganize its global investment bank and focus on serving European companies and retail-banking customers….

The costs associated with the revamp weighed heavily on its results last year, the lender said Thursday…. The bank indicated it is over the worst of its turnaround effort, saying 70% of the associated costs were taken in 2019. It is also getting rid of its unwanted assets faster than expected….
There's more good news: Not only was last year (incredibly) not Deutsche's worst-ever, but there's a glimmer of a hope that this year's might not even challenge for that title.
The bank's common equity tier 1 (CET1) ratio came in at 13.6%, unchanged from the fourth quarter of 2018 and up from 13.4% in the previous quarter… "Our revenues in the investment bank were up 22% year-on-year excluding specific items, which demonstrates that we also participated in the generally better conditions in the fourth quarter."
"With our strong capital position…we're very confident we can finance our transformation with our own resources and return to growth," Chief Executive Christian Sewing said.
Deutsche Bank posts net loss of 5.3 billion euros for 2019 amid major restructuring [CNBC]
Deutsche Bank Posts Big Loss as Overhaul Bites [WSJ]