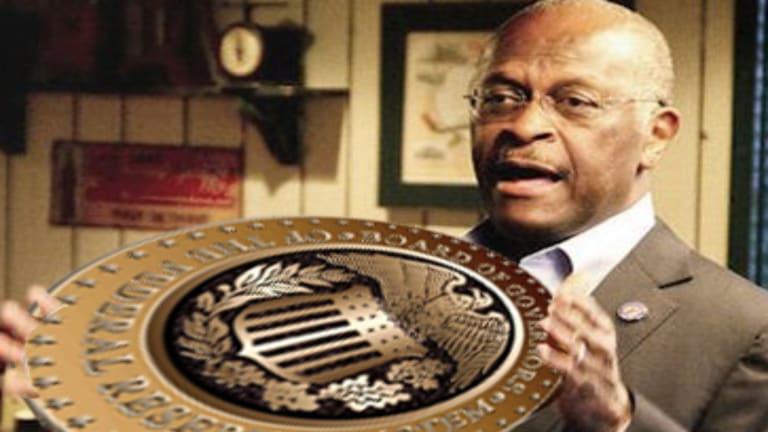 Even If Trump Had Gotten Herman Cain and Stephen Moore On The Fed It Wouldn't Matter
The deep state and finance capital strike again!
Much has been made of the composition of the Federal Open Market Committee. Much parsing will be done of last month's minutes to glean insights on future rate moves, and much will be made of the four new members of the panel who rotated on this year.
This appears to make sense: The members of said committee set interest rates, and with it the president's mood, and since there are 11 members of it at any time—nine at the moment given President Trump's inability to find anyone even remotely qualified by even the Republican Senate's low, low standards to fill the other two seats—small changes in its composition would seem enough to tip the balance. This, apparently, is wrong, excited as we are for Neel Kashkari to be relevant again.
A paper by Peter Conti-Brown, a financial historian and legal scholar at the University of Pennsylvania, says pay issues, the political landscape, power moves by regional Fed bank presidents and episodes of heavy-handed leadership by some Fed chairs have reduced the potency of governors.
Well, he teaches at Penn, so since we're obviously dealing with super-genius stuff here, let's hear more.
Regional Fed bank presidents are paid substantially more than any Fed governor…. Mr. Conti-Brown finds evidence the pay disparity has grown worse over the years and that comparatively weak compensation for governors has dissuaded some from holding that job…. "Even controlling for the dramatic increase in vacancies at the Board of Governors, there is a secular trend at the FOMC for Fed governors to participate much less and for presidents—including nonvoting presidents—to participate much more."
It gets worse for President Trump.
Episodes of heavy-handed leadership by some Fed chairs have reduced the potency of governors.
Hard to think of anything Jay Powell does as heavy handed (ham-fisted? Sure.), but that doesn't bode well for Trump getting what he wants out of the Fed even if he is able to find someone with the barest qualifications for the job who also says nice things about him.
Fed Governors' Influence at Central Bank Has Declined, Paper Says [WSJ]
Four New Voters to Join Fed's Rate-Setting Panel in 2020 Amid Broad Policy Agreement [WSJ]
Fed Minutes to Shed Light on Interest Rate Consensus [WSJ Pro]