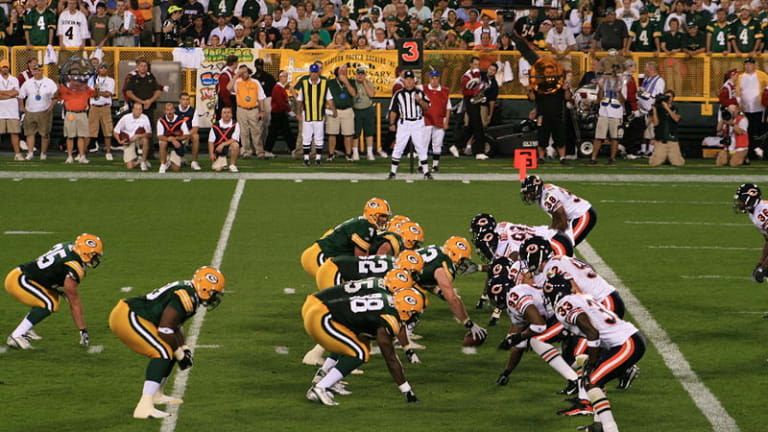 The Least Dangerous Dozen: A Modest Proposal For NFL Player Safety
Other than zero, what's the best number of football games to play?
Whether or not it was concussions that led Carolina Panthers linebacker Luke Kuechly to retire this month, it definitely was concern for his own health was behind the five-time All-Pro's decision to call it a career. His farewell video made that clear.
"There's only one way to play this game, since I was a little kid: it's to play fast and to play physical and to play strong," Kuechly said. "At this point, I don't know if I'm able to do that anymore. That's the part that's most difficult, is I still want to play but I don't think it's the right decision."
This was a 28-year-old player coming off a season in which he started all 16 games and made 144 tackles, fifth-most in the NFL and his highest total since leading the league with 153 in 2014. Kuechly was on the field for 96% of Carolina's defensive snaps this season, and even recorded a safety for the first time in his career.
Of course, it's the other kind of safety that is at the heart of Kuechly's retirement – the kind that remains an issue the NFL can't solve, because of the inherent danger of the sport. The league, though, might have a somewhat easier time dealing with that if it didn't insist on highlighting the issue itself.
"It's always odd when you hear player safety is (the NFL's) biggest concern," 49ers cornerback and NFLPA executive committee vice president Richard Sherman said this week. "They're really standing up for player safety, player safety, player safety, but it seems like player safety has a price tag.… [Owners] think that players have a price tag on their health, and I don't think we're in the same ballpark in that regard. Players have been more aware of player safety and longevity and just life after football. The league kinda pretends that they're interested in it, pretends that they care about it, makes all these rules, but then still proposes players to play an extra game. And not just 17 – they're really just saying 17 so that they can get to 18. And so that's two more opportunities for players to risk their bodies, to put their bodies on the line."
Kudos to Sherman for seeing straight through the NFL's ploy of proposing a 17-game schedule, as if an odd number of games, necessitating either unbalanced home-road schedules or neutral-site games for every team, would ever be a viable long-term plan. Recognizing that owners are far more concerned with their own wallets than with worker safety when there is never a problem in finding bodies to fill positions, well, we can all see that.
What Sherman said does raise an important question, however. If 18 games would be too much risk for players "to put their bodies on the line," and so would 17 games, then… why is 16 games okay? Kuechly played the full slate in five of his eight seasons, and only missed a total of 10 games over the course of the other three. Now he's out of the game for good, because continuing to play would be too dangerous for him.
So where's the line? Curly Lambeau didn't come walking out of the Wisconsin Dells with stone tablets proclaiming that the NFL must forever play 16 games – they've only been doing that since 1978. Before that, it was a 14-game schedule, itself a two-game bump instituted in 1961. The NFL played only 12 games a season for its first four decades in operation.
Would a dozen games, even if you could hypothetically get the NFL to shorten its season by 25%, make for a safer league? Only in the sense that there would be fewer annual collisions between enormous men at high rates of speed, but those collisions are the lifeblood of every football game. Cigarette companies could make all of their cigarettes 25% smaller, but they'd still be selling cigarettes. Can you vape a football? Maybe that's the solution here. (Or, you know, maybe not.)
Whatever the answer is, the NFL and the NFLPA are going to have to find it pretty soon, because their collective bargaining agreement expires after next season, and failing to reach a new one would result in the safest available option, albeit the one with the biggest business drawbacks: not playing NFL football at all.