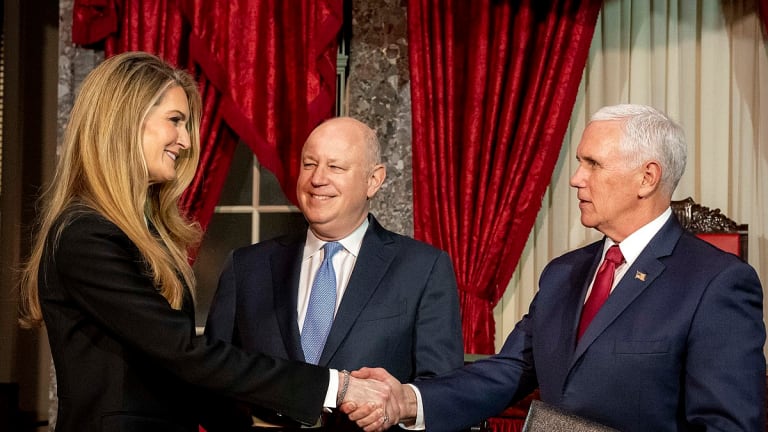 Ex-Exchange Exec, Current Exchange CEO's Wife To Join Senate Panel Overseeing Exchange Because That's What Happens In 2020 America
It's perfect.
Donald Trump did not want Kelly Loeffler to be a United States Senator. He wanted someone with more of a history of loyalty, and also with a penis. But when he asked Georgia Gov. Brian Kemp to appoint said loyal penis to the seat instead of Loeffler, did he know that Mitch McConnell would use her in the most Trumpian way imaginable, brushing aside any concerns about conflicts of interest in appointing her to a post with oversight of not only her former employer, but her former employer still run by her husband?
Republican leadership assigned interim Sen. Kelly Loeffler (R., Ga.), whose husband, Jeffrey Sprecher, is chairman and chief executive of Intercontinental Exchange Inc., to serve on the Senate Agriculture Committee.

The committee oversees the federal Commodity Futures Trading Commission, which regulates markets for derivatives that trade on ICE exchanges…. She joined ICE in 2002 and ran the company's investor relations, communications and marketing for 15 years before becoming chief executive of Bakkt, a cryptocurrency trading platform owned by ICE.
That is some presidential-level lib-owning. Bravo. Now all Loeffler needs to do is get appointed to the Financial Services Committee to make sure this continues to not happen.
A proposal advanced Wednesday by the Securities and Exchange Commission takes aim at a two-tier system that allows trading platforms such as the New York Stock Exchange and Nasdaq Inc. to charge their largest customers higher fees for faster proprietary feeds, leaving smaller players to rely on a slower public stream….. The agency's two Democratic commissioners, Robert Jackson, Jr. and Allison Lee, said Wednesday's proposal effectively kicks the can down the road by seeking additional comment on an issue the SEC has studied for more than a decade. They suggested the agency should have skipped the comment period and issued a direct order to the exchanges.
Senator Whose Spouse Runs Major Exchange to Help Oversee Regulator [WSJ]
Regulators Seek to Loosen U.S. Exchanges' Control Over Stock Data [WSJ]