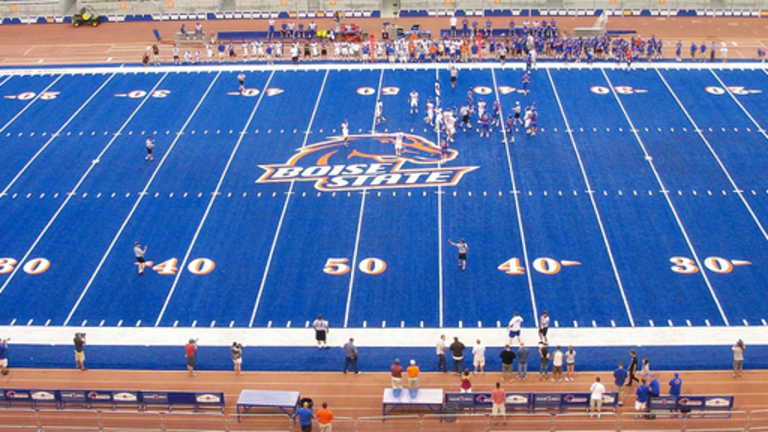 We Hope You Like Watching Boise State
The Mountain West's new TV deal is why streaming services were invented.
Each school in the Mountain West Conference will receive up to $4 million annually under the conference's new media rights deal, which is enough to endow a university chair and a couple of professorships at Colorado State each year.
Honestly, good for them. It's about 1.5% of what NFL teams get out of the league's revenue share, for a league whose dominant champion in 2019, Boise State, just went to the Las Vegas Bowl and got hammered, 38-7, by an extremely lackluster Washington team. Actually, Boise State gets a little more money out of this new deal, part of the arrangement when the school nearly bolted for the Big East eight years ago – as Kelly Lyell detailed for The Coloradoan, "this will be the last time Boise State's media rights will be negotiated independently from the rest of the conference."
What's striking is that none of this even seems preposterous after you get past the concept of a second-tier football conference getting a TV deal for more than a quarter of a billion dollars over six years.
Nine of the schools in the Mountain West have an enrollment of at least 20,000, with UNLV, Colorado State, San Diego State and San Jose State all over 30,000. Combine that with at least decent regional interest in a part of the country underserved by pro sports, not to mention the ability to fill a programming hole late on Saturday nights, and you've got yourself an audience.
The conference, meanwhile, gets at least three football games and two men's basketball games a year, plus the men's basketball conference title game, on actual CBS, with the football championship game on actual Fox. Being available on over-the-air network television, even as the importance of that wanes, is a remarkable coup for a conference that has never sent a team to either the College Football Playoff or the NCAA Final Four.
The six-year deal is worth less in total than what the SEC will bring in annually, but it's as good for the Mountain West as it is for the networks. The students who do all the sports and make that money for the schools and the networks, of course, will continue to get nothing.