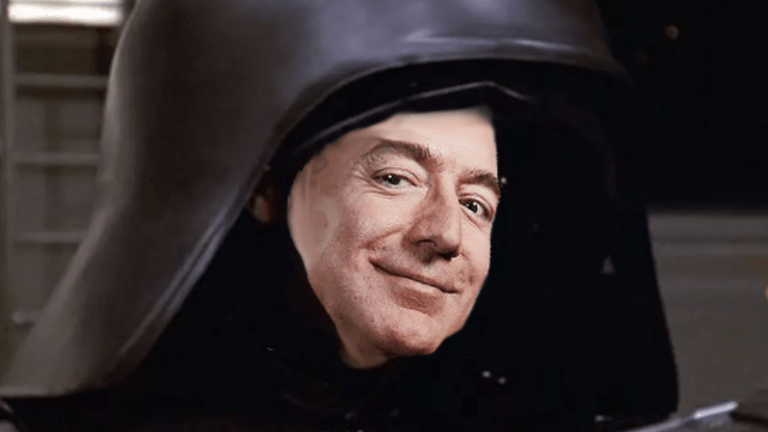 Opening Bell 1.31.20
Bezos overdelivers ...
The Opening Bell is powered by The Water Coolest. You can sign up for TWC's full, daily email newsletter here. In the meantime, check out one of the features from today's edition ...
MAKER OF RAIN
"We're going to set the standard for earnings this quarter." - Tim Cook and Elon Musk
"Hold my beer." - Jeff Bezos
Amazon joined the list of tech behemoths to have one helluva Q4, sending its stock up 11% and vaulting it back above the $1T valuation threshold, joining tech bros MSFT, AAPL, and GOOG. Sucks to suck, Zuck.
Gimme some numbers
The world's biggest online retailer reported a whopping $87.44B in revenue last quarter, over $1B higher than the $86.02B expected and up 21% from the previous quarter. Earnings per share came it a $6.47, more than 50% higher than the $4.03 predicted by analysts ... who apparently graduated from ITT Tech.
Net profit for the quarter came in at $3.27B, 8% higher than last year, thanks to costs coming in lower than the $1.5B projected by the company in its last earnings report.
All I do is win win win
Amazon attributed its gains to customers ordering more products than ever, thanks to its previous investment in one-day and same-day shipping. The big money spent last quarter (Q3) led to a 26% drop in net profit and had investors concerned. It's obvious who is laughing now.
On top of moving a sh*t ton of product, Bezos disclosed that more Amazon Prime customers signed up in Q4 than any previous quarter, bringing the total to 150M Prime members. And did you know that Bezos' got beats too? Amazon Music Unlimited subscribers increased by 50% during the quarter.
Not all good, but mostly
Amazon Web Services technically beat estimates with revenue coming in at $9.95B compared to $9.81B estimates, but its growth rate has continued to slow from 35% last quarter to 34% in Q4.
And let's not forget Whole Foods, which disgraced Overlord Bezos, posting a 1% loss in revenue vs. last year.  
The bottom line ...
It's Jeff Bezos' world. We're just living in it. Amazon is continuing its dominance of the online space for retail, continuing its growth in services ... and we didn't even mention advertising revenue that was up 41% to $4.8B.
After a "down" Q3 thanks to its investments in the one-day and same-day shipping it's safe to say AMZN is back. The stock jump sent Bezos' net worth up $12B. NBD.
Amazon soars after huge earnings beat [CNBC]
But wait, there's more. The above is just one feature that appears in today's edition of The Water Coolest's daily email newsletter. Sign up now to get the latest news and commentary delivered to your inbox every weekday at 6 AM EST.