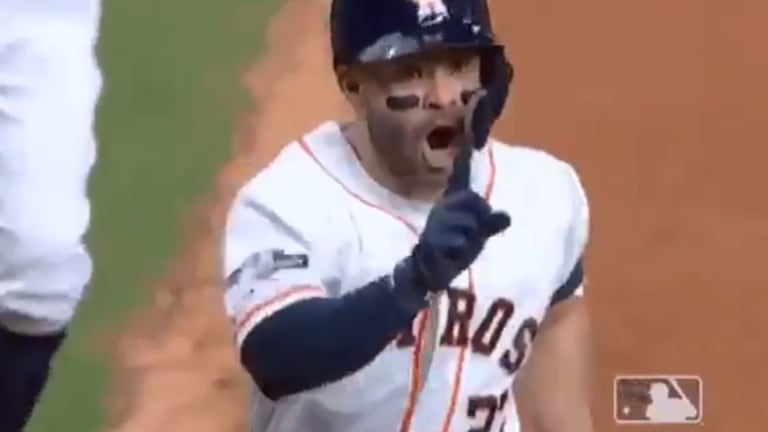 Rob Manfred Struggling To Keep Shirt On Sign-Stealing Scandal
It's gonna take more than three managerial scalps to get to the bottom of this.
It's less than four weeks until pitchers and catchers report to spring training, and 10 percent of the teams in Major League Baseball need new managers.
The chaos started with the reigning American League champion and 2017 world champion Astros, who fired A.J. Hinch along with general manager Jeff Luhnow after both were suspended a year for their role in a sign-stealing scandal that also involved then-Houston bench coach Alex Cora, who went on to manage the Red Sox to the 2018 World Series title… then himself was out of a job on Tuesday as Boston waited for the results of an investigation into that championship team. Finally, the Mets, who have not won a World Series since 1986, parted ways with Carlos Beltran – importantly, for the Wilpons, without paying him – due to his role in the scheme as an Astros player.
As stunning as the week was, the managerial housecleaning, forfeiture of the Astros' top draft picks the next two years, and looming punishments for the Red Sox do not solve Major League Baseball's biggest crisis of credibility in a century.
Last year, the Society for American Baseball Research delved into the Black Sox scandal, separating myths (largely stemming from "Eight Men Out") from fact. Perhaps most applicable to today is that "Charles Comiskey and other learned about the fix as early as Game 1 (maybe even before), but sat on their knowledge hoping the game's dirty laundry would never air. They hired commissioner Kenesaw Mountain Landis to clean up the mess later."
A hundred years later, baseball's commissioner again is tasked with cleaning up a mess, but Rob Manfred is doing a less than credible job of it with a report claiming MLB's "investigation revealed no violations of the (sign-stealing) policy by the Astros in the 2019 season or 2019 Postseason."
A Twitter account claiming to be Beltran's niece may have been fake, but Cincinnati Reds pitcher Trevor Bauer tweeted that he'd heard "from multiple parties" about Astros including Jose Altuve wearing buzzers to alert them to pitches. San Diego Padres outfielder Tommy Pham posted a picture of Altuve in the World Series with a suspicious jersey bump. San Francisco Giants third baseman Evan Longoria retweeted a video of the aftermath of Altuve's pennant-winning homer, with Joe Buck's call of "how many big home runs, here at home, for Jose Altuve?" in which the former MVP dashed off the field, away from a celebration in which he'd adamantly kept his shirt on.
Manfred wrote in his report that, while "the Astros' players did not attempt to hide what they were doing from Hinch or other Astros employees, they were concerned about getting caught by players from other teams." Well, now they've been caught, and that concern proves to be well founded. Cleveland pitcher Mike Clevinger tweeted on Thursday, "This is where throwing hard has its MF perks BB (three snowflake emojis) so either police it @MLB or I'll get back to my training (demon emoji)"
That tweet might not have been the best-advised thing Clevinger could have done, because if he follows through on the threat to throw at Astros, his punishment may be worse than any player got for their role in the cheating.
Coming at the tail end of an offseason in which teams have continued to value performance on the balance sheet over performance on the field, the commissioner has proposed shuttering dozens of minor league franchises, and the ball itself has been questioned with unsatisfactory answers, we've gotten a cheating scandal that "ruins the integrity of the game!!!" in the words of reigning National League MVP Cody Bellinger.
A hundred years ago, baseball's team owners knew that they needed Landis to show the public that the game was on the level, or they wouldn't survive. The problem for Manfred now is that he either has to take a much harder stance that also holds star players accountable for their actions, or he has to sacrifice consumer confidence in his product.
Most importantly, a month out from spring training, there has been nothing done to sweep technology off the field, or anything to prevent the next wave of rulebreakers from taking liberties to get an unearned competitive edge. MLB has had all offseason to address it, the honor system won't cut it, and unlike in the wake of the Black Sox scandal, they can't just conjure up the job of commissioner to handle their problems – if anything, right now, the commissioner is the problem.