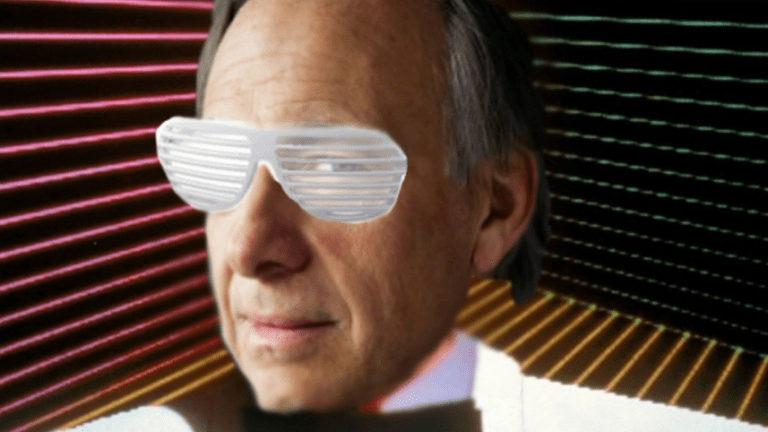 Ray Dalio Busts A Rhyme In Davos
It's like "crack is whack," but about investing.
Ray Dalio is in Davos (obviously), where the founder of the World Economic Conference is still insisting that it's all about bringing people together in spite of not only having Donald Trump as his guest, but having Donald Trump use his platform to distract attention from his pro-forma impeachment trial, to take further shots at the Federal Reserve and explicitly call for non-unity, while having the assembled globalists eat it up. As for Dalio, he's gone to (the other) Burning Man for plutocrats to deliver a message so pithy and precise that it might as well be a brand-new Principle.
"Cash is trash," Dalio said. "Get out of cash. There's still a lot of money in cash."
And do you know what else is trash?
"There's two purposes of money, a medium of exchange and a store hold of wealth, and bitcoin is not effective in either of those cases now," he said.
OK, so you're taking some of your cash and you're not buying bitcoins with it. So, uh, what are you buying with it? Well, lots of stuff, including some shiny stuff, echoing his number two.
"You have to have balance ... and I think you have to have a certain amount of gold in your portfolio," Dalio said, reiterating his call last year that the precious metal will be a top investment in the years to come…. Dalio doesn't think there will be an economic downturn this year and he said investors should look beyond the 2020 U.S. presidential election.
On that point, Dalio's backed up by the occasionally innumerate International Monetary Fund.
Global gross domestic product will expand by 3.3% in 2020, up from 2.9% in 2019, the International Monetary Fund predicted in a quarterly update to its World Economic Outlook, released Monday in Davos, Switzerland…. "On the positive side, market sentiment has been boosted by tentative signs that manufacturing activity and global trade are bottoming out, a broad-based shift toward accommodative monetary policy, intermittent favorable news on U.S.-China trade negotiations, and diminished fears of a no-deal Brexit," the IMF said in its report.
Well, Paul Tudor Jones is also in Davos, and as befits his new role as Prophetic Teller of Uncomfortable Truths About Capitalism, he's pretty sure some unpleasant shit is about to go down.
"We are just again in this craziest monetary and fiscal mix in history. It's so explosive. It defies imagination," Jones said on CNBC's "Squawk Box" on Tuesday at the World Economic Forum in Davos, Switzerland. "It reminds me a lot of the early '99. In early '99 we had 1.6% PCE, 2.3% CPI. We have the exact same metrics today."

"The difference is fed funds were 4.75%; today it's 1.62%. And back then we had budget surplus and we've got a 5% budget deficit," Jones added. "Crazy times."
So what would PTJ have you do about it? Well, pretty much the same thing Dalio and the IMF would have you do. He's just got to stay on-brand with the doomsaying.
Asked if investors should sell now to avoid a blow-up like the one that took place in March of 2000, Jones said, "Not really. The train has got a long, long way to go if you think about it…."

Jones, founder and chief investment officer of Tudor Investment Corporation, warned that the new "curveball" to derail the bull market could be the outbreak of the coronavirus.

"That's a big deal. If you look at what happened in 2003 ... stock markets sold off double digits. If you look at the escalation of the reported cases, it feels a lot like that," Jones said. "There's no vaccination. There's no cure. ... If I was an investor, I'd be really nervous."
Ray Dalio says 'cash is trash' and advises investors to hold a global, diversified portfolio [CNBC]
The world's largest hedge fund sees gold rising 30% to $2,000: 'There is so much boiling conflict' [CNBC]
Paul Tudor Jones says this 'crazy' stock market run reminds him a lot of early '99 [CNBC]
IMF Predicts Global Economy Will Rebound in 2020 [WSJ]
Davos's Creator Still Believes the Conference Can Bridge Divides [WSJ]
Trump says he 'could get used to' negative interest rates as he knocks the Fed: 'Love that' [CNBC]
Trump and top administration officials run for impeachment cover in Davos [CNN]
Trump at Davos urges countries to 'put their own citizens first' as he touts US economic success [CNBC]
The Davos Plutocrats Warm Up to Trump [DealBook]