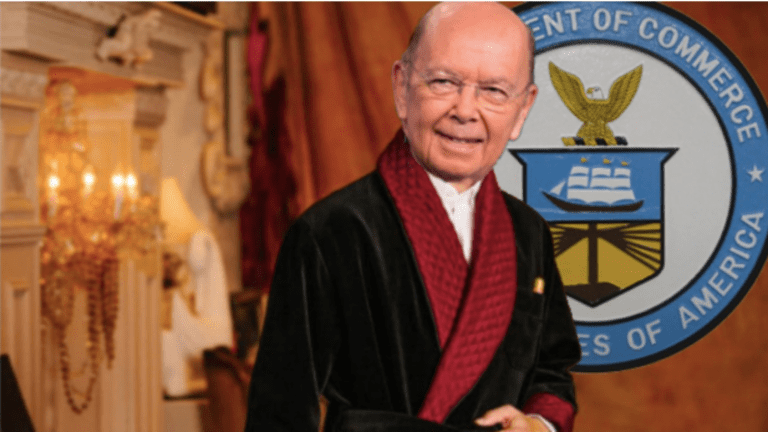 Wilbur Ross Would Just Like To Point Out That This Global Health Emergency Might Be Just The Shot In The Arm American Manufacturing Needs
Ignore the dead Chinese people and consider of the opportunities they present.
It's been a while since we've heard from Wilbur Ross, which means it's been a while since we've heard the aging commerce secretary really step in it. Perhaps in an effort to keep his job, Ross has more or less kept schtum since the summer. But with both the World Health Organization declaring the coronavirus a global health emergency, and with the first confirmed case of person-to-person transmission in the U.S., coming today, there was an unmissable opportunity for Ross to say something distasteful. He did not miss it.
"Every American's heart has to go out to the victims of the coronavirus, so I don't want to talk about a victory lap over a very unfortunate, very malignant disease," Mr. Ross said. "But the fact is, it does give businesses yet another thing to consider when they go through their review of their supply chain…."

"So I think it will help to accelerate the return of jobs to North America," Mr. Ross said of the coronavirus. "Some to U.S., probably some to Mexico as well."
Well, now that you have the definitive post-nap take from our senile senior trade official, you probably don't need to hear from Ray Dalio, who unlike Ross is disinclined to say unpleasant things about the Middle Kingdom. But just in case the Wizard of Westport has divined some penetrating, insightful Principle here, let's hear him out.
"Terrible, unimaginable things could happen anywhere. What we don't know is much greater than what we do know," wrote Dalio in a note Jan. 28. The hedge fund investor said Bridgewater studied past pandemics to put the latest coronavirus in perspective and expects to do more homework on the topic.
Of course it did. But what did it learn?
"Generally speaking these once-in-a-lifetime big bad things initially are under-worried about and continue to progress until they become over-worried about, until the fundamentals for the reversal happen," meaning the virus switches from accelerating to decelerating, he wrote.
Yup, guess we didn't really need to hear that.
Wilbur Ross Says Coronavirus Could Bring Jobs Back to the U.S. [NYT]
Here's the investment strategy Bridgewater's Ray Dalio is using to deal with coronavirus [CNBC]