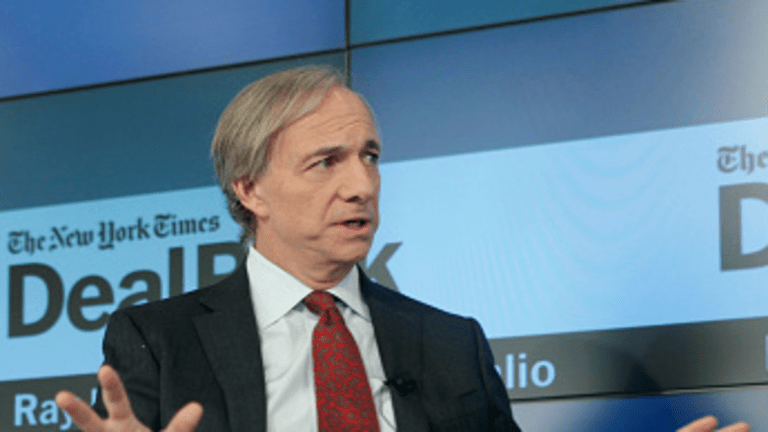 Ray Dalio Would Like More Control Over Media Reports About His Control Over Bridgewater
Radical transparency requires the Svengali-philosopher king to run around shouting "Fake news!"
For a decade, Ray Dalio has been publicly preparing for the motivational speaker and author stage of his life. As befits his much-ballyhooed approach to radical truth and transparency, a great deal of thought went into how this would be achieved, specifically how he'd loosen his reins on his hedge fund, Bridgewater Associates, until it was operating independently of him, as the well-oiled and Principled machine he had built.
Of course, someone would have to hold the position of CEO until the singularity comes and the robots can just take over. But finding that person or persons have proven, uh, challenging, to say the least. At least four contenders for the throne have appeared. Three have now gone, and the fourth seems ready to leap if the right opportunity presents itself. This led to a new plan, a "continuously improving perpetual motion machine" at the top, which may be necessary, considering how quickly the revolving door turns in the executive wing at Bridgewater HQ. Alas, this latest scheme also seems in danger of being yet another one of those mistakes Dalio so loves, and it all comes down to what may have been the original mistake a decade ago: Ray Dalio might have been wrong about being ready to let go.
Mr. Dalio—who is co-chairman and co-chief investment officer—at age 70 isn't giving up real control over the business that helped him amass a $19 billion fortune. His word nearly always wins out in debates at Bridgewater on topics from management, staffing and investments to compensation, personnel and the wisdom of meeting with an autocratic head of state, say current and former employees….

Like many Bridgewater executives, Ms. Murray's compensation included phantom equity in Bridgewater, a type of equity that essentially tracks the revenue of the firm and allows employees to receive a cut of the firm's earnings after they leave. Mr. Dalio has tried to reduce some of that compensation, said some of the current and former employees…. Mr. Dalio attempted a similar move with Mr. McCormick roughly one year ago, according to one of these people. Mr. McCormick, 54, had discussed jobs with the Trump administration. He also chatted with BlackRock Inc. Chief Executive Laurence Fink about the possibility of leaving Bridgewater….

"He is so cheap," Mr. McCormick told colleagues late last year, speaking about his boss, according to the contemporaneous notes of one person who heard the comment. "Not only did he want to sell the house but he wanted to get the nickels out of the couch."
Of course, as is his apparent wont, Ray Dalio rejects all of this. Donald Trump may not have a lot going for him in the Wizard of Westport's eyes, but he sure did have the media pegged with this fake news thing.
The Wall Street Journal just published an article about me and Bridgewater that is filled with intentional factual errors. It is one of those classic cases of false and distorted media that I described in several LinkedIn articles (you can read them here and here)…. The two writers of this article—Rob Copeland and Rachael Levy—had a goal and story in mind long before there were any facts. They are investigative journalists that The Wall Street Journal hires to dig up dirt on successful people and companies and to write negative articles about them. The Wall Street Journal and other publications don't have investigative journalists write complimentary articles on people because those articles don't sell, which is why our country has no heroes (read my thoughts about this in my recent LinkedIn post).
Maybe later, Ray. For now, though, in deference to your complaint that we in the media dismiss "on-the-record statements about the inaccuracies," let's hear the on-the-record statement for the Journal.
"Rob Copeland and Rachael Levy are well respected journalists and their reporting is fair and accurate," Steve Severinghaus, senior director of communications for Wall Street Journal publisher Dow Jones, said in an emailed statement. "Responses from Bridgewater Associates were solicited well in advance of publication and included in the final article. Mr. Dalio is simply complaining about factual reporting he does not like."
Well, Mr. Severinghaus, Ray Dalio does not respect Mr. Copeland. Care to know why?
This case is especially interesting because one of the writers—Rob Copeland—had previously interviewed at Bridgewater and wasn't hired because he wasn't up to doing the job.
What might lead Dalio to publicly smear a journalist in a LinkedIn post? Why, some of the juicier bits in that allegedly factual reporting. Let's hear some more of it.
Mr. Dalio repeatedly overruled Ms. Murray on whom to hire, fire and promote, according to the current and former employees. She has told several friends she was exhausted and couldn't do the job anymore….

Several years ago, Mr. Dalio arranged a conversation with Russian President Vladimir Putin to discuss economic policy, said some of these employees. Employees expressed concerns about engaging with the autocratic leader, and Mr. Dalio told one that "if you're so smart, why aren't you rich?" according to people who heard the comment…. Employees have also expressed concerns about Bridgewater accepting money from some of its larger clients, including Saudi investors and Chinese state-run enterprises like its national sovereign-wealth fund. Messrs. Dalio and McCormick argued for Bridgewater to maintain its Saudi ties in the wake of journalist Jamal Khashoggi's late-2018 murder because such loyalty would be valued highly, one of the current employees said….

Ms. Murray suggested Mr. Dalio revamp the investment team, focusing more on merit rather than whom Mr. Dalio personally liked, according to the person in whom she confided…. Other long-time executives who have recently left include figures from Bridgewater's vaunted inner investment circle…. One was Jacob Kline, who left in recent weeks after a dozen years at Bridgewater…. One of the most contentious departures, about a year ago, was that of Bob Elliott, a longtime deputy to Mr. Dalio…. Mr. Dalio often clashed with Mr. Elliott, according to people familiar with the situation. He was terminated after he engaged in a consensual relationship with a colleague.
But if you think all of that's bad, the Journal's got another bombshell: Ray Dalio may not be as Principled as he'd have you believe.
Mr. Dalio has at times also ignored his investment team's research, frustrating employees. This happened in 2018 when the U.S. dollar was dropping in value, and Bridgewater had bet the dollar would rise. The drop worried Mr. Dalio. He wanted Bridgewater to bet that the dollar would continue to fall, and clashed with his investment team, according to people familiar with the matter.
Luckily, however, this one has a happy ending, and one that undoubtedly points to the future, one in which these petty squabbles between humans will no longer occupy the attention of so-called "journalists."
In the end Bridgewater's computer systems overruled Mr. Dalio, the people said, and the dollar's rout turned into a rally.
In the meantime, Ray, we understand there are some media outlets available which might be interested in adopting your philosophies of investigative journalism (and money).
Ray Dalio Is Still Driving His $160 Billion Hedge Fund Machine [WSJ]
The Wall Street Journal's Fake and Distorted News [LinkedIn]
The Wall Street Journal Has Irked Ray Dalio – Again [II]