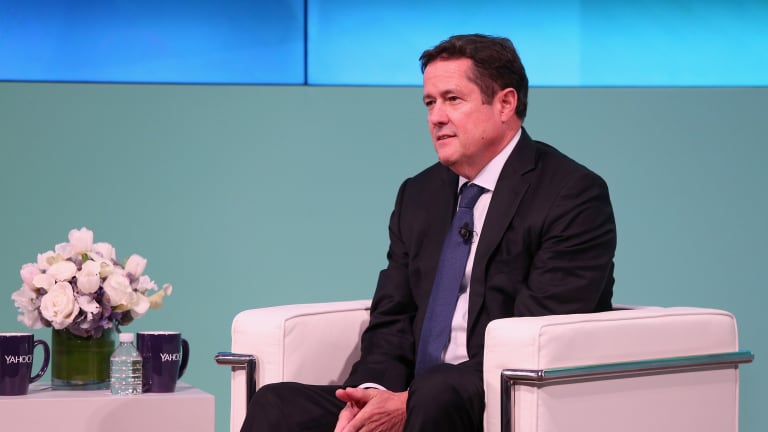 Just How Fulsome Was Jes Staley's Description Of His Ties To Jeffrey Epstein To British Regulators?
They'd like to know if he improperly kept his underwear on in his disclosures to them.
The authorities in the United Kingdom have no interest in looking into the relations of a literal (if only formal) member of their governing hierarchy had with possible financier and noted dead pedophile Jeffrey Epstein, a disinterest that will be maintained at least until those American law enforcers so eager to sit down for a cup of tea and some tough questions with Prince Andrew get around to asking for their help, assuming they ever do. But they are quite interested in the ties between Epstein and the American head of one of their banks, Barclays CEO Jes Staley.
Staley, of course, was a longtime friend of Epstein's and occasional guest at his private Caribbean island, which may or may not have been nothing more than a beachy venue for trafficking in sex with underage girls away from prying eyes. And Staley was intimately involved in the one piece of actual business we know Epstein transacted, helping his buddy Glenn Dubin—who has since retired so as to never have to answer a question about Epstein again—find a buyer for his hedge fund, specifically one Jes Staley, then a top JPMorgan Chase executive.
Anyway, since none of the aforementioned sex stuff appears to have happened on British soil, and since Staley himself has not been tied to even an Epstein-arranged massage while wearing underpants, the Bobbies haven't knocked on Staley's door. But the Financial Conduct Authority and Prudential Regulation Authority have, and would like to know what, exactly, he told certain whos about his relationship with Epstein, and when.
Barclays bank said the investigation, launched by the Financial Conduct Authority (FCA) and Prudential Regulation Authority (PRA) in December, focused on Staley's "characterisation to the company of his relationship with Mr Epstein and the subsequent description of that relationship in the company's response to the FCA"….

Barclays said it had conducted an internal review and had no concerns over the way its chief executive had characterised his dealings with the convicted sex offender. A spokesman said the bank had been aware of the relationship with Epstein before Staley's appointment in October 2015.

Barclays added that Staley had "confirmed to the board that he has had no contact whatsoever with Mr Epstein at any time since taking up his role as Barclays Group CEO in December 2015".
That it quite frankly far more confidence than we're comfortable with Barclays showing about anything, but like everyone else in Staley's position vis-à-vis Epstein, he'd rather not talk about it more than is absolutely necessary, so can this just suffice, please?
"It has been very well known I had a professional relationship with Jeffrey Epstein," Mr Staley told reporters on Thursday. "It goes back to 2000 when I was asked to run the JP Morgan private bank and he was already a client when I joined the private bank.

"The relationship was maintained during my time at JP Morgan but as I left JP Morgan the relationship tapered off quite significantly. Obviously I thought I knew him well and I didn't. For sure, with hindsight with what we know now, I deeply regret having any relationship with Jeffrey."
And even a little more now than before the FCA and PRA got involved, we imagine.
Barclays boss Jes Staley's links to Jeffrey Epstein investigated [Guardian]
Barclays boss Jes Staley 'deeply regrets' sex offender link [BBC]