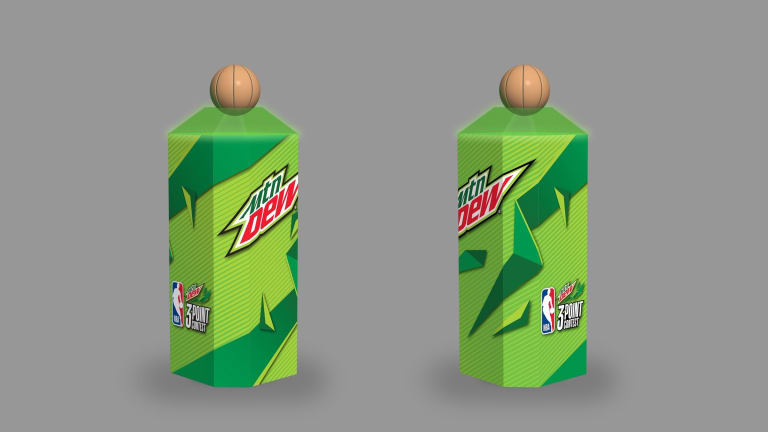 Needlessly Rebranded Soda Makes Needless Change To Three-Point Shooting Contest
Mountain Dew—we're sorry, MTN DEW—has a very different and much broader definition of "bold" than we do.
Few things in sports are as constant as the NBA's three-point shooting contest. From Larry Bird in the 1980s taunting everyone by asking "who's playing for second?" and then dominating the event, to Joe Harris edging Stephen Curry last year, it's a feature of All-Star weekend that is brilliant in its simplicity.
Players shoot five balls from each of five racks at the major points along the three-point line: one in each corner, one on each wing, and straight down the middle. Each shot is worth one point, except the last ball on each rack – the "money ball" – worth two points. In 2014, the NBA made the one rule change in the history of the contest, giving players their choice of spots to shoot all money balls, thus raising the maximum score from 30 points to 34. But it was still the same contest: make as many shots as you can from the same five spots before the clock hits zero.
"How can they make the three-point contest better?" was a question no one asked, but Mountain Dew – or, MTN DEW, depending on your affinity for forced branding – decided to answer.
In a press release this week, PepsiCo announced, "MTN DEW® Introduces 'MTN DEW® Zone' - The First Significant Change To The NBA 3-Point Contest Since 1986." There will now be two extra basketballs – green ones, because Mountain Dew – to be shot from six feet behind the three-point line, each worth three points, to bring the maximum possible score to 40.
Why? Erin Chin, MTN DEW's senior director of marketing, answered that in the release.
"As a longtime partner of the NBA, we're excited to test athletes' limits like no other contest has done before."
It's a pair of uncontested shots from just inside 30 feet, not a remake of "The Superstars" (a thing that absolutely needs to happen, for the record.
"The fans are accustomed to bold players making bold shots all season long."
Sure, but this is a skills contest. These aren't bold shots.
"Therefore, this new addition of the 'MTN DEW Zone,' six-feet beyond the arc is the perfect addition to complement the contest."
The contest didn't need a complement. It's been fine since 1986. If Mountain Dew wanted to complement something, why not the Taco Bell Skills Challenge, which features a rather pedestrian three-point shot? Taco Bell and Mountain Dew are already even a thing! It's easy!
Is it really smart for Mountain Dew to have people tune into the NBA's All-Star festivities and say, "huh, this Mountain Dew thing sure is stupid," or is it just the school of thought that having your brand name said out loud and your logo festooned everywhere counts as good publicity? Maybe it's targeted more at a younger demographic because MTN DEW is cool and edgy, but in that case, the calculation is that kids today really love extra rules? They couldn't just make the money balls neon green?
It's good to know, though, that there's nothing in sports that can't be bought with a little bit of sweet corporate cash. It's not pleasant to know, and we already had a pretty good idea that it was likely the case, but here's another clear-cut data point.