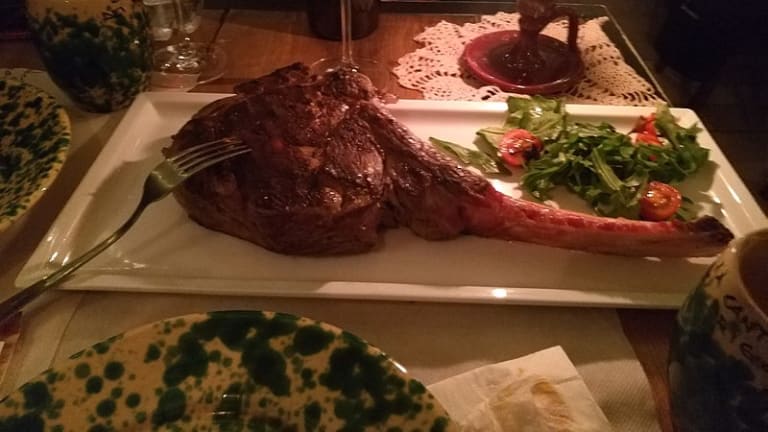 Local Gentleman's Club To Provide Steak And A Date (Of Sorts) Tonight
Spend another lonely Valentine's Day at a strip club, but in a new and innovative way.
To be sure, life for Wall Street's junior mistmakers has certainly gotten better in recent years. The 100-hour workweek is in decline, and nights and (some) weekend (days) have been restored to them. They're not only invited to use their vacation time, but are required to. The robots are doing more and more of the scut work that made those 100-plus weekly hours so long and dreary. They don't have to wear ties anymore. They expect eight hours of sleep a night! Not per week. PER NIGHT.
So, with Valentine's Day falling on a Friday this year, you might expect these young bankers to take advantage of their new freedoms—no Seamless at your desk tonight! And certainly some of them will. Others may not be so lucky. Perhaps tomorrow's not one of your "me" Saturdays. Perhaps you can no more afford a romantic dinner than a cafeteria lunch. Perhaps, for a variety of reasons, you find yourself without someone with whom to celebrate the spirit of Eros. If the first is your problem, we have no solution. But if it's either (or both!) of the other two, well then head on down to the Sapphire Gentlemen's Club over by the 59th Street Bridge.
"Everyone deserves to feel the love on Valentine's Day, even if you're single. Just because you don't have a significant other to cuddle up next to doesn't mean you can't commemorate a holiday that honors love. What better way to celebrate than at Primal Cut with a Sapphire girl?," said Andrew Zarian, VP, Sapphire Gentlemen's Club.
That's right: Not only do you to scarf down some thick-cut glazed bacon, a Berkshire pork chop and/or a Wagyu tomahawk steak, but you get to do so while enjoying the company of one of Sapphire's "female entertainers." And better yet, you don't even have to pay for your "date"—the strip club's got her covered. Who needs true love?