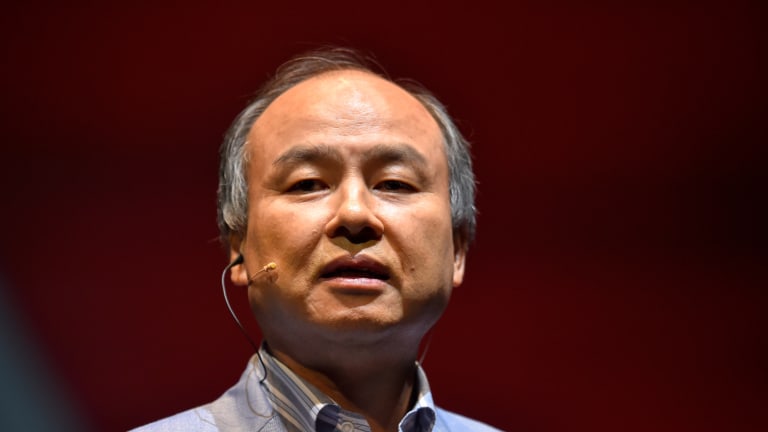 Federal Court Revives Long-Form Financial Performance Art Of Masa Son
He gets to sell Sprint and its $40 billion in debt and lives to do something else bizarre.
There are a lot of people pretty happy about a federal judge's approval of T-Mobile's $26 billion takeover of Sprint. There's John Legere—who gets to leave on a high note—and Marcelo Claure, the company's chief executives. There are all of those banks who are about to split $150 million or more in what's been a fairly unpleasant first six weeks of the year. There are the MAGA hats who almost certainly know nothing about the intricacies of 11-figure mergers and who may well pay the price for the whole thing but who are just happy to see libs like New York Attorney General Letitia James owned.
But surely no one is breathing a sigh of relief quite like SoftBank chief Masa Son, who spent $12.5 billion on 70% of Sprint seven years ago and was in line to own 100% of its $40 billion in debt if the T-Mobile deal fell through, which looked bad enough at the time but of course looks a good deal worse after the baths he's taken on Uber and WeWork, which the retiring Legere won't touch with any length of pole. But you can just about forget about that last one should this work out!
The deal would extract the Japanese billionaire from the cash-draining U.S. wireless business and remove about $40 billion in net debt from his balance sheet. Sprint shares rose 78% in U.S. trading Tuesday after a federal court approved the deal and the two companies said they plan to close as soon as April 1…. SoftBank will no longer face the risk of having to fund the wireless operator, a huge debt load will move off its balance sheet and Son will have more flexibility in raising capital for a share buyback or for his second $100 billion investment fund…./"This is obviously great news for Sprint," said Kirk Boodry, an analyst at Redex Holdings who writes for Smartkarma. "It is better news for SoftBank."
And for us, who now get to enjoy the return of Masa Son's artistic whimsy.
SoftBank's Son Gets a Much-Needed Win With Spring Deal [Bloomberg]
T-Mobile, Sprint Deal Wins Approval, Reshaping Industry [WSJ]
The Winners and Losers From T-Mobile and Sprint's Merger Saga [DealBook]
Global dealmaking gets off to sluggish start n 2020 [FT]