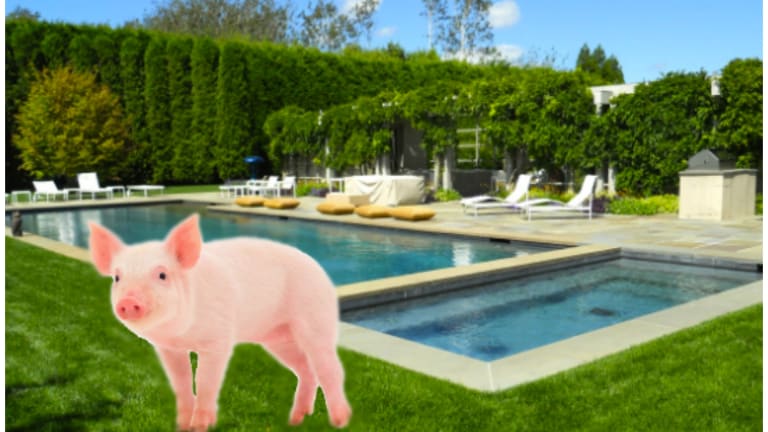 Please Tell Me No One Smells Roasting Pork At The Falcone House
Times are tough for Phil and Lisa Maria.
In the last few months, Phil Falcone has sold a house for almost $80 million and a bunch of paintings and other stuff, in spite of the fact that they were collateral for some loans, which he was also not paying. And still he lacks the scratch to pay those who won him that surprisingly lenient settlement over those taxes unpaid and paid with investor money, apparently by the canny strategy of legal malpractice. And now, it seems, he won't be paying for anything until he pays those lawyers.
A New York judge has frozen assets belonging to hedge fund manager Philip Falcone and his Harbinger Offshore fund after he failed to pay millions in legal fees to a Manhattan law firm that defended him in high-stakes litigation against US regulators…. In his ruling, Judge Engoron upheld a decision handed down by an arbitrator earlier this year in which Mr Falcone and Harbinger were ordered to pay $13.6m in legal fees to Dontzin Nagy & Fleissig for work going back almost eight years.
Again, this man was once a billionaire, and yet is now subject to an asset freeze over $13.6 million.
In a document made public as evidence in court, arbitrator Caroline Antonacci said DNF had negotiated a settlement with the SEC which was "highly lucrative" for Mr Falcone as it allowed him "to continue to oversee his substantial LightSquared investment, remain CEO of a public company, manage his hedge fund, and immediately resume earning enormous sums"…. As lawyers' bills piled up, Mr Falcone told DNF that he was having "liquidity" issues and that he was "trying everything under the sun" to resolve them, according to the arbitration documents.

In a stark reversal of fortune, Mr Falcone has been left nursing heavy debts and in 2019 sold his New York townhouse for a record $77m.
We don't even want to ask what's happened to Wilbur.
NY judge freezes hedge fund manager Philip Falcone's assets [FT]