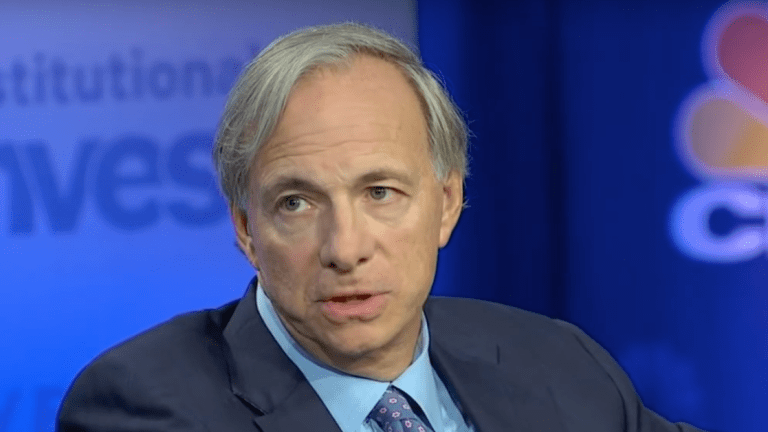 Dalio Schools Partnership Doomed By Radical Lack Of Transparency, Two Slimy Weasels
And by its new CEO's failure to understand that getting fired isn't a big deal.
Ray Dalio rather famously lives by a set of fundamental life and business principles, and he can get a bit testy when others fail to do so as well. Unfortunately, by our count, Dalio's public-private Partnership for Connecticut—funded by $100 million from the Dalios and equal amounts from the state and other philanthropists—managed to violate more than a half-dozen principles in its short life.
3. Create an environment in which everyone has the right to understand what makes sense and no one has the right to hold a critical opinion without speaking up about.
In her Tuesday email to the partnership's board and other officials, Schmitt-Carey said her troubles began when "[a]fter serving as President and CEO of the Partnership for Connecticut for 30 days, on May 4th at 8:30 am, I was asked to be on a call with Erik Clemons, Barbara Dalio, and Andrew Ferguson."

Schmitt-Carey's email continued: "During this call, I was was ambushed with a set of false and defamatory accusations (read by Andrew Ferguson) and then told to voluntarily resign by 12:00 noon that day or the allegations would become 'much more public.'
4. Be extremely open.
No one has been willing to disclose the nature of the allegations. Schmitt-Carey has been unavailable for comment and Lamont wouldn't talk about any internal personnel matters Tuesday.
5. Have integrity and demand it from others.
"In this case I think there was a sense from the Dalios that there were some people that really wanted to undermine the mission of the board," Lamont said at a hastily called news briefing outside the state Capitol. "A lot of that was reflected in leaks, some of that was reflected in the leak just this past week — a very sensitive personnel matter that went right to the front page of the Hartford Courant and a lot of partisan comments as part of that."
6. Be radically transparent.
Candelora, in a statement of his own Tuesday morning, said: "The Partnership, well-intentioned as it was, came into existence under a cloud — no public hearing, and the ability to conduct its business behind closed doors."
14. Get over "blame" and "credit" and get on with "accurate" and "inaccurate."
"Though I and most of the non-political board members will continue to help the children, the state probably won't…. While politics has broken the Partnership, it has not broken my and Ray's commitment to the children and teachers in Connecticut. We are committing $100 million over the next 4 years to address the needs of young people who are disengaged or disconnected in our home state."
34. Make sure people don't confuse their right to complain, give advice, and debate with the right to make decisions.
Candelora had blasted what he called the "threats and strong-arming" about which Schmitt-Carey had complained in her email, adding that the public-private education partnership was flawed by its penchant for secrecy under its exemption from the state Freedom of Information Act and ethics laws.
130. Know that it is much worse to keep someone in a job who is not suited for it than it is to fire someone.
Mary Anne Schmitt-Carey, who was hired in March and began work April 1, was placed on administrative leave by board chairman Erik Clemons earlier this month for undisclosed reasons.

It was unclear Monday whether the board would move to fire Schmitt-Carey.
189. Push through.
The major controversy that broke out inside the public-private education partnership formed by the state and billionaire Ray Dalio has doomed the entire enterprise, as Gov. Ned Lamont announced Tuesday that it was being disbanded.
Having suffered through that unPrincipled misery, however, Barbara Dalio was certainly not going to violate yet another Principle on the way out vis-à-vis a couple of slimy weasels (5a): 97. Don't let people off the hook.
Our dream of working together in a bipartisan way to help the disengaged and disconnected youth of Connecticut came to an end because politicians like the two leading Republicans of the House, Rep. [Themis] Klarides and Rep. [Vin] Candelora, want to fight in the media rather than debate issues and resolve them with other board members," she wrote. "They sought to sabotage The Partnership. It can't go on like this, so I suppose they 'won.'"
Controversial education partnership formed between Connecticut and billionaire Ray Dalio to be disbanded; state to withdraw $100M investment [Hartford Courant]
Dalios pull out of state education partnership, attack GOP Reps [Connecticut Post]
Turmoil rages at new Dalio education partnership, as $247,500 CEO says she's threatened with firing after less than 2 months [Hartford Courant]