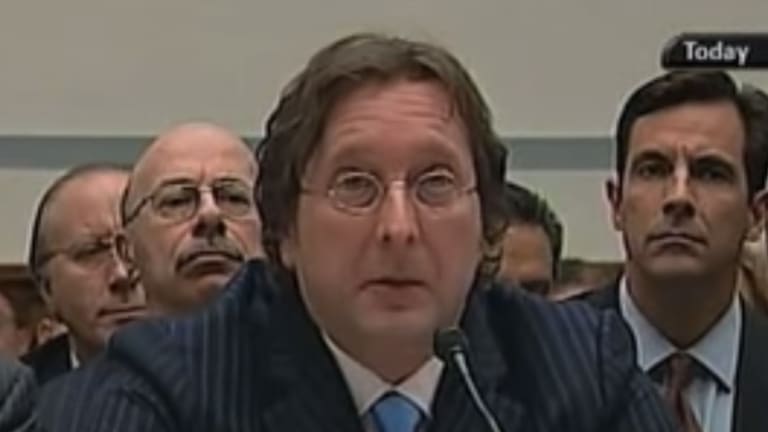 Opening Bell: 5.14.20
Jobs lost; Falcone saved; CQS focuses on what it's not so good at; Whitney Tilson makes some bets; SoCal stinks; at more!
Nearly 3 Million Sought Jobless Benefits Last Week [WSJ]
More than 2.9 million workers applied for unemployment benefits last week, with 36.5 million total applications in two months of the coronavirus impact…. Many states are receiving applications under a provision of a federal stimulus bill that allows workers who were largely ineligible for benefits before the pandemic, including independent contractors and self-employed people, to apply for unemployment benefits. Because those claims aren't seasonally adjusted, they are excluded from the main claims figures.
Economy Has Likely Bottomed, Poised for Rebound, Says Fed's Barkin [WSJ]
"The real issue here is, what's the rate of recovery," the official asked. "We'll obviously have a difficult second quarter, I think we'll obviously have some bounce in the third in the fourth quarter. And the question is just how high and how fast," Mr. Barkin said.
Fed's Mester Expects Economy to Rebound Some in Second Half of 2020 [WSJ]
"A reasonable baseline outlook is that as some of the stay-at-home restrictions are lifted, the economy will begin to grow again in the second half of this year and unemployment will begin to move down, with continued recovery in 2021," Ms. Mester said in the text of a speech to be delivered by video to financial professionals in Chicago on Tuesday.
HC2 Holdings Reaches Settlement With Activist MG Capital for Board Seats [NYT]
Gorzynski had criticized Falcone's handpicked board for poor governance, conflicts of interest and missing regulatory issues, and pushed to have him removed…. MG Capital, which pushed to replace the entire board, has received two seats with the first one going to Gorzynski and the second to Kenneth Courtis, who was one of MG's six director candidates, according to the agreement.
CQS Spins Off Equity Hedge-Fund Arm as Hintze Goes Back to Roots [Bloomberg]
The abrupt move comes after sharp losses at the firm's main hedge funds in March amid the virus-fueled sell-off. Its long-short equities business hasn't yet started a fund and the firm was recently looking to build out its share-trading offerings under plans initiated by former CEO Xavier Rolet…. Roger Guy, who joined CQS's equities business as a senior adviser and non-executive chair in January along with Graham, is also leaving to become chairman of the spun-off entity.
David Tepper says this is the second-most overvalued stock market he's ever seen, behind only '99 [CNBC]
"The market is pretty high and the Fed has put a lot of money in here," the founder of Appaloosa Management said. "There's been different misallocation of capital in the markets. Certainly you are seeing pockets of that now in the stock market. The market is by anybody's standard pretty full…."
"There might have been a bottom put in ... but that doesn't mean you can't fall significantly from these levels," Tepper said.
Panthers owner David Tepper thinks the NFL could play games this year with 'some fans' in stadiums [CNBC]
"You won't be having full stadiums, but that doesn't mean you can't have some fans in the stadium either," he said. "If you're comfortable being in a closed airplane for a cross-country trip, 18 inches apart, maybe with two seats in between you and being 5 feet away from each other, you might be comfortable in an open-air stadium…."
Marc Lasry, co-owner of the NBA's Milwaukee Bucks, told CNBC last month that he believed the league would eventually finish its season but cautioned it could be in July or August. "What's clear is people want to see sports," Lasry said then.
Whitney Tilson Gambling On A Major Liberal Landslide [ValueWalk]
I think PredictIt's odds are wrong and, accordingly, I've made 13 bets on the site, ranging from $200 to $850, totaling $6,250, currently valued at $7,079…. It has become increasingly clear to me that we're going to see a liberal landslide on November 3, with Democrats not only winning the presidency but also both houses of Congress, as they did in 2008 – and for similar reasons: a terrible economy and great uncertainty leading angry, frightened voters to throw out the incumbents…. I do not believe this because it's what I want to happen, but rather based on a dispassionate analysis of: a) our lack of progress in fully defeating the coronavirus (covered in Monday's e-mail)... b) the enormous economic hole we're in, which will take years to dig ourselves out of (covered in yesterday's e-mail)... c) history... and d) current polls.
Southern California stench blamed on glowing algae [UPI]
Residents across Southern California, including Los Angeles, complained of a mysterious odor Tuesday, and utility provider SoCalGas said workers determined the smell was not the cause of a natural gas leak in the area…. Valerie Burkholder with the Aquarium of the Pacific said the smell is believed to be a result of the bioluminescent algae that has been making waves off the California coast glow for the past couple weeks. She said the algae is starting to die off, causing a foul smell.