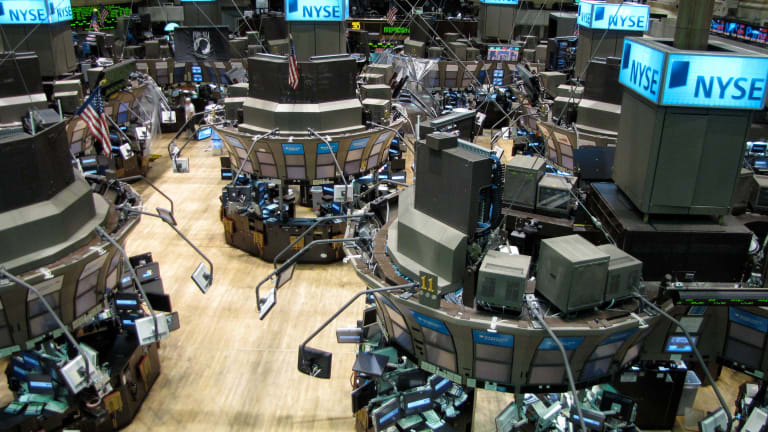 Opening Bell: 5.26.20
Stocks jump; unemployment, too; New York commercial real estate not so much; Hertz dies; rats! and more!
Dow futures jump 500 points as investors bet on the economy reopening and a vaccine breakthrough [CNBC]
S&P 500 futures gained 1.9%. Nasdaq-100 futures also rose 1.9%.... The S&P 500 was set to meet or exceed its 200-day moving average after the open Monday. The benchmark needs to gain 1.8% to reach the milestone….
"Next month we will know Bank stress test results; whether oil prices are a bounce or something more sustained; and if we have moved out of COVID season or into a second wave," Christopher Harvey, Wells Fargo's head of equity strategy, said in a note. "If things break positively, we would expect to see a healthy rotation toward cyclicals, smaller caps, and value stocks."
NYSE Trading Floor Reopens as Lockdowns Loosen Further [WSJ]
The NYSE's trading floor now features plexiglass barriers to keep traders apart, with the number of traders on the floor limited to a quarter of the usual, and masks required. Traders are also required to avoid public transit.
Economy Recovering, but Unemployment Likely to Remain High, Trump Adviser Says [WSJ]
White House economic adviser Kevin Hassett said Sunday that he already sees signs a rebound is occurring, pointing to businesses reopening and credit-card data showing consumers are starting to increase spending.
Still, he said May's unemployment rate, which measures joblessness in the middle of the month, could "end up with a number north of 20%." April's rate, 14.7%, was the highest on record back to 1948.
Hedge Fund Activist Is Shorting New York Office Stocks [WSJ]
Jonathan Litt's hedge fund, Land & Buildings Investment Management, is taking short positions in Empire State Realty Trust, SL Green Realty and Vornado Realty Trust, according to a person familiar with the matter.
"The New York office market is facing an existential hurricane," said Mr. Litt in a statement posted on his fund's website. "And Empire State Realty Trust is poised to bear the full brunt of this storm," he added.
Hedge funds target France as short-selling bans lifted [Reuters]
France joined Italy, Spain, Belgium, Austria and Greece in dropping short-selling bans last week…. Regulatory filings in the seven days since the bans ended showed that France accounted for more than half the 125 regulatory notifications of changes to short positions against companies in the six markets.
Citadel, Marshall Wace and Millennium are among hedge funds that have taken out short positions on French companies over the past week, with Peugeot and Air France-KLM among the most prominent targets.
Barclays appoints new interim co-heads of global equities -memo [Reuters]
Barclays has appointed Todd Sandoz and Paul Leech as interim co-heads of global equities, according to an internal memo seen by Reuters on Thursday.
The pair replace Fater Belbachir who left for rival Citigroup earlier this month after less than a year in the role.
European Uber rival Bolt valued at $1.9 billion as it plans for post-coronavirus recovery [CNBC]
The Tallinn, Estonia-based company said Tuesday it raised 100 million euros from Naya Capital, an investment manager founded by hedge fund investor Masroor Siddiqui…. Bolt suffered a 75% drop in revenues around mid-March as countries across Europe began introducing lockdown restrictions to stem the spread of Covid-19. Other players in the space, such as Uber and Ola, were similarly affected, though Bolt claims it hasn't had to lay people off to cope with the impact of the pandemic.
Hertz Was Already in Terrible Shape. The Pandemic Finished It Off. [WSJ]
Hertz was more vulnerable than competitors, having borrowed about $19 billion directly and through a series of complex financial transactions. In addition to its sedan commitment, the company was held back by its troubled 2012 acquisition of Dollar Thrifty and efforts to move into the leisure-traveler market, a niche dominated by Avis Budget Group Inc. and Enterprise Holdings Inc….
Hertz was already struggling to fend off threats to its business from Uber Technologies Inc., Lyft Inc. and other ride-hailing firms. And its better-capitalized rivals, Avis and Enterprise, moved faster to update technology, refresh their fleets and rebalance offerings with SUVs, analysts and former Hertz executives said.
C.D.C. Warns of 'Aggressive' Rats Searching for Food During Shutdowns [NYT]
"The rats are not becoming aggressive toward people, but toward each other," Bobby Corrigan, an urban rodentologist who has both a master's degree and Ph.D. in rodent pest management, said on Sunday. "They're simply turning on each other."/Dr. Corrigan said there are certain colonies of rats in New York that have depended on restaurants' nightly trash for hundreds of generations, coming out of the sewers and alleys to ravage the bags left on the streets. With the shutdown, all of that went away, leaving rats hungry and desperate./In New Orleans, hordes of rats took over the streets after people emptied out. Hundreds of thousands of rats in Chicago have started boldly searching for food, traveling farther and during the daytime. Some have even moved into car engines.