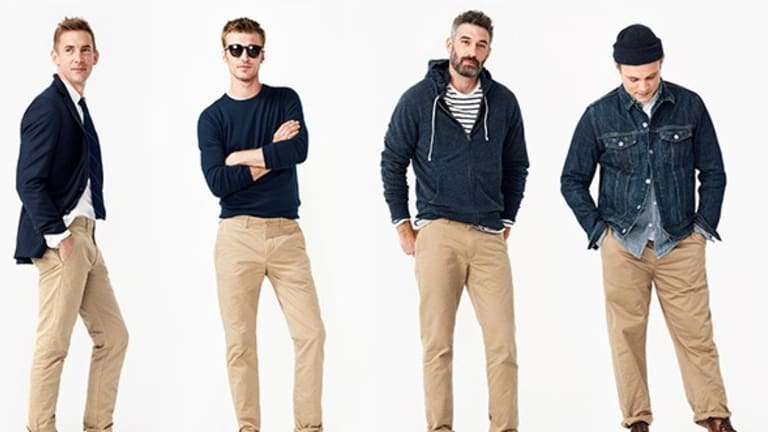 Opening Bell: 5.4.20
The chino-virus strikes; Fed follies; the Ackmanaissance accelerates; sad trombones for Michael Cohen; and more!
Dollar edges up, Asian stocks slip as U.S.-China tensions flare [Reuters]
In reduced trade, with China and Japan on holiday, U.S. stock futures fell 1.7% and U.S. crude tumbled 7%. The safe-haven U.S. dollar rallied to one-week highs against the risk sensitive Australian and New Zealand dollars….
U.S. President Donald Trump and Secretary of State Mike Pompeo added to worries with fresh efforts to pin blame for the pandemic on China, where the new coronavirus outbreak is believed to have originated…..
West Texas Intermediate crude futures last sat at $18.38 per barrel, down $1.40, while Brent futures were down 2.4%, or 62 cents, at $25.82.
J. Crew Files for Bankruptcy in Virus's First Big Retail Casualty [NYT]
J. Crew announced that its parent company, Chinos Holdings, had filed for Chapter 11 protection in federal bankruptcy court for the Eastern District of Virginia. As part of its financial reorganization plan, it will hand over control to top creditors, including the hedge fund Anchorage Capital, by converting $1.65 billion of its debt into equity…. There is widespread acknowledgment that J. Crew is unlikely to be the only retailer to face the brink…. Other big industry names including Neiman Marcus and J.C. Penney are also struggling with the toll of mass shutdowns.
Fed Won't Use Stimulus Aid to Push Libor Replacement [WSJ]
The Federal Reserve has scrapped plans to use a $600 billion aid program for small and midsize businesses to promote the use of its preferred replacement for the troubled London interbank offered rate…. The Fed said in a question-and-answer document accompanying the announcement that it made the change based on feedback from program participants. They had warned that "quickly implementing new systems to issue loans based on SOFR would require diverting resources from challenges related to the pandemic."
Donald Trump And The Fed Could Be About To Destroy The U.S. Banking System [Forbes]
President Trump and the Fed are edging closer to negative interest rates—something legendary investor Warren Buffett has warned could have "extreme consequences…."
"One of the things [the Fed] wants to do is protect the banking system," William Lee, chief economist at the California-based economic think tank Milken Institute, told CNBC this weekend.
"We've learned our lesson from Japan and the Europeans; when you go to negative rates you start impairing the banking system."
Hedge funds make money in April, Ackman gains 13.6% in month: investors [Reuters]
Pershing Square Capital Management, the New York-based hedge fund run by William Ackman that pushes companies to perform better, gained 13.6% in its Pershing Square Holdings fund in April, leaving it up 17.3% for the year…. Citadel, the Chicago-based hedge fund giant which relies on teams of traders to make bets on stocks, bonds, commodities and other securities, earned a 4% return in its flagship Wellington hedge fund last month, according to a performance estimate. The fund is now up 10% for the year, a person familiar with the numbers said….
On average, hedge funds gained 2.73% for the month through April 23 and are now off only 4.6% for the year, data from Morgan Stanley show.
Stocks Owned by Passive Funds Fared Worse in the Selloff. The Question: What's the Reason? [WSJ]
Stocks with the highest ownership levels by passive funds fell nearly 3 percentage points more than those most likely to be owned by active managers (40.4% versus 37.5%)…. The sole exception to the rule appeared to be health care, which lost "only" 30.3% during the meltdown period, compared with 60.7% for energy companies or 45.2% for the financial services sector….
"It's logical to say that sectors with highest passive ownership will fall more during a selloff," argues Ms. Zhu. "My thinking is that it's because ETFs will sell immediately when investors redeem assets; they don't need to peek under the hood to decide which stocks to sell."
Michael Cohen Remains in Prison Amid Confusion Over Coronavirus Release Policy [WSJ]
Michael Cohen, President Trump's former lawyer, didn't return home as scheduled on Friday from federal prison…. Mr. Cohen's early release hasn't been rescinded, and he will be eligible at the end of the month….
Mr. Cohen's predicament comes amid confusion over the way federal prison officials have been placing inmates in home confinement…. Officials have said they are continuing to review the cases that were in limbo, expediting release for those who qualify.
Who will be in your lock-down 'bubble'? [Daily Mail]
An easing of lockdown rules could allow people to socialise with up to ten of their closest family and friends, it can be revealed today…. people would nominate a small list of those they want to be able to see, drawn from no more than one or two households.
Those involved would then be able to meet for meals and other social activities. But neither group would be allowed to mingle with others outside the 'cluster'…. Belgium and Scotland are also looking at the idea.