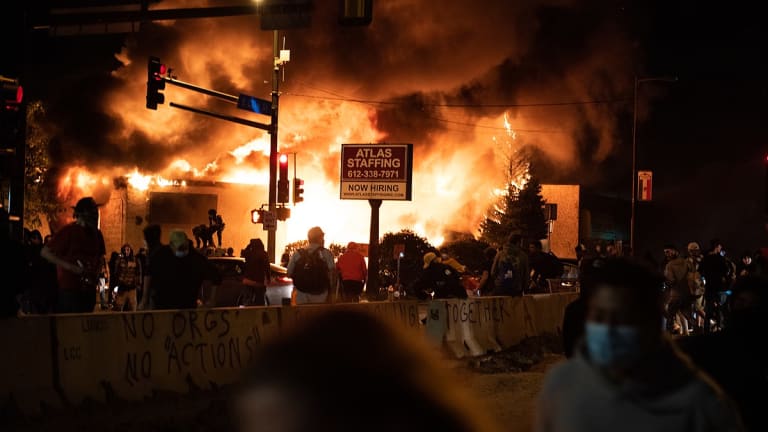 Opening Bell: 6.1.20
A tale of two PPPs; airline ETF booms and busts simultaneously; impossible, incredible; masks on before Metrocard swipes; and more!
George Floyd protests continue nationwide, 4,400 arrests reported [USA Today]
More than 4,400 arrests have been made at protests nationwide since viral video emerged showing former Minneapolis Officer Derek Chauvin holding his knee to Floyd's neck for more than eight minutes on Memorial Day, resulting in Floyd's death…. The Minneapolis Department of Public safety confirmed a semi-truck drove into a group of peaceful protesters on Interstate 35. The driver of the truck was taken into custody, but not before protesters pulled him from the truck's cab…. Two Atlanta police officers have been fired after being accused of excessive use of force during George Floyd protest…. President Donald Trump was briefly moved to the White House's underground bunker Friday night to shelter in place as the protest grew outside the Executive Mansion, according to multiple outlets.
Houses Passes PPP Loan Forgiveness Bill, Treasury Issues Harsh Forgiveness Regulations—What You Need To Know [Forbes]
The House passed the Paycheck Protection Program Flexibility Act by 417-1, which attempts to ease restrictions on small businesses as they seek loan forgiveness under the Paycheck Protection Program… It reduces the amount of the loan needed to be spent on payroll from 75% to 60%, thus increasing the amount of funds available for other expenses from 25% to 40%. These expenses still include rent, mortgage payments, utilities, and interest on loans….
While there is optimism in Washington that this new bill will reach President Trump's desk for signature, there is no guarantee of when or if this may happen. And, until that occurs, the new and harsher Treasury regulations issued on May 22 will dictate how the PPP loan forgiveness process works.
Hedge Funds Dumped Disney, Comcast For Charter Communications [Yahoo! News]
At the end of 2019 hedge funds were bullish on Disney and Comcast. Disney was the 12th most popular stock among hedge funds and Comcast Corporation ranked 25th…. By the end of March, the number of hedge funds with bullish Disney positions declined by 16, whereas the decline was 4 for Comcast. Comcast isn't among the top 30 hedge fund stocks anymore and Disney ranks 20th.
This ETF Booms as Investors Bet on Airlines [WSJ]
The U.S. Global Jets ETF held around $33 million in assets in early March, according to FactSet, but now holds about $950 million. The fund has had net inflows for 62 consecutive trading days…. The fund, which trades under the ticker JETS, holds about 40% of its assets in the four largest U.S. airlines….
Shares in major U.S. airlines have tumbled after the coronavirus pandemic decimated air traffic. Despite a recent rally off their lows, those stocks remain sharply lower so far this year.
Fund for Jeffrey Epstein's Accusers Gets Attorney General's Approval [NYT]
The attorney general for the Virgin Islands, Denise George… had objected to some of the proposals by the estate — valued at more than $600 million — for establishing a restitution program…. One of the stumbling blocks had been a demand by Mr. Epstein's estate that victims who receive money from the fund agree to a broad liability release. Ms. George said in a statement that the estate had agreed not to use any information provided by victims to defend itself against any other claims or lawsuits that may be filed against it.
Nestlé Loses Fight With Impossible Over Meatless Burger Branding [WSJ]
The order by the District Court of The Hague in the Netherlands means Nestlé has to change the name of its Garden Gourmet Incredible Burger throughout the European Union. Nestlé said it would rebrand the product as Sensational across Europe, while also appealing the decision…. Outside Europe, the burger is sold in Australia, although Nestlé said it didn't yet know if the name would be changed there. Nestlé also sells a different plant-based burger in the U.S., branded Awesome Burger and made from pea protein.
Impossible, founded in 2011, doesn't currently sell in Europe but said it is in the process of getting approval to do so. The U.S. company sought an injunction against Nestlé's product, claiming the Swiss giant was trying to impede its entry into the European market by using a similar name.
Twitter Had Been Drawing a Line for Months When Trump Crossed It [NYT]
Twitter would hide Mr. Trump's tweet behind a warning label that said the message violated its policy against glorifying violence. It was the first time Twitter applied that specific warning to any public figure's tweets….
For more than a year, the company had been building an infrastructure to limit the impact of objectionable messages from world leaders, creating rules on what would and would not be allowed and designing a plan for when Mr. Trump inevitably broke them….
Now Twitter is at war with Mr. Trump over its treatment of his posts, which has implications for the future of speech on social media.
Social Distancing on New York's Subway May Be Too Hard [WSJ]
"The key is going to be mask vigilance," Ms. Feinberg said.
For those unwilling to follow the rules, Ms. Feinberg said transit workers might ask riders to put on a mask or they could point out the person to police. "It's possible a police officer will say you should leave until you have a mask on," she said….
With New York City poised to begin reopening within weeks, federal, state and city health officials haven't released final guidance for how close is too close on buses and trains.
NASA and SpaceX launch astronauts into new era of private spaceflight [New Scientist]
"This is the first time that SpaceX has ever launched astronauts, and it's also the first time that a government has trusted a commercial company to launch astronauts to orbit," says space consultant Laura Forczyk. "It is a big deal…."
It took the Crew Dragon spacecraft about 19 hours to reach the ISS. The spacecraft docked with the ISS autonomously, but before they arrived, Behnken and Hurley had a chance to fly the capsule manually as a test. "It flew just like it was supposed to," said Hurley after the astronauts arrived at the ISS. "It is exactly like the simulator and we couldn't be happier about its performance."