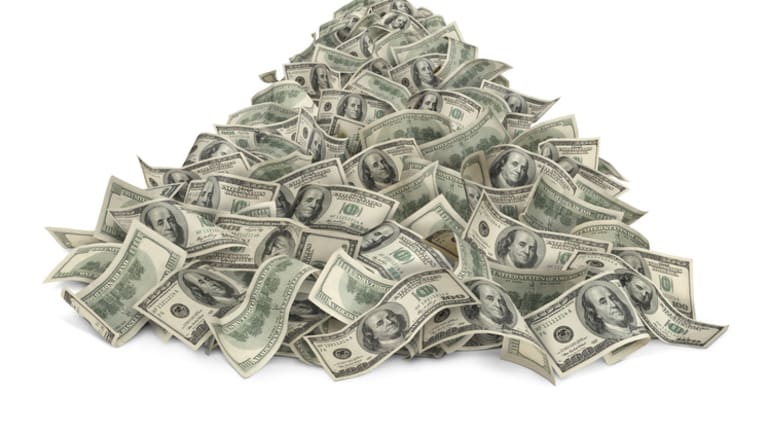 Opening Bell: 6.16.20
Drowning in cash (especially Warren Buffett); Goldman offering toasters; "DO I HAVE UR ATTENTION NOW????" and more!
Investors Are Sitting on the Biggest Pile of Cash Ever [WSJ]
Assets in [money-market] funds recently swelled to about $4.6 trillion, the highest level on record, according to data from Refinitiv Lipper going back to 1992…. Other measures, like bank deposits, are also at a high….
Overall stock positioning among investors remains among the lowest levels of the past decade, according to data from Deutsche Bank. New individual investors jumped into the stock market during the recent selloff, while bigger institutional investors only recently started adding to stock positions….
"Everyone can see and feel that this is different and can sense the bizarre nature of the market response: we are in the top 10% of historical price earnings ratio for the S&P on prior earnings and simultaneously are in the worst 10% of economic situations," Mr. Grantham wrote in his letter to investors.
Congress Steps Up Pressure as Trump Administration Evades Bailout Oversight [NYT]
"Contrary to Secretary Mnuchin's recent testimony, there is nothing 'proprietary' or 'confidential' about a business receiving millions of dollars appropriated by Congress, and taxpayers deserve to know how their money is being spent," the Democrats wrote….
Although Mr. Mnuchin promised on Twitter on Monday to work with lawmakers to "strike the appropriate balance for proper oversight of #ppploans and appropriate protection of small business information," Treasury Department lawyers issued an opinion that would further curtail oversight of more than $1 trillion in aid, according to the letter sent to lawmakers last week….
Goldman Goes Main Street With Push Into Corporate Bank Accounts [WSJ]
Goldman is betting that a clean-sheet approach will cut costs and improve the product, and that its tight relationships with corporate management will help its bankers sell it…. "I talk to treasurers and they tell me they have teams of 20 people who do nothing but FedEx documents to banks," said [Hari] Moorthy, who returned to Goldman in 2018 after seven years at JPMorgan. An engineer by training, he now oversees a team of about 350 people, and hosts meditation sessions for many of them on Fridays.
Light on tech, heavy on banks — has Warren Buffett lost his touch? [FT]
The famed stockpicker had his worst performance versus the S&P 500 in a decade in 2019, and 2020 is shaping up to be nearly as bad. Instead of taking advantage of the coronavirus crisis that hit markets in March, Mr Buffett was a casualty. Instead of highlighting Berkshire's balance sheet strength, the crisis exacerbated longstanding concerns over the company's direction….
"I am nervous that he may have missed this whole rally," said James Shanahan, an analyst with Edward Jones. "If the rally started in late March and he was a net seller in April, it seems like . . . he missed it all. That's frustrating. A lot of retail investors were ploughing money into the market and doing better than professional investors. I think you can include Buffett in that."
Hydroxychloroquine: US revokes emergency approval of malaria drug for Covid-19 [Guardian]
The Food and Drug Administration (FDA) said on Monday the drugs hydroxychloroquine and chloroquine were unlikely to be effective in treating the coronavirus. Citing reports of heart complications, the agency said the drugs' unproven benefits "do not outweigh the known and potential risks"…. Trump said there had been "great reports" out of France, Spain and other places, without offering any evidence or further explanation. France is one of the countries that has already stopped using the drug for Covid-19 patients.
In a separate announcement, the FDA also warned doctors against prescribing the drugs in combination with remdesivir, the lone drug currently shown to help patients with Covid-19. The agency said the anti-malaria drugs could reduce the effectiveness of remdesivir, which the FDA cleared for emergency use in May.
Former eBay executives charged with terrorizing a couple who ran a newsletter by sending live cockroaches and spiders to their home [MarketWatch]
Executives were upset about the newsletter's coverage, so their employees set out to ruin the lives of the couple who ran the website, sending a funeral wreath, bloody pig face Halloween mask and other alarming items to their home, authorities said. The employees also sent pornographic magazines with the husband's name on it to their neighbor's house and planned to break into the couple's garage to install a GPS device on their car, officials said….
One executive who is not named in court documents directed Baugh to "take her down," referring to the newsletter's editor, according to court documents. The executive texted another unnamed executive: "We are going to crush this lady," court documents say….
In addition to the disturbing deliveries, the employees set up fake social media accounts to send threatening messages to the couple, authorities said. After the bloody pig mask was delivered, the editor received a message saying: "DO I HAVE UR ATTENTION NOW????," according to court documents. They also posted the couple's names and address online, advertising things like yard sales and encouraging strangers to knock on the door if they weren't outside.