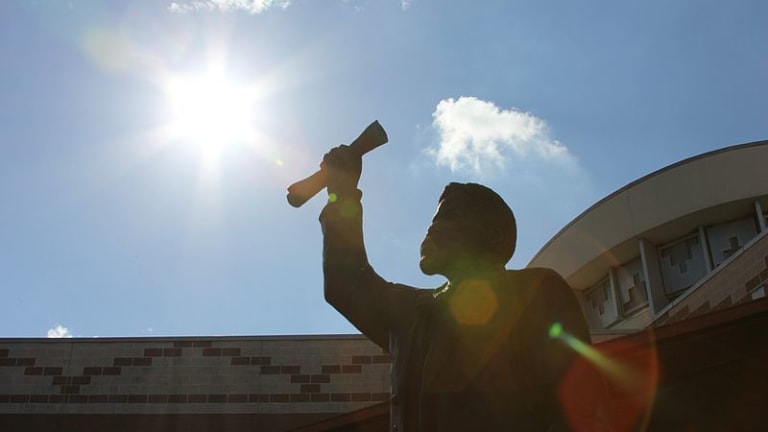 Opening Bell: 6.19.20
Juneteenth; Hertz goes cap-in-hand; that $2 billion doesn't exist; D.J. D-Sol's not-so-star turn; and more!
What Is Juneteenth? [The Root]
When Texas fell and Granger dispatched his now famous order No. 3, it wasn't exactly instant magic for most of the Lone Star State's 250,000 slaves. On plantations, masters had to decide when and how to announce the news — or wait for a government agent to arrive — and it was not uncommon for them to delay until after the harvest. Even in Galveston city, the ex-Confederate mayor flouted the Army by forcing the freed people back to work…. Hardly the recipe for a celebration — which is what makes the story of Juneteenth all the more remarkable. Defying confusion and delay, terror and violence, the newly "freed" black men and women of Texas, with the aid of the Freedmen's Bureau (itself delayed from arriving until September 1865), now had a date to rally around. In one of the most inspiring grassroots efforts of the post-Civil War period, they transformed June 19 from a day of unheeded military orders into their own annual rite, "Juneteenth," beginning one year later in 1866.
Juneteenth gives corporate America a chance to act on pledges to fight racism following George Floyd's killing [CNBC]
For the country's leaders, it is an encapsulation of a problem Americans are increasingly asking them to help solve: the barriers that have continued to hold Blacks back in the century-and-a-half since….
"In this moment, when many of these same companies have said they stand with their Black employees and they are horrified by the murder of George Floyd and so many other Black people, then it's also a moment to acknowledge the racism baked into the economy of this nation, and the conditions under which Blacks have had to live in order to build the country," said Laura Morgan Roberts, a professor at the University of Virginia Darden School of Business and author of "Race, Work and Leadership: Positive Organizing in a Global Society."
Here's a running list of all the big companies observing Juneteenth this year [CNBC]
To honor the holiday, which is Friday, some companies are giving employees a paid day off while others, like General Motors, are observing moments of silence….
"Out of deep respect for the suffering that the Black community has endured over hundreds of years and in recognition of the high esteem in which we hold our Black community at JPMorgan Chase, we are closing all Chase branches at 1 p.m. on Friday, June 19 — known as Juneteenth," Dimon said.
Former 'Black Wall Street' Aims to Rebuild as Tulsa Comes Into National Spotlight [WSJ]
Greenwood, on the north side of Tulsa's downtown, was once a thriving black business district, nationally known after World War I for its affluent African-American community, according to the Tulsa Historical Society. But in 1921, a young black man was accused of assaulting a white woman in an elevator, sparking a confrontation at the courthouse over his fate.
In response, white mobs destroyed the black neighborhood's 35 blocks and killed as many as 300 people, historians believe. The rampage was dubbed a riot, which kept insurance companies from having to pay for any of the destroyed buildings…. Black business owners in Greenwood rebuilt—for a time—until many lost their land again in the 1950s and '60s to government seizures for interstate construction and other "urban renewal" projects….
Dalio's Bridgewater Warns of Possible 'Lost Decade' for Stocks [Bloomberg]
"Globalization, perhaps the largest driver of developed world profitability over the past few decades, has already peaked," the analysts said. "Now the U.S.-China conflict and global pandemic are further accelerating moves by multinationals to reshore and duplicate supply chains, with a focus on reliability as opposed to just cost optimization…."
"Even if overall profits recover, some companies will die or their shares will devalue along the way. Left with lower levels of profits and cash shortfalls, companies are likely to come out on the other side of the coronavirus more indebted," the analysts warned.
Hertz Seeks Bankruptcy Loan After Scrapping Stock Sale [WSJ]
The rental-car company on Wednesday called off a potentially unprecedented sale of up to $500 million in shares, leaving it in need of an alternative source of financing to keep its business afloat through its chapter 11 restructuring…. With the stock deal shelved, Hertz is in discussions with a group of top lenders, including a number of hedge funds, to supply a financing package, people familiar with the matter said. This bankruptcy loan could approach $1 billion, the people said.
Wirecard CEO Resigns After Banks Say Missing $2 Billion Doesn't Exist [WSJ]
Chief Executive Markus Braun, long the face of the company and its largest shareholder, resigned with immediate effect, the company said Friday…. Wirecard delayed its 2019 results Thursday after its auditor refused to sign off the accounts believing it had been deceived over the existence of €1.9 billion ($2.1 billion) in cash supposedly held by the company.
The auditor, Ernst & Young GmbH, had become suspicious of letters purporting to confirm the existence of the accounts and the amounts held in them, Wirecard said. The two Philippine banks confirmed Friday that those letters were fraudulent.
'What We Do Not Do': New Goldman Credit Fund Swears Off Hardball [Bloomberg via Yahoo! Finance]
While determined to capitalize on the distortions created by Covid-19 with a war chest of $5 billion to $10 billion, Goldman says it won't "act as vulture investors."/The presentation, a copy of which was obtained by Bloomberg, also stipulates that Goldman won't "intentionally execute a 'loan-to-own' strategy" or "seek to derail a process/pursue holdup value" or "actively trade in open market securities."/Those no-nos, normally standard ploys in the opportunistic-credit playbook, are the price Goldman pays for running an investing business inside an investment bank.
New York City Will Enter Next Phase of Reopening on Monday, Mayor Says [NYT]
Under the state's reopening plan, outdoor dining, some in-store shopping, hair salons, barbershops, real estate firms and offices in the city would be allowed to open up in the second phase, with social distancing and restrictions on capacity. Playgrounds will also reopen during Phase 2, Mr. de Blasio said….
Earlier this week, the governor threatened to reinstate closures in the city after a number of photos and videos spread online of people flouting social-distancing rules and congregating outside Manhattan bars.
Goldman traders mock CEO's 'cringeworthy' cameo on TV show 'Billions' [FN]
Solomon, who moonlights as "DJ D-Sol", appeared on Showtime's "Billions," the television drama series which depicts life among high-flying hedge fund executives in New York. Solomon touted Marcus in the show….
Marc Lasry, billionaire hedge fund manager and chief executive of Avenue Capital, also plays himself in a cameo in the clip….
What also struck some Goldman traders was the absurdity of the conversation. Hedge funds are investment vehicles — their strategies typically involve building up and selling down asset classes that include bonds, stocks and currencies. They don't outright buy divisions of companies.