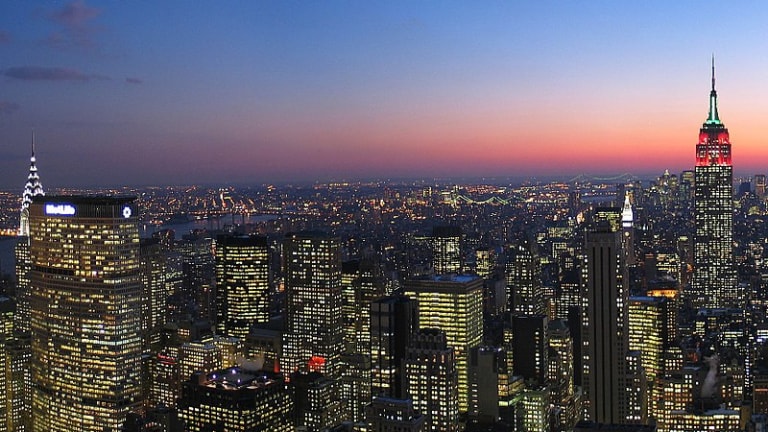 Opening Bell: 6.8.20
Wall Street rises; New York reopens; airlines retrench; eroded stomach lining; and more!
'Black People Are Locked Out': $10 Billion Fund Manager On Race Inequality [Bloomberg]
It's not just rhetoric and donations that will make the difference, said the co-chief executive officer of $10 billion fund manager Ariel Investments, which focuses on value stocks. Businesses need to hire more African-Americans into senior roles -- including board seats and executive suites -- and work with other companies that have diverse leadership, he said…. "We're a capitalist democracy. If you have one group of people that's in a substantially worse financial position, that builds a lot of multi-generational resentment over time."
Wall Street opens higher on economic rebound hopes [Reuters]
The Dow Jones Industrial Average rose 121.95 points, or 0.45%, at the open to 27,232.93.
The S&P 500 opened higher by 5.99 points, or 0.19%, at 3,199.92. The Nasdaq Composite gained 9.36 points, or 0.10%, to 9,823.44 at the opening bell.
New York City Begins Reopening After 3 Months of Outbreak and Hardship [NYT]
As many as 400,000 workers could begin returning to construction jobs, manufacturing sites and retail stores in the city's first phase of reopening— a surge of normalcy that seemed almost inconceivable several weeks ago, when the city's hospitals were at a breaking point and as many as 800 people were dying from Covid-19 on a single day…. The road back will undoubtedly be challenging. More than 885,000 jobs vanished during the outbreak, and strong gains are not expected for the city until 2022….
The Metropolitan Transportation Authority said it did not believe that rush hour would meaningfully return on Monday — or anytime soon. Even when schools and Broadway are allowed to open in the fourth and final phase of the reopening, the authority is projecting ridership will be under 70 percent.
Nasdaq Overtakes NYSE in Coronavirus-Era IPOs [WSJ]
Companies going public in 2020 have raised $12.2 billion in IPOs at Nasdaq, compared with $10.9 billion at the NYSE, Dealogic data show. Nasdaq lagged behind the NYSE for much of the year but pulled ahead after hosting several large debuts last week including that of Warner Music Group Corp., which raised more than $1.9 billion in the year's largest IPO to date….
Nasdaq is planning a push to attract more companies to switch over from the NYSE, and it expects to have an advantage thanks to its lower costs, Nelson Griggs, Nasdaq executive vice president, said in an interview.
Fed Debates Whether to Reinforce Low-Rate Pledge With Yield Caps [WSJ]
Fed officials are closely studying the experience of Australia's central bank, which in March set a target of 0.25% for the country's three-year government-bond yield and which has so far managed to keep it there without significant asset buying.
For the U.S., caps might work like this: If the Fed concludes it is likely to hold rates near zero for at least three years, it could amplify this commitment by capping yields on every Treasury security that matures before June 2023.
Airlines Got $25 Billion in Stimulus; Industry Still Expected to Shrink [WSJ]
Airlines will likely need to park 20% of their planes and cut their pilot workforces in equal measure, Cowen analyst Helane Becker estimated in a recent research note…. Gary Kelly, chief executive of Southwest Airlines Co., said last week that the company will try to protect jobs but that survival is the priority. "Given our planned smaller schedule and network, we are overstaffed and may continue to be overstaffed for the next several years," he wrote in a memo to employees.
Germany's economy had its 'worst month ever' at the height of lockdown [CNBC]
Industrial production fell by 17.9% in April from the previous month, following a 8.9% drop in March. Compared to the same month in 2019, industrial production declined by 25.3%, Germany's statistics office Destatis said Monday, noting that the drop was "the largest decline since the beginning of the time series in January 1991…."
While economists like Brzeski expect the lifting of lockdown measures to lead to "a strong rebound in economic activity," he that added: "the period after the imminent rebound does not look too promising," and predicted further challenges for Germany's crucial car industry.
Trading at Tel Aviv Stock Exchange canceled following union dispute [Jerusalem Post]
While workers initially said they would arrive at the stock exchange for a meeting at 11 a.m. and then start work to protest the withdrawal of management from an ongoing arbitration process, the stock exchange said there was no choice but to cancel all trading as necessary overnight clearing procedures had not been carried out…. The workers union responded angrily to the stock exchange's decision to cancel all trading, stating that CEO Ittai Ben-Zeev ought to act "with a little modesty" after "it was revealed that he pocketed NIS 678,000 at the height of the financial crisis."
Man breaks his 150th Guinness record by drinking lime juice [UPI]
David Rush, who is on a mission to break Guinness records to promote STEM education, broke his 149th record a week earlier by drinking a liter of lemon juice, and decided to celebrate his 150th milestone by taking on the lime version of the record…. "My sister-in-law also told me I had to stop doing this since I was going to damage my stomach lining (she's a nurse practitioner and I feel like maybe I should listen to her, or my body which agrees)," he said.