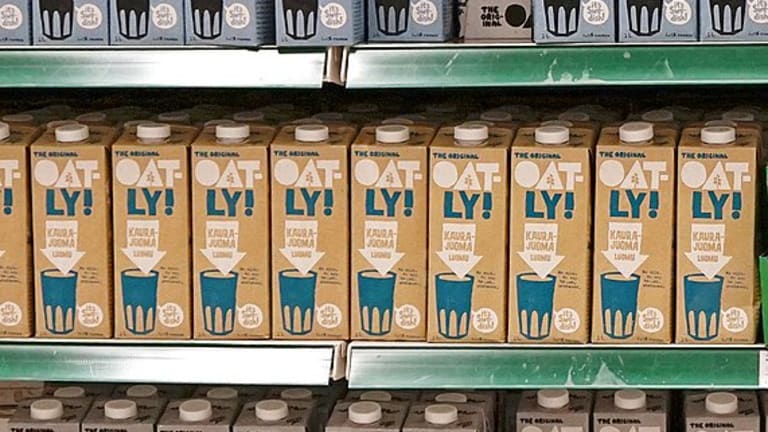 Opening Bell: 7.14.20
An 'incredible gift;' oat milk investors; Ackman advances; and more!
Sobering Economic Data From Europe, Asia Dash Hopes for Swift Recovery [WSJ]
The U.K. economy expanded just 1.8% in May compared with April, a month that saw the country's deepest contraction on record, according to figures published Tuesday. The rebound was feebler than economists had predicted and output in Britain remains around a quarter below the level it had reached in February.
Singapore—among the first countries to report second-quarter gross domestic product figures—estimated its economy shrank in the period by an annualized 41.2%. While Singapore has been lauded for public-health policies that have largely contained infections, its economy nonetheless suffered from the collapse in global trade….
The Organization for Economic Cooperation and Development said this month it expects the global economy to shrink 6% this year—or almost 8% if a resurgence in infections prompts governments to once again button down their economies.
Hedge fund manager Singh calls Trump's handling of coronavirus 'an incredible gift' [Reuters via Yahoo!]
"We simply never believed 'what happens in China stays in China,'" [Axon Capital co-founder Dinakar] Singh wrote in a letter to investors last week that was seen by Reuters. "Trump talking down COVID-19 risk gave investors an incredible gift -- it kept markets resilient much longer than they should have, and enabled us to ensure our portfolio was sensibly positioned…."
Axon, a 15-year-old hedge fund which oversees roughly $1 billion, gained 24.3% in the first half of the year, thanks to bets on technology giants, managed-care stocks and Japanese companies, according to the letter. In the last days Axon extended gains and is now up 30%.
Fed's Williams says shift away from scandal-plagued, interest-rate benchmark in 2 years remains on track despite coronavirus [MarketWatch]
Williams called Libor, which is based on a survey of banks, an "unreliable reference rate" and noted that "term lending transactions based on Libor became even more scarce than usual" in the market turmoil in March at the start of the pandemic.
In contrast, the Fed's favored replacement, SOFR, is based on actual transactions in the Treasury repo market and performed well during the crisis, he said.
"SOFR was the dog that didn't bark or bite," Williams said.
Oat-Milk Company Oatly Draws Investment From Blackstone-Led Group Including Oprah [WSJ]
Swedish oat-milk maker Oatly AB has sold a $200 million stake to a group led by private-equity giant Blackstone Group Inc. that includes Oprah Winfrey, Natalie Portman, former Starbucks Corp. chief Howard Schultz and the entertainment company founded by Jay-Z.
The sale of the roughly 10% stake values Oatly at about $2 billion, according to people familiar with the matter.
Ackman's blank check company raises IPO target to $4 billion [Reuters]
Pershing Square Tontine Holdings Ltd, the blank check company backed by billionaire investor Bill Ackman, has increased the size of its initial public offering by $1 billion to $4 billion, the largest ever IPO by a special purpose acquisition company…. In the filing, Ackman said the company will seek to acquire a venture capital-backed firm that he called a "mature unicorn" which has chosen to remain private.
Quibi wins round in mobile technology fight with rival [L.A. Times via Yahoo!]
Tech rival Eko had accused Quibi of infringing on a patent with a feature on its app called "turnstyle," and asked an L.A. federal court judge to block Quibi from using it. On Monday, Judge Christina A. Snyder denied the request for a preliminary injunction…. Activist hedge fund Elliott Management Corp. is funding Eko's lawsuit.
NYC Hedge Funds Angle for Work-From-Home Windfall on Their Taxes [Bloomberg]
Investment firms that pay the city's unincorporated business tax -- a 4% levy that brought in more than $2 billion last year -- may be able to slash their bills because, for the first time, most of their income is being earned outside Manhattan….
Businesses paying the UBT come from every sector of the city's economy, from construction and manufacturing to advertising and performing arts. But the securities and commodities industry paid almost 30% of partnership UBT revenue in 2016, according to the latest city data. That's second only to legal businesses at 32%, and well ahead of the real estate sector at 9.2%.