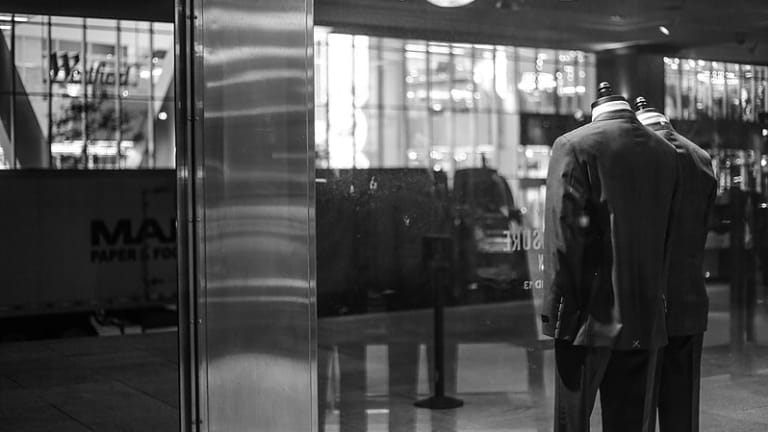 Opening Bell: 7.8.20
Brooks Brothers bankruptcy; Buffett's billions; Odey's awful annus; Facebook fascism; and more!
Brooks Brothers files for bankruptcy, as coronavirus and casual Fridays take a toll [MarketWatch]
Brooks Brothers was facing challenges before the health crisis forced nonessential retailers to temporarily close their stores. U.S. corporations had turned increasingly casual, and fewer men were buying suits. Once people started sheltering at home, they turned to even more casual attire such as sweatpants. As people begin to head back to the office, it isn't known whether they will return to a more formal way of dressing.
Deutsche Bank slammed with $150 million fine for failing to flag Jeffrey Epstein's shady transactions [CNN Business]
The suspicious transactions flagged by the regulator included payments to individuals who were publicly alleged to have been Epstein's co-conspirators in sexually abusing young women -- as well as payments to Russian models, school tuitions for several women, hotel expenses and direct payments to numerous women with Eastern European last names…. DFS credited Deutsche Bank's "exemplary cooperation" with the investigation.
KKR to Buy Global Atlantic Financial Group for Around $4 Billion [WSJ]
With the deal, KKR said it would increase its assets under management to $279 billion from $207 billion, as of March 31. The firm's permanent capital as a percentage of assets under management would rise to 33% from 9%, it said…. Global Atlantic will continue operating separately, with a senior leadership team led by Chairman and Chief Executive Allan Levine, after the deal closes, the companies said.
Warren Buffett Gives Another $2.9 Billion To Charity [Forbes]
With the latest donation, Buffett has now given away more than $37 billion of his wealth over the last 14 years.
After the donations, Buffett still holds 248,734 "A" shares of Berkshire worth $67.5 billion.
Argentina Bond Deal Endorsed by Old Allies Gramercy and Fintech [WSJ]
Average recoveries under the new deal would amount to 53.50 cents on the dollar, up from Argentina's initial offer of about 40 cents, said Robert Koenigsberger, founder of Gramercy Funds Management LLC, which has advised Argentina on debt management behind the scenes over the years…. The principal groups representing bond investors say substantive talks stalled in mid-June. "The Ad Hoc Argentine Bondholder Group and the Exchange Bondholder Group want to make clear that there has been no meaningful engagement between themselves and the Argentine authorities since June 17," the groups said in a joint announcement June 30.
Carlos Ghosn wired $860,000 to alleged escape plotters, U.S. says [Japan Times]
Ghosn wired the money in two installments to Promote Fox LLC, a company managed by Peter Taylor and one of his brothers, the U.S. government said in a Tuesday court filing. Taylor and his father, ex-Green Beret Michael, were arrested by U.S. authorities in May at the request of the Japanese government, which is seeking their extradition for allegedly helping Ghosn flee to Lebanon in December…. If Michael and Peter Taylor are extradited, the Japanese government would likely present the financial documents alongside immigration records and security camera footage mentioned in other court filings to illustrate the Taylors' role in the escape.
Crispin Odey Hedge Fund's Losses Deepen to 17.9% in First Half [Bloomberg]
The Odey European Inc. Fund fell in five out of six months, including a 7.3% drop in June, wiping out a surge during the market sell-off in March, according to a letter to investors seen by Bloomberg. Odey's losses compare with a 3.5% slide across the industry that was led by led by event-driven and equity hedge funds, according to preliminary figures from the Bloomberg Hedge Fund Indices.
"The future is as unknowable today as it was three months ago," Odey wrote in the letter, without giving an explanation for the fund's performance.
Facebook ad boycott organizers met with Zuckerberg. It didn't go well [CNN Business]
"Instead of committing to a timeline to root out hate and disinformation on Facebook, the company's leaders delivered the same old talking points to try to placate us without meeting our demands," said Free Press Co-CEO Jessica Gonzalez. "Facebook approached our meeting today like it was nothing more than a PR exercise…."
"We had 10 demands and literally, we went through the 10, and didn't get commitments or timeframes or clear outcomes," said Greenblatt. Zuckerberg came to the meeting expressing appreciation for the opportunity to hear the nuances of the groups' position, Greenblatt added. "And we said: 'There is no nuance in white nationalism.'"