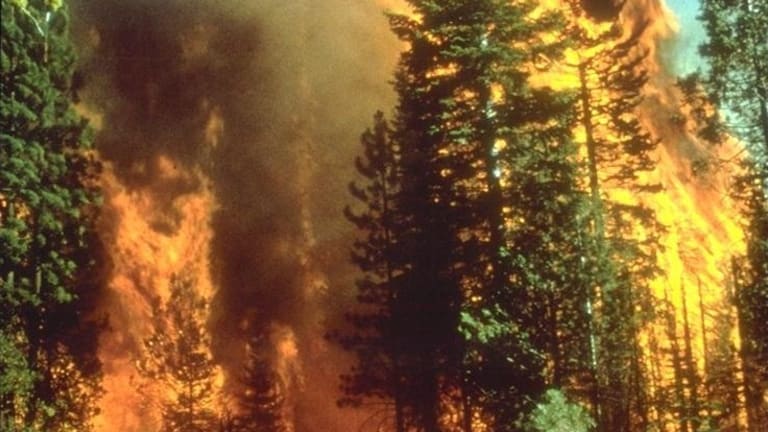 Opening Bell: 8.25.20
Average inflation; Asana and Ant; burning earns Baupost a billion; forcing the failson; and more!
Powell set to deliver 'profoundly consequential' speech, changing how the Fed views inflation [CNBC]
Powell, the central bank chief since 2018, is likely to detail a set of measures aimed at pushing inflation higher amid a coronavirus pandemic that has dragged the U.S. economy into one of its darkest hours…. "The expectations are pretty high to get something meaningful on Thursday," said Tom Graff, head of fixed income at Brown Advisory. "This is probably a historic speech."
One phrase Powell is likely to use is "average inflation" targeting.
Simply, it means that the Fed, which has pegged 2% as a healthy level, will let inflation run higher than that for a while if it has spent a considerable time beneath that level.
Zoom Restored After Outage Brings Down Virtual Meetings, Classrooms [WSJ]
The outage lasted for several hours Monday…. The Zoom outage impacted the first day back for Atlanta Public Schools' 52,000 students. During that time, students and teachers switched to other educational platforms that have video capabilities.
Peter Thiel-backed workplace app Asana files for direct listing on NYSE [Reuters]
Asana, which was last valued at about $1.5 billion and counts Silicon Valley billionaire Peter Thiel among its largest backers, had confidentially filed here to go public earlier this year…. Other than [founders Dustin] Moskovitz and [Justin] Rosenstein, who together hold 56.5% of the total voting power in the company, Asana counts hedge fund Benchmark Capital and funds linked to former U.S. vice president Al Gore among its top stockholders.
Jack Ma's Ant Group files for Hong Kong-Shanghai IPO, says first-half profit rose 1,000% [CNBC]
The financial technology powerhouse, which is still controlled by Alibaba founder Jack Ma, reported profit of 21.9 billion Chinese yuan ($3.2 billion) on total revenues of 72.5 billion yuan in the first half of the year, according to the exchange filing.
That represented a more than 1,000% jump in profits from the same period a year ago….
Baupost Collects $3 Billion Wagering on PG&E's Wildfire Claims [Bloomberg]
The payout yielded Baupost's biggest profit generator last month and represented a sizable markup from what the firm had anticipated, it told investors Thursday. The fund bought $6.8 billion of subrogation claims against PG&E, court documents show.
Baupost acquired some of the claims at about 35 cents on the dollar, Bloomberg previously reported, so its profit on the trade could have approached $1 billion.
Why Nelson Peltz's Trian Partners Is Having a Year to Forget [II]
The activist hedge fund firm's main hedge fund lost more than 13 percent for the first half of the year, according to an investor.
New York attorney general investigating whether Trump Organization 'improperly' inflated value of assets [CNBC]
"The action seeks to compel the testimony of Trump Organization Executive Vice President Eric Trump, who was intimately involved in one or more transactions under review, as well as the production of thousands of documents wrongly withheld," James' office said in a statement….
"Despite earlier agreeing to be interviewed by the OAG, Eric Trump now refuses to appear," James' office said.
New CEO of $1.2 Trillion Sovereign Investor Drops Hedge Fund [Bloomberg]
[Nikolai] Tangen will transfer his 43% stake and dividend rights in AKO to the AKO Foundation, a charity; the agreement will "apply in perpetuity," Norges Bank said [and] sell his personal holdings, including about 5 billion kroner ($550 million) in AKO funds, and deposit the proceeds in bank accounts. He already has about 2 billion kroner in bank deposits, he said at a press conference late on Monday…. The 54-year-old has repeatedly said he wouldn't have applied for the CEO job at the wealth fund if he'd known he would need to exit AKO entirely. Since his appointment was made public in March, Tangen said he's been through "the most intense, the most demanding, but also the most instructive" time of his life. He said the process had left him even more motivated to start the job.
General Atlantic, Sequoia Capital Are Key Drivers in Oracle Bid for TikTok [WSJ]
The investment firms, which own large stakes in Beijing-based ByteDance Ltd., are key drivers behind a possible bid for TikTok by a group including Oracle Corp., the people said…. Microsoft had said it might invite some U.S. investors to join its bid. But more recently Sequoia and General Atlantic grew concerned that they wouldn't have a place in a Microsoft deal and looked for another potential tech partner that could give them a piece of the action, some of the people said. They are now pushing the potential Oracle bid, which quickly won President Trump's public support, although some of the people said the Microsoft talks are fluid and outside investors could still be included as minority investors in Microsoft's bid.