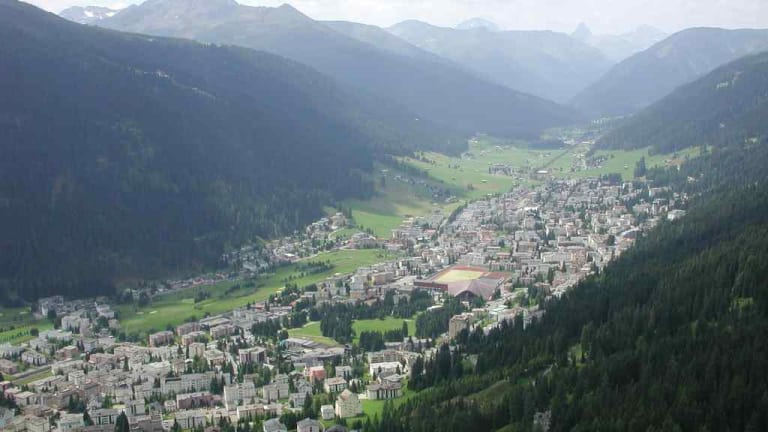 Opening Bell: 8.26.20
Permanent rotation; what's the skiing like in Davos in June? How exactly did Citi screw up this big? And more!
JPMorgan will have staff cycle between office and remote work in a move that may remake Wall Street [CNBC]
Workers in the firm's corporate and investment bank, an industry heavyweight with 60,950 employees, will cycle between days at the office and at home, keeping the ability to work remotely on a part-time basis, according to Daniel Pinto, head of the massive division and co-president of the banking giant.
"We are going to start implementing the model that I believe will be more or less permanent, which is this rotational model," Pinto told CNBC in a Zoom call from London, where he is based. "Depending on the type of business, you may be working one week a month from home, or two days a week from home, or two weeks a month."
World Economic Forum says annual meeting in Davos will be delayed until summer 2021 [CNBC]
The meeting, originally scheduled for January in the Alpine ski resort, will be rescheduled to "early next summer," according to Adrian Monck, managing director of public engagement at the Forum…. The World Economic Forum also announced Wednesday that, instead of the in-person session, it will host a "high-level," digital forum called "Davos Dialogues" during the week of Jan. 25, 2021. Monck said the platform will feature global leaders and offer them a chance to present ideas on the state of the world in 2021.
Fed's Esther George sees risks building of double-dip recession [CNBC]
"Financial conditions are very accommodative. We have low rates, we still have capacity in those credit facilities," George said. "So I think it's too soon to try to speculate on whatever else might be needed, other than to say the Federal Reserve is going to be very vigilant on that and be prepared to respond if they would have to…."
"I'm not an advocate of letting inflation run hot, because I'm not sure what people mean by that," she said. "I think we are bound to achieve price stability. That's part of our mandate."
Historic Contraction in Rich Economies Presages Long Climb Back [WSJ]
The Organization for Economic Cooperation and Development Wednesday said the combined economic output of its 37 members—most of which are rich—was 9.8% lower in the second quarter than it was in the first, the largest decline since records began in 1960. The previous largest fall in output during a single quarter was the 2.3% drop recorded in the first quarter of 2009, at the height of the global financial crisis…. In addition to the toll taken by new restrictions as a number of countries see a fresh rise in infections, the speed of the recovery will depend on how many jobs are lost and how many businesses go bust as a consequence of weaker levels of activity.
Citi's $900 Million Loan Error Is Still Perplexing [Bloomberg]
When a simple human lapse like this can cause such a problem, it suggests there may be systemic deficiencies too. Where were the checks? The U.S. banking giant was also criticized not long ago by U.K. regulators for shortcomings in its governance and controls…. Citi — a bank with a $2.2 trillion balance sheet — says the person who processed the transfer "did not manually select the correct system options" after some lenders had been paid part of the loan. Instead of paying just the interest, it says the individual failed to prevent the entire principal on the loan from being repaid, landing the lenders with 100 times what they were due to receive.
According to Citi's latest court filing on the subject, "manual checks" also failed to catch the original blunder. A third-party vendor was also involved, according to a person familiar with the transaction. Unfortunately for the Wall Street firm, this raises more questions about how robust its system was.
American Airlines to cut 19,000 jobs when federal aid expires in October [CNBC]
Demand has only modestly recovered, presenting a dire scenario for airlines. American said its fourth-quarter capacity will be half of the year-ago level and that international long-haul flights will be just 25% of its 2019 schedule…. American said it expects to have 40,000 fewer employees in October compared with when the pandemic began, the carrier said….
"The only problem with the legislation is that when it was enacted in March, it was assumed that by Sept. 30, the virus would be under control and demand for air travel would have returned," they said. "That is obviously not the case."
Cyber criminals hit NZ stock exchange twice in two days [Yahoo! Finance]
The stock exchange experienced a "volumetric DDOS (distributed denial of service)", which aims to disrupt service by saturating a network with significant volumes of internet traffic.
The NZX halted trading in its cash markets at around 3:57pm local time on Tuesday, shortly after surging close to its all-time high.
Today, the NZX opened this morning and traded for about an hour before coming to another halt at 11:24am local time.
Hedge fund manager called out by Seinfeld in op-ed reacts [PIX-11]
"I appreciate his love for the city. He lived for 20 or 30 years in LA, he lives right now four hours away in Long Island," said [James] Altucher. "At the beginning of the pandemic he left for his castle in the Hamptons with his 77 cars and he hasn't been back since…."
"I was really shocked and disturbed that he used his powerful platform doing an op-ed in the New York Times to really just do nothing but attack me. I've gotten death threats," he said. "Since Jerry's article came out, I think people felt safe, 'oh I'll just piggy back Seinfeld and attack this guy.'"