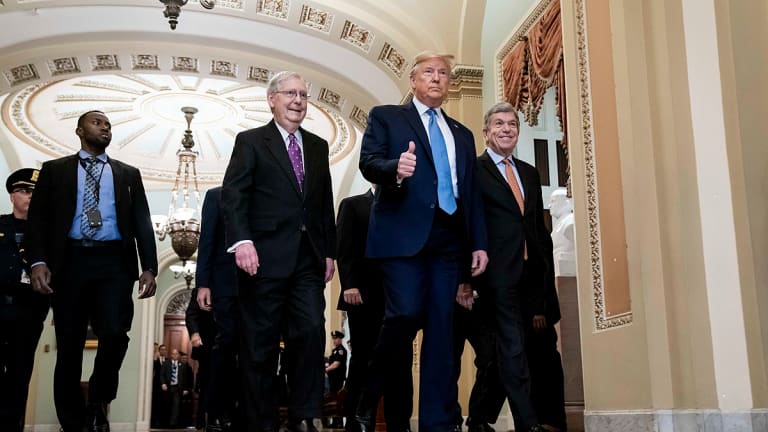 Opening Bell: 8.6.20
No deal; CalPERS CIO takes off; former Valeant undoes all of its Valeant-ness; who wants a bargain on a Manhattan apartment? and more!
Weekly Jobless Claims Decline, but Top One Million for 20th Week [NYT]
"Over all, the data was modestly better than we expected, a surprising improvement," said Kathy Bostjancic, chief U.S. financial economist at Oxford Economics. There were declines across nearly all the states, even those where there is a resurgence of the virus.
But jobless claims "remain at alarmingly high levels," she said, and the stubbornly high number of people collecting unemployment — estimated by economists at 30 million — suggests that "temporary layoffs are becoming permanent."
Liability Shield Is a Stumbling Block as Lawmakers Debate Relief [NYT]
So far, there has been little sign of a surge in litigation as the economy reopens, and prominent voices have opposed such a measure, arguing that liability shields are unfair to workers and that businesses must take responsibility to keep them safe…. Opponents of the provision, including the American Association of Justice, also argue that the United States has not yet seen a profusion of coronavirus-related lawsuits, because the requirements for bringing such a suit are already high. Companies that act reasonably are protected from such lawsuits, and plaintiffs have to prove that they contracted the coronavirus at the place of business, not somewhere else, they say.
Wall Street Enforcement Chief to Leave Agency [WSJ]
Steven Peikin, who joined the Securities and Exchange Commission in 2017, will leave on Aug. 14, the agency announced Wednesday. Mr. Peikin managed enforcement at a time when the SEC battled a flood of fraudulent cryptocurrency deals and had to contend with losing several cases before the Supreme Court that pared back its enforcement authority.
Stephanie Avakian, who serves as co-director with Mr. Peikin, will continue to manage the nearly 1,300 people assigned to enforcement.
Calpers investment chief resigns after 18 months at $400bn fund [FT]
[Ben] Meng had recently drawn criticism for a plan to increase the fund's leverage to 20 per cent of its value using borrowings and financial instruments such as equity futures. One board member, Margaret Brown, voted against the plan, saying it reminded her of the fund's mis-steps during the 2008 financial crisis…. Calpers has been marked by executive turnover in recent years. The fund did not have a head of private equity for two years until Greg Ruiz joined in May 2019. Elisabeth Bourqui left as chief operating investment officer in January last year after eight months at the fund.
Barclays Activist Raises Stake, Pressure on Trading Rejig [Bloomberg]
Edward Bramson's Sherborne Investors Management LP, which recently boosted its stake to 5.9%, said Barclays should mimic cutbacks at Deutsche Bank AG to improve profitability, according to a letter sent to investors this week…. The British bank should consider a 24% reduction of its CIB assets, Bramson's letter says.
Bausch Health to spin off eye care business, shares soar [Reuters]
Since its purchase in 2013, Bausch + Lomb has been a stable source of revenue for the company, especially after the accounting issues led to a steep fall in the share price of the one-time Wall Street darling, compounded by concerns over Bausch's large debt pile…. Bausch's U.S. shares, which touched a record high of $263 in 2015, were trading at $24.85.
Fortunes Won and Lost Trading in Kodak Stock: Inside a Wild Week [WSJ]
The volatility was the perfect environment for a wave of amateur investors who have become active day traders…. More than 100,000 users of the popular trading app Robinhood jumped in that day, helping to push Kodak's stock price higher, according to the data-mining website Robintrack….The stock surge faded Thursday, and a selloff took over Thursday and Friday as the company's share price fell all the way back down below $22.
"I guess what I learned is trading is just gambling," Mr. Olsen said. "That's a fact."
Ex-NYC union chief loses bribery appeal; hedge fund exec wins resentencing [Reuters]
The appeals court set aside the 2-1/2 year prison term for Platinum co-founder Murray Huberfeld, who pleaded guilty to a conspiracy charge, and reversed an order that he pay $19 million in restitution to the union…. It also said the union was not a "victim" of Huberfeld's criminal conduct because it invested with Platinum before that conduct occurred, and therefore did not qualify for restitution.
Manhattan apartment deals plunge 57%, suburban real estate surges [CNBC]
The high-end of the market is getting especially hard hit, with co-ops priced at $4 million to $10 million down over 75%.... As deals dry up, the number of apartments listed for sale is surging. New apartment listings jumped by 8% in July compared with a year ago. The number of unsold apartments is now at the highest level in almost a decade…. Sales contracts in the Hamptons more than doubled in July, with 267 deals. Signed contracts in Westchester County, New York, also more than doubled to 987 deals.
There were more than 1,200 signed contracts in July in Fairfield County, Connecticut, while Greenwich saw an increase of 72%.
Mets sale: Devils' Josh Harris, David Blitzer 'can't write the check themselves' according to business insider [NJ.com]
Fox Business Network's Charles Gasparino… reports Harris and Blitzer, the owners of the New Jersey Devils and Philadelphia 76ers, are looking for help in their quest to buy the ball club./According to Forbes, Harris is worth an estimated $5 billion. Blitzer is worth approximately $1.3 billion….
[Point72 Asset Management founder Steve] Cohen became the leading contender after the first round of bids, with Gasparino reporting Cohen put the most cash on the table: $2 billion for the club and another $2 billion for SNY.