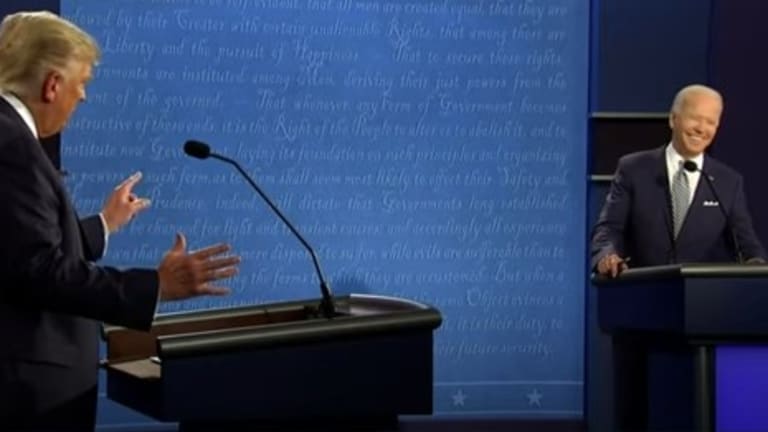 Opening Bell: 9.30.20
JPMorgan strikes a deal; Steve Mnuchin pretends to be trying; the Mooch says the debate was embarrassing, and he would know; and more!
Dow jumps 350 points as Mnuchin says lawmakers will give stimulus a 'serious try' [CNBC]
"I say we're going to give it one more serious try to get this done and I think we're hopeful that we can get something done," Mnuchin said at the Delivering Alpha conference presented by CNBC and Institutional Investor. "I think there is a reasonable compromise here…."
Still, major averages are headed for steep losses in September and their first monthly declines since March. The S&P 500 is down 4.7% this month through Tuesday's close, on pace for its first down month in six. The Dow and the Nasdaq Composite have fallen 3.4% and 5.9%, respectively, in September.
JPMorgan Admits Spoofing by 15 Traders, Two Desks in Record Deal [Bloomberg]
Over eight years, 15 traders at the biggest U.S. bank caused losses of more than $300 million to other participants in precious metals and Treasury markets, according to court filings on Tuesday. JPMorgan admitted responsibility for the traders' actions. The Justice Department filed two counts of wire fraud against the bank's parent company but agreed to defer prosecution related to the charges, under a three-year deal that requires the bank to report its remediation and compliance efforts to the government…. The New York-based lender will pay the biggest monetary penalty ever imposed by the Commodity Futures Trading Commission, including a $436.4 million fine, $311.7 million in restitution and more than $172 million in disgorgement, according to a CFTC statement.
Palantir's and Asana's Dueling IPOs to Test Direct-Listing Process, NYSE [WSJ]
Among the potential pressure points for trading in Palantir and Asana are when both stocks will open and how their shared key advisers will manage the process of matching buyers and sellers of two stocks simultaneously. Given the newness of direct listings and their complicated nature, some people close to the offerings said they aren't thrilled that two are happening on the same day…. The NYSE published so-called reference prices for the two stocks on Tuesday afternoon: $7.25 a share for Palantir and $21 a share for Asana.
LVMH files countersuit against Tiffany in feud over $16 billion deal [CNBC]
In a strong rebuke, it also slammed Tiffany's "mismanagement of its business" which, it said, constitutes a blatant breach of its obligation to operate in the ordinary course.
"For instance, Tiffany paid the highest possible dividends while the company was burning cash and reporting losses. No other luxury company in the world did so during this crisis. There are many examples of mismanagement detailed in the filing, including slashing capital and marketing investments and taking on additional debt," LVMH's statement Tuesday said.
U.S. to Start Forgiving PPP Loans After Borrowers Complained [WSJ]
Since it launched an online portal for loan forgiveness in early August, the Small Business Administration has received more than 96,000 applications from businesses seeking to have their loans forgiven—but none had been approved, William Manger, SBA's chief of staff and associate administrator, told House lawmakers last week.
Those applications represent roughly 2% of the 5.2 million loans, worth $525 billion, issued under the program before it expired on Aug. 8.
Anthony Scaramucci says first presidential debate was an 'embarrassment' to the U.S. [CNBC]
"I didn't like it, I think most people didn't like that debate," he said, adding that there needs to be a better system to control how next debates are held. Trump and Biden are scheduled to debate on Oct. 15 and Oct. 22…. "We all saw the debate, it was a nasty debate, it was an interrupting match if you will," he added. "I don't think the polls are going to move that much, and if the markets have moved because of the debate, it will settle out over the next open if you will…."
"The vice president has the momentum and he's less polarizing than Donald Trump," said Scaramucci. "I think the vice president's going to beat him."
Citigroup executive Ray McGuire seeks Wall Street leaders' support for likely NYC mayoral run [CNBC]
McGuire, according to these people, has had lunches and dinners with executives who have ties to the banking, hedge fund and private equity industries…. They have, in turn, said he will receive their financial support. However, there are others in New York's finance world who aren't as convinced that he should get into the race and have signaled to him that he doesn't have the name recognition or the experience to pull off a victory in 2021.