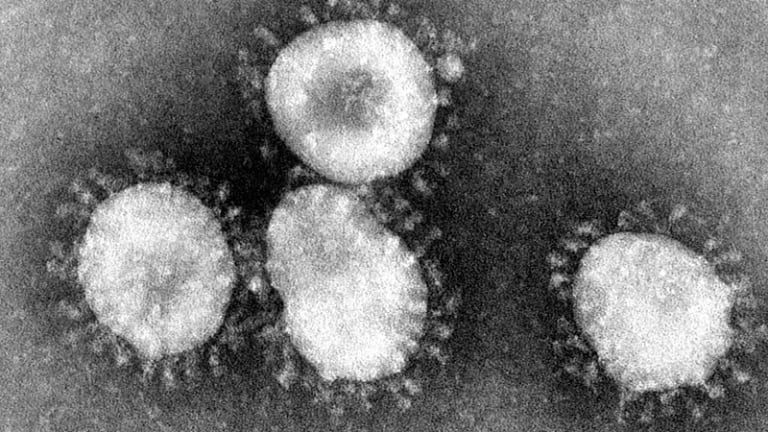 Opening Bell: 10.2.20
Local germophobe contracts deadly disease; Goldman continues self-abasement; ransomware Catch-22; and more!
Dow futures fall 400 points after Trump says he tested positive for coronavirus [CNBC]
The president's diagnosis added more uncertainty to the election, an event that was already weighing on the market and keeping traders on edge as they attempted to evaluate the possible outcomes. Shares of stocks tied to the economy reopening fell in premarket trading as the news highlighted the risk of a second wave of the coronavirus and raised fears that maybe lawmakers would slow the pace at which they relaxed coronavirus measures…. The Trump tweet initially knocked down Dow futures about 500 points in overnight trading, and the contracts were off their worst levels as traders digested the news.
General Motors' Credit Card, Brought to You by Goldman Sachs [WSJ]
Goldman Sachs, a newcomer to the credit-card space, won the bidding over Barclays PLC, people familiar with the matter said, handing the Wall Street firm more than a million GM cardholders and their roughly $8.5 billion in annual spending.
It is the second win in the credit-card sector for Goldman, which launched its first credit card last year with Apple Inc. and is on the hunt for other deals in co-branded cards.
Despite Billions in Fees, Banks Predict Meager Profits on P.P.P. Loans [NYT]
At JPMorgan Chase, the chief financial officer, Jennifer Piepszak, said on a quarterly earnings call in July that profit from the program "will be near zero." Her counterpart at Bank of America, Paul M. Donofrio, said he did not expect much profit, "if any."
The $525 billion program handed banks at least $13 billion in fees, according to a New York Times analysis of data from the Small Business Administration…. But some banks are already saying their profits will be eaten up by the costs they incurred to make the program work, including all-nighters and rushed technology projects during four frenzied months of lockdowns and business closures.
Trian Takes Stakes in Invesco, Janus Henderson With Eye on Deals [WSJ]
Trian has accumulated 9.9% stakes in both Invesco and Janus Henderson, with the two positions totaling roughly $900 million, people familiar with the matter said…. Trian believes Invesco has the potential to grow by acquiring rivals such as Janus Henderson, and wants to work with management and the board to build a large asset manager that can better weather the challenges facing the industry and compete with larger rivals
Billionaire Alan Howard Is Raising More Cash After His Hedge Fund Soared 100% [Bloomberg]
A hedge fund that billionaire Alan Howard personally manages is raising another $500 million after doubling investors' cash in the early days of the pandemic…. Firm-wide assets, which had dwindled to about $6 billion at the start of last year from more than $40 billion in 2013….
BitMEX Co-Founders Charged With U.S. Rules Violations [WSJ]
BitMEX executives Arthur Hayes, Benjamin Delo, Samuel Reed and Gregory Dwyer were charged with one count of violating the Bank Secrecy Act and one count of conspiracy, according to an indictment made public Thursday. Mr. Hayes is known for feuding with bitcoin skeptics such as economist Nouriel Roubini and urging traders to gamble on the most esoteric digital assets…. BitMEX is the second-largest cryptocurrency derivatives exchange by daily volume, according to research firm CoinMarketCap…. BitMEX didn't file any suspicious-activity reports from 2014 to this year, according to the indictment….
Treasury Warns Against Keeping Ransomware Payments Quiet [WSJ]
The notices, issued by units of Treasury's Office of Terrorism and Financial Intelligence, warned victims and businesses that assist them to be particularly wary of making ransomware payments to blacklisted individuals and entities, including hacker groups in countries such as Iran, North Korea and Russia…. Paying them would be a violation of U.S. law, presenting the possibility of steep penalties. And the Treasury is unlikely to grant special licenses to allow a payment to a blacklisted attacker, according to one of the advisories, issued by the department's Office of Foreign Assets Control, which enforces sanctions.
Trade to resume Friday in Tokyo after hardware shutdown [AFP via Yahoo!]
All transactions were suspended for the entire day on Tokyo's two leading indexes, as well as smaller exchanges in other parts of the country, over a glitch that created problems with the delivery of market information…. There was no indication of a cyberattack or other foul play.
Manhattan apartment sales tumble 46%, leaving 10,000 unsold apartments [CNBC]
The current supply of luxury apartments for sale would take nearly three years to sell, according to a report from Miller Samuel and Douglas Elliman…. There were a total of 1,375 sales in the third quarter, down 44% from the third quarter of last year. The prospects for a turnaround before the election also look increasingly unlikely. Signed contracts for September fell 42% in Manhattan in September compared with last year, according to Miller Samuel.