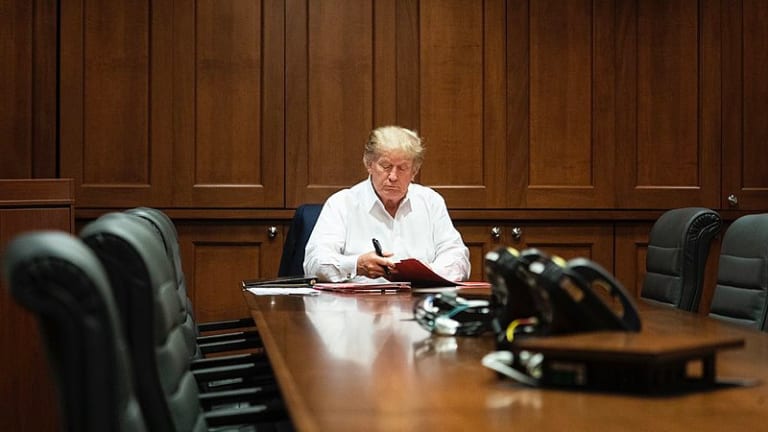 Opening Bell: 10.5.20
Trading-floor diagnoses; CFTC less technologically incompetent these days; employee-owned investment consultant not anymore; and more!
Trump's diagnosis fuels uncertainty for skittish U.S. stock market [Reuters]
News of Trump's hospitalization at a military medical center outside Washington, where he remained on Saturday, came after trading ended on Friday…. If the president's health is in jeopardy, there's "too much uncertainty in the situation for the markets just to shrug it off," said Willie Delwiche, investment strategist at Baird….
"If people ... get nervous right now, probably it manifests itself in crowded trades like tech and mega-cap being unwound a bit," Delwiche said
Bonds Were a Safety Net When Stocks Fell. Investors Fret They Aren't Anymore. [WSJ]
"The 60-40 portfolio works best when there is good economic growth and low inflation," said Mr. Mueller-Glissmann. "In the future, there is less likely to be such a favorable mix."
The risks of much higher inflation and alternatively, of deflation, are both greater than in the past, he said. This is partly why the classic balanced portfolio is unlikely to function well for a long time, so investors need different solutions.
JPMorgan Probe Revived by Regulators' Data Mining [WSJ]
"We could not have brought the JPMorgan case without the data analytics program we have now," said Mr. McDonald, who will step down as director this week after more than three years in the post…. The volume of data—including trades, orders and other messages flooding into CME's computers—is so massive the CFTC couldn't store or use it when Mr. McDonald began seeking it in 2017, he said….
The CFTC began looking for manipulation in the silver market in 2008, after the agency received requests from hundreds of investors who complained that silver prices were being rigged. The agency closed the probe in 2013, saying there was no "viable basis" for an enforcement action.
Dallas Fed's Kaplan Lays Out Path for Additional Federal Reserve Aid, If Needed [WSJ Pro]
Mr. Kaplan also reiterated what he and his central bank colleagues have said repeatedly in recent weeks: Continued strong support from the federal government is critical to helping the economy and Americans navigate the coronavirus pandemic.
Wilshire Associates Is Being Bought by Private Equity Firms [II]
Wilshire Associates, founded by chief executive and chairman Dennis Tito, is one of the largest institutional investment consultants, with over $1 trillion in assets under advisement and $73 billion in assets under management. The firm, which also offers analytics and outsourced-CIO services, has been employee-owned since its founding in 1972….
Tito will step down as chief executive and chairman when the sale is complete, as will president and vice chairman John Hindman. [COO Jason] Schwarz will continue to lead the investment and portfolio analytics businesses as chief operating officer, while also assuming the role of president, according to the announcement Friday.
CargoMetrics Founder and CEO Scott Borgerson Resigns [gCaptain]
Borgerson stepped down due to intense media interested surrounding his rumored links with Jeffrey Epstein associate Ghislaine Maxwell…. [CargoMetrics] has long been considered a front-runner in the space of big data in shipping and has attracted investments from tech bigwigs such as Eric Schmidt, former CEO and executive chairman of Google, and hedge fund investor Paul Tudor Jones. In 2017, the company entered into an equity agreement with Maersk Tankers, giving the A.P. Moller-Maersk unit access to CargoMetrics' data and software.