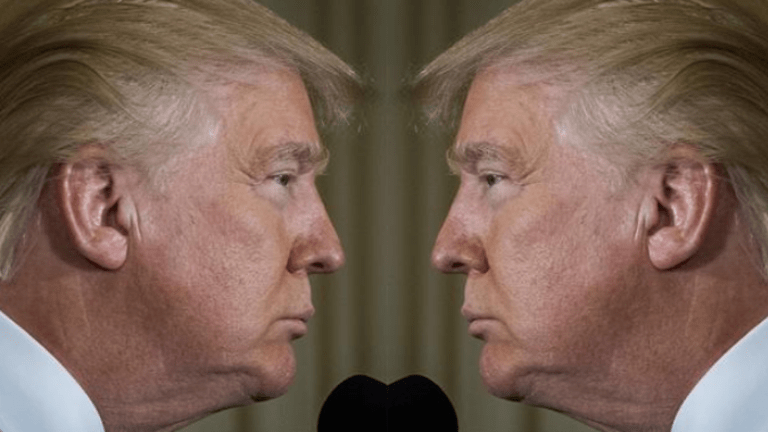 Opening Bell: 10.7.20
Bad tweets; tragic risks; barons and tycoons; hairy tax fraud; and more!
Global markets struggle to make sense of Trump's stimulus tweet storm [CNN]
Just hours after Trump's decision to halt negotiations on a major economic stimulus package caused US stocks to plummet, he called on US lawmakers to approve smaller measures that would provide relief to airlines and small businesses….
"This appears to be a none too subtle effort to cherry-pick the bits of a fiscal stimulus plan that are directly vote-winning potentially," said Jeffrey Halley, senior market analyst for Asia Pacific at Oanda. "Whether the American public buys it or not is another thing altogether…."
US futures moved higher overnight, with the Dow, S&P 500 and Nasdaq on track to open with gains of roughly 0.6%. That followed a rocky ride Tuesday, when the Dow swung more than 600 points after Trump called off stimulus talks and closed down 376 points, or 1.3%, lower. The S&P 500 and Nasdaq Composite were also hammered.
Fed's Powell Says U.S. Faces 'Tragic' Risks From Doing Too Little to Support Economy [WSJ]
"The expansion is still far from complete," Mr. Powell said in his strongest remarks to date on the subject, delivered to a virtual conference of private-sector economists Tuesday. "At this early stage, I would argue that the risks of policy intervention are still asymmetric. Too little support would lead to a weak recovery, creating unnecessary hardship…." A prolonged slowdown in the pace of improvement could trigger "typical recessionary dynamics, as weakness feeds on weakness," he said. Such a slowdown could exacerbate existing racial and wealth disparities in the economy, which "would be tragic, especially in light of our country's progress on these issues in the years leading up to the pandemic," Mr. Powell said.
House Lawmakers Condemn Big Tech's 'Monopoly Power' and Urge Their Breakups [NYT]
Lawmakers said the four companies had turned from "scrappy" start-ups into "the kinds of monopolies we last saw in the era of oil barons and railroad tycoons." The lawmakers said the companies had abused their dominant positions, setting and often dictating prices and rules for commerce, search, advertising, social networking and publishing.
To amend the inequities, the lawmakers recommended restoring competition by effectively breaking up the companies, emboldening the agencies that police market concentration and throwing up hurdles for the companies to acquire start-ups.
Fed Tenure Boosts Lael Brainard as Potential Biden Treasury Pick [WSJ]
After six months of forging the Fed's pandemic response, she is one of the few Democrats intimately involved in responding to the crises of both 2008 and 2020, something political and economic analysts and people close to the Biden campaign said will boost her consideration as possible Treasury secretary…. "She's been quite comfortable working behind the scenes and seems to be a team player," said Jared Bernstein, who was Mr. Biden's chief economist when he was vice president. "Her willingness to broaden her scope without being flashy is one of the reasons she has been effective."
Billionaire hedge fund manager Ray Dalio shares his China strategy [CNBC]
"That means to achieve the right kind of balance of assets in China," he said. "Our approach is, we call it all-weather approach, it's a certain balance in which you achieve balance without lowering the expected return. From that, you want to make the tactical moves…."
Like China, Dalio said he believed India also has tremendous potential but it lags behind in the development of its capital markets.
"There's much less liquidity in those markets, much less developed," he said. Dalio explained that there are investment opportunities in the country in terms of many cutting edge technologies and entrepreneurship. But it is "tougher to invest in."
UK watchdog bans Bitcoin-based products for retail investors [Reuters]
The Financial Conduct Authority said there was no reliable basis for valuing cryptoassets that underpin derivatives and exchange-traded notes.
The ban, which prompted surprise and anger in the sector, will come into force on Jan. 6, 2021.
Trump Took $70,000 in Tax Deductions for Hair Care. Experts Say That's Illegal. [NYT]
Tax experts told me that deducting what is ordinarily considered a personal expense is prohibited under almost any circumstances. And they said such a deduction could potentially constitute criminal tax fraud if the cost of the hairstyling was reimbursed by someone else.
Three former NBC executives involved in "The Apprentice" told me that, while they didn't recall the exact terms of Mr. Trump's contract, they were very familiar with the way such contracts are typically written. The cost of hair and makeup for a star of Mr. Trump's stature would generally be covered by the show, and Mr. Trump would have been reimbursed for any of the costs he incurred.