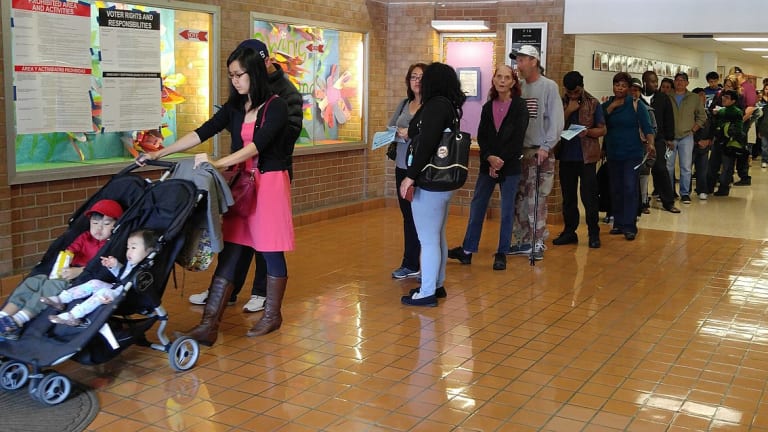 Division Bell: 11.3.20
Apparently something is happening today?
Stocks build on Monday's rally, with the Dow up more than 400 points on Election Day [CNBC]
"Ultimately, the markets want clarity, and the main threat to risk assets this week is the emergence of a contested election, so if races are tight enough for campaigns to sue to halt or extend recounts, expect a reversal of this morning's rally," Tom Essaye, founder of The Sevens Report, wrote in a note….
"A declared winner would certainly be better for these markets, agnostic of who it is," said Art Hogan, chief market strategist at National Securities. "If we wake up tomorrow and we don't have a clear winner, that shouldn't surprise the market. But if we're talking about this in the middle of next week and about court cases and recounts, that's going to be the worst-case scenario."
A Biden win could mean a tax rewrite for private equity [Private Equity News]
Biden's tax plan would increase the tax rate on capital gains to 39.6% from the current 20% for people earning more than $1m a year…. The Democrat also has proposed raising the highest individual income-tax rate to 39.6% from 37%, and to add a 12.4% "high earner" payroll tax for Social Security on annual incomes above $400,000, which would be paid half by employer and half by employee….
Taken together, these changes would significantly increase the tax bill for high-earning private equity managers and firms….
As California Goes, So Goes the Nation's Business? [DealBook]
The state, which by itself is the world's fifth-largest economy, can set regulatory standards and signal how policy winds will blow in the rest of the country.
Meet the Wall Street titans donating millions to swing the US election [FN]
Wall Street professionals have donated $50m to Biden's candidacy, according to the Center for Responsive Politics, a non-partisan organisation, compared with $10m for US President Donald Trump.
Bets on Democratic Sweep Boost Emerging-Market Currencies [WSJ]
Money managers are wagering that an acceleration of growth in the U.S. would be a boon for emerging markets that rely on overseas demand for goods, services and raw materials…. Underscoring the fragility of emerging-market assets during the worst economic downturn in decades, Mexico's peso gave up 0.8% of its recent gains over the past week to trade at 21.21 a dollar. Jitters ahead of the election, concerns that European lockdowns will crimp the world economy, and a tumble in oil prices prompted the decline.
Head of risk at Citigroup to depart [FT]
Citigroup's chief risk officer, Brad Hu, is departing the bank in the wake of run-ins with regulators. He had served in the post for eight years.
In a memo, Citi's current chief executive, Mike Corbat, and his designated successor, Jane Fraser, wrote that "we respect [Mr Hu's] decision to align his own timing with the CEO transition and his desire for the function to reset as Jane leads the management team . . . Brad has been an outstanding CRO".
Citigroup Names New Consumer Banking Head [WSJ]
Ms. Fraser is tapping one of her top lieutenants, Anand Selva, to replace her as head of the consumer bank…. Mr. Selva, who was previously in Asia for Citigroup, is a leader behind the bank's focus on digital consumer offerings, largely shunning the heavier focus on branches that defined some rivals.
BNP Paribas posts profit beat for third quarter and maintains guidance for the year [CNBC]
The French bank reported 1.89 billion euros ($2.20 billion) in net income for the third quarter of 2020, after analysts had forecast a figure of 1.6 billion euros…. BNP Paribas reported revenue growth in all its three divisions, but CIB (Corporate and Institutional Banking) experienced the highest increase by 17% year-on-year.
Aramco Sticks by $18.75 Billion Dividend, Despite Sharp Fall in Profit [WSJ]
The Saudi Arabia Oil Co., as it is officially called, said Tuesday that free cash flow came in at $12.4 billion in the quarter, significantly below the dividend payout. Aramco didn't break out how it would make up the shortfall, but the company's debt ticked higher in the quarter…. The state oil giant is reviewing plans to expand at home and abroad in the face of sharply lower oil prices and the heavy dividend burden….
Twitter CEO Jack Dorsey keeps his job after board of directors review [N.Y. Post]
The decision by a committee of Twitter directors will let Dorsey breathe a sigh of relief after activist investment firm Elliott Management questioned the social-media giant's performance under his leadership. Elliott owns about 4 percent of Twitter's stock and holds a seat on its board…. Additionally, Twitter announced that it will start its $2 billion share buyback program this quarter. The buybacks, fueled by a $1 billion investment from tech-investing giant Silver Lake Partners, were another part of Twitter's deal with Elliott.
Ackman Stumbles in October [II]
The stock market's October swoon sent Bill Ackman's Pershing Square Holdings hedge fund down 2.2 percent for the month, an abrupt change from the big gains it's been chalking up all year. Pershing Square Holdings, Ackman's publicly traded hedge fund, is still up 43.7 percent….
Jeffrey Epstein's Palm Beach Mansion to Be Demolished [WSJ]
Mr. Glaser said that the deal is slated to close in December, after which he plans to tear the property down and replace it with a 14,000-square-foot Art Moderne home…. "Palm Beach is going to be very happy that it's gone," he said of Mr. Epstein's home….
The compound is in a pricey part of Palm Beach, roughly a mile from Mar-a-Lago, President Trump's private club….