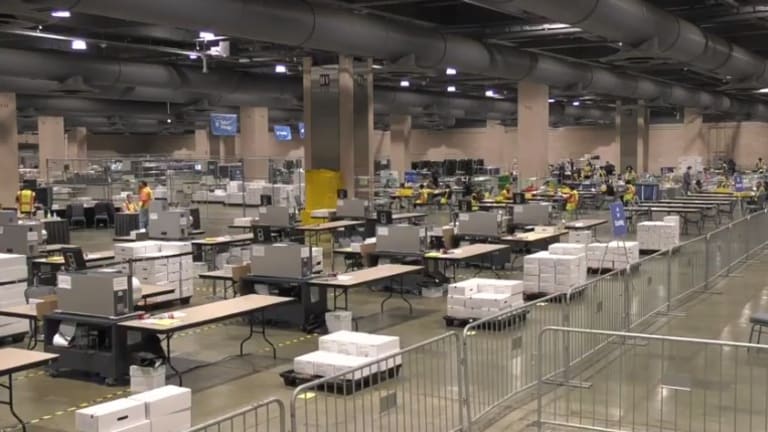 Opening Bell: 11.6.20
Waiting on the call; Coop's comedown; London lockdown; Ken Griffin needs a spot by the Seine; and more!
White House in reach for Biden as he takes leads in Pennsylvania, Georgia [Reuters]
With his re-election chances fading, Trump escalated his baseless attacks on the results, appearing at the White House on Thursday evening to falsely claim the election was being "stolen" from him. His campaign is pursuing a series of lawsuits across battleground states that legal experts described as unlikely to succeed in altering the election outcome….
In Pennsylvania, Biden moved ahead of Trump by 5,587 votes on Friday morning, while in Georgia, he opened up a 1,097-vote lead. Both margins were expected to grow as additional ballots were tallied…. In Arizona, Biden's lead had narrowed on Thursday to about 47,000 votes, and in Nevada he was ahead by about 11,500.
Stock-picking hedge funds extend payday in trading after U.S. Election Day [Reuters]
Philippe Laffont's Coatue Management gained 38% through the end of October, Scott Ferguson's Sachem Head Capital Management, which often presses corporations to perform better, was up 17% through the end of October, Glen Kacher's Light Street Capital scored a 52% gain through October, and David Fiszel's Honeycomb Asset Management was up 45%, people familiar with the numbers said. Representatives for the funds declined to comment.
Robert Romero's Connective Capital, a small technology focused hedge fund, scored a 4% gain on Wednesday, its biggest of the year, leaving the fund up roughly 45% since January.
"We had one of our best days this year today – one of our best days ever, actually," Romero told Reuters.
Leon Cooperman says stock market could be stuck for years — 'too much debt is being created' [CNBC]
He said stocks right now are adequately priced. But, "I went back and I looked. Whenever you bought into the S&P 500 when it sold at 22 times earnings or more, your five-year return that followed was near zero," he added. "So I would not be surprised if the market averages very little…."
"I'm assuming that in the next 12 or 18 months, something will happen to change this Goldilocks environment and it will force the hand of the Fed" to change policy, he said. "It might be the dollar going to new lows and inflation picking up."
Fed Says Virus Poses Considerable Risks, Maintains Low-Rate Pledges [WSJ]
This week, Fed officials continued discussions this week over how to provide more support to the economy should the recent rebound fizzle, Mr. Powell said. They could do this by adjusting their purchases of $120 billion a month in Treasury and mortgage-backed securities if needed…. Officials also discussed whether to provide additional support by adjusting the composition of those purchases to target longer-term Treasury yields, as they did in their 2012-14 asset-buying program.
As Britain Locks Down, Officials Work to Keep the Economy Afloat [NYT]
The chancellor of the Exchequer, Rishi Sunak, scrapped plans to replace the furlough program, in which the government pays 80 percent of the wages for the hours employees cannot work. It was to end on Oct. 31, but it was extended for a month to coincide with the new lockdown. On Thursday, Mr. Sunak said it would be available until the end of March…. The British economy is now expected to contract 2 percent in the fourth quarter compared with the previous quarter, the central bank said. And the economy won't return to its pre-pandemic size until early 2022. Three months ago, the Bank of England foresaw a 4 percent increase for the fourth quarter, and a recovery to pre-pandemic levels at the end of next year.
U.S. seizes over $1 billion in bitcoin tied to 'Silk Road' [Reuters]
The Justice Department said it was seeking the forfeiture of the cryptocurrency, which had been in the possession of an unnamed hacker who stole them from the "notorious" website. It is the largest cryptocurrency seizure ever made by the U.S. government, the department added.
Citadel and Citadel Securities open Paris office in European expansion [The Trade]
The new office, which is subject to regulatory approvals, is due to open in the first half of 2021 and will be the firm's eighteenth location globally across North America, Europe, and Asia-Pacific…. The news follows Citadel and Citadel Securities' announcement in August that they would be opening a new office in Singapore as part of plans to expand into Asia Pacific. Alongside the new Singapore office, both firms said they would continue to expand in Hong Kong, with Citadel Securities also increasing its existing presence in Singapore and Sydney.
Steve Cohen's purchase of the Mets could close Friday: source [N.Y. Daily News]
If not, the sale will be finalized by early next week.
Cohen confirmed the Daily News' reporting through a tweet to a Mets fan on his Twitter account, with a teaser on when he might be in front of a camera speaking as the Mets owner for the first time.
"I'm aiming for next Tues," Cohen said on when to expect an introductory press conference, "if we can close the purchase tomorrow."