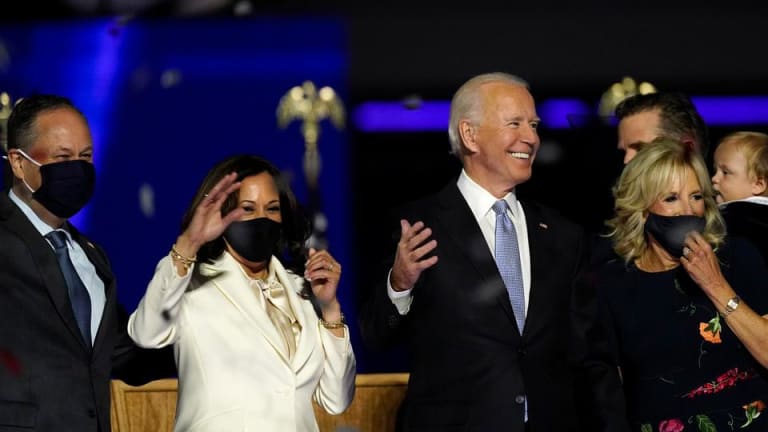 Opening Bell: 11.9.20
Closing time.
Stock Futures Surge on Vaccine Results, Biden Win [WSJ]
Futures tied to the S&P 500 surged 4.2%, suggesting that last week's advance, the strongest since April, will resume after the New York opening bell. Dow Jones Industrial Average futures soared 5.5%, with the Dow poised to open 1,400 points higher. Such an open would push the Dow past its intraday record high from February…. The vaccine jolted markets, at least temporarily, reviving the fortunes of the pandemic losers, such as airlines, travel companies and banks…. "The market-friendly bits of Biden will be in place: the lack of volatility, more clear foreign policy," said Altaf Kassam, head of investment strategy for State Street Global Advisors in Europe. "But at the same time, the bits that the market was worried about—higher taxes and more regulation—will not happen."
Stimulus Fight Reboots After Election Day [WSJ]
Senate Majority Leader Mitch McConnell (R., Ky.) is expected by lawmakers and aides to assume a larger role in negotiations that he had largely ceded to Treasury Secretary Steven Mnuchin…. Mr. McConnell moved swiftly to plant markers this week, urging lawmakers to reach an agreement around a new Covid-19 relief deal before the end of the year. He pointed to data released Friday showing that the jobless rate had declined to 6.9% to highlight the logic behind the Senate Republicans' roughly $650 billion proposal, far smaller than the $2 trillion Mrs. Pelosi and Mr. Mnuchin had been discussing.
Ant Group's Stalled IPO Seen Slashing Its Value by $140 Billion [Bloomberg]
If Ant's $280 billion pre-IPO valuation is halved, it would essentially mean the company is worth less than what it was two years ago when it raised money from some of the world's largest funds including Warburg Pincus LLC, Silver Lake Management LLC and Temasek Holdings Pte.
Bridgewater Loss Stuck at 18.6% in Main Fund After Model Tweaks [Bloomberg]
Ray Dalio's Bridgewater Associates spent weeks earlier this year tweaking its investment models to account for unprecedented government stimulus and the worsening pandemic. That hasn't helped performance….
Bridgewater, which managed $148 billion as of September, also had at least one more client pull money from its hedge funds. The Delaware Public Employees' Retirement System recently liquidated its $180 million investment in the firm's Pure Alpha Major Markets fund…. In the first seven months of the year, clients withdrew a net $3.5 billion from Bridgewater hedge funds.
Warren Buffett's Berkshire Hathaway bought back a record $9 billion in stock in the third quarter [CNBC]
Berkshire said its operating earnings came in at $5.478 billion, down more than 30% from the year-earlier period. But the company's net earnings — which account for Berkshire's big investments in the public market like Apple — skyrocketed more than 82% on a year-over-year basis to $30.137 billion…. Despite a nearly 20% comeback in the third quarter by Berkshire Hathaway's class A shares, the stock is still widely underperforming the S&P 500 this year. The share have lost 8%, compared to a 10% total return for the S&P 500.
Evidence of PPP Fraud Mounts, Officials Say [WSJ]
The watchdog counted tens of thousands of companies that received PPP loans for which they appear to have been ineligible, such as corporations created after the pandemic began, businesses that exceeded workforce size limits (generally 500 employees or fewer) or those listed in a federal "Do Not Pay" database because they already owe money to taxpayers…. Several hundred PPP-related investigations have been opened, involving nearly 500 suspects and hundreds of millions of dollars of loans, according to the Federal Bureau of Investigation.