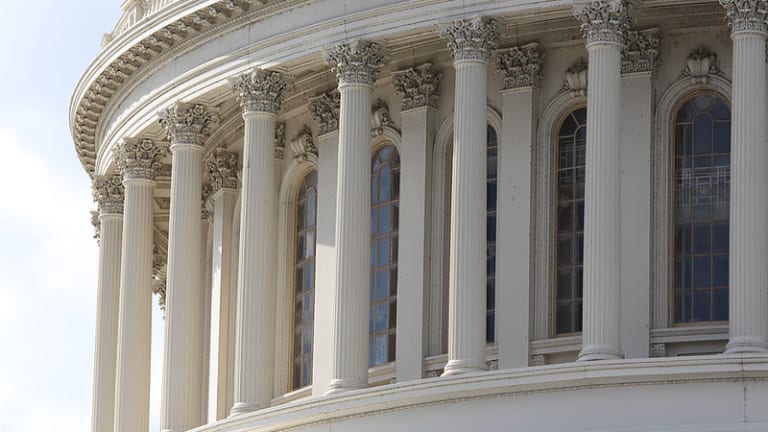 Opening Bell: 12.18.20
G.O.P. going all-out to stop stimulus; bitcoin exchange to sell shares for dollars; Telsa to run over other stocks in S&P 500; and more!
U.S. Republicans seek firm end to Fed's coronavirus loans, complicating aid talks [Reuters]
Both parties were scrambling on Thursday to strike a deal on a new compromise aid package. They have set aside Democratic demands for a new funding stream for state and local governments and Republican demands that companies be shielded from coronavirus-related lawsuits.
But Toomey wants to ensure that the Fed and Treasury are stripped of the authority to restore pandemic lending facilities that Treasury Secretary Steven Mnuchin will allow to expire on Dec. 31, including the Main Street program for mid-size businesses and facilities for municipal bond issuers and corporate credit and asset backed securities.
Near-Disaster in U.S. Treasuries Lights a Fresh Fire for Reform [Bloomberg]
To prevent another flareup, Fed officials -- including Chairman Jerome Powell this week -- have raised the possibility of shoring up the market's foundation with a broad-based central clearinghouse to back up trades and handle surges in activity in times of stress…. Only about a fifth of the market goes through Fixed Income Clearing Corp., the only central clearinghouse in Treasuries. The dwindling role of banks and proliferation of electronic traders has diminished FICC's role….
"Dealers just cannot handle the demands for liquidity anymore. And while these extreme events have happened only once in a while, they will become a more regular occurrence if nothing is changed because the market is growing exponentially."
Coinbase announces IPO in a milestone for the crypto industry [Fortune]
Coinbase's announcement comes at a time when both the IPO market and cryptocurrency prices are red-hot. The price of Bitcoin is currently near a record $23,500, and trading volumes are surging—a boon for firms like Coinbase, which makes the bulk of its revenue from trading commissions….
Coinbase cofounder Fred Ehrsam told Fortune the company is "spiritually" built to go public via an offering involving digital tokens on a blockchain…. It's far from clear, however, whether the Securities and Exchange Commission would sign off on such an arrangement. If the agency refuses to do so, another option would be for Coinbase to pursue a direct listing in which it sells shares directly to the public.
Citadel Securities Trading Chief Sees Tesla Creating Risk In S&P [Bloomberg]
Funds that mimic the benchmark are set to buy more than $70 billion of the carmaker's shares and dump an equal amount of stock in existing members, producing intense selling pressure that could lead to dislocations, warned Greg Sutton, head of portfolio trading at Citadel Securities…. Berkshire Hathaway Inc., Procter & Gamble Co. and Johnson & Johnson are among stocks facing the risks from elevated selling pressure, according to data compiled by Kevin Muir of the MacroTourist blog.
Risky Loans Secure Private-Equity Payouts Despite Downturn [WSJ]
The amount of issued debt tied to such payouts, including both loans and bonds, grew to more than $29 billion this year, up more than 25% from 2019, according to S&P Global Market Intelligence's LCD. Of that, loan volumes have grown well over 40% while bonds have fallen…. Several of the large dividends this year came from technology-focused firms that have generally fared better through the downturn compared with companies in such industries as retail and travel. These include KKR receiving a $560 million dividend in July from debt taken by back-office tech provider Epicor Software Corp. Blackstone similarly took a debt-funded payout from the company that runs the Bumble dating app.
Government Leaders Clash Over Next Step for Trump's Ban on Chinese Stocks [WSJ]
State Department and some Defense Department officials want the executive order to have the widest reach, said people familiar with the matter. They are arguing that excluding subsidiaries or affiliates creates a loophole and ignores the reality of capital markets, some of the people said…. Treasury wants the blacklist to only include the companies specifically flagged by the Pentagon, and not affiliates or subsidiaries, the people familiar with the matter said. That is a view generally embraced by many on Wall Street given the fear that a broad list could spook markets and prompt large amounts of forced selling to scrub portfolios of problematic stocks….
"Throughout the Trump administration, the hard-liners and free traders have fiercely fought every inch of this trade war," said Ed Mills, Washington policy analyst at Raymond James. "Mnuchin is trying to see if he can win the last battle."