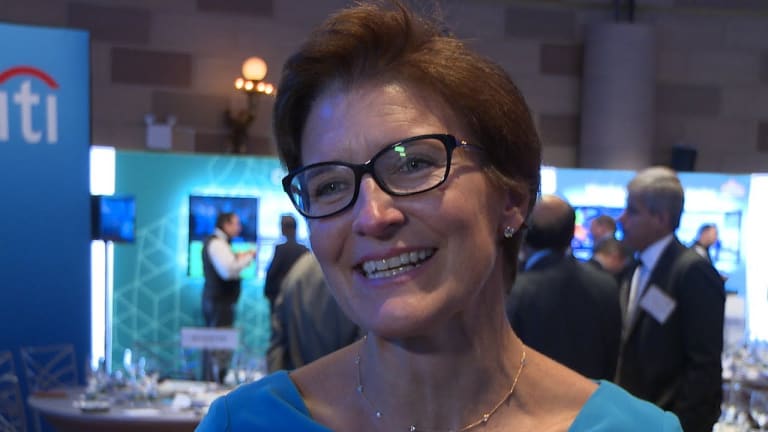 Jane Fraser May Soon Be The Boss, But It's Still Woman's Work
You don't think a bank doing well would hand the reins to someone so conspicuously lacking in a penis if it were doing well, do you?
Jane Fraser is just weeks away from winning the race to become the first woman to head a major Wall Street bank. So, uh, what, exactly has she won?
Ever since the 2008 financial crisis, when Citi required a $45 billion government bailout and had to split itself into separate operating units to survive, the sprawling institution has been limping along in third place among the four biggest U.S. banks, underwhelming its investors and irritating regulators…. The bank had longstanding problems, regulators said — from failing to catch money launderers to ineffective risk management.
In other words, she'll win the same thing that the other female firsts have won.
Researchers had found that corporate boards were more likely to appoint women to positions of power — as leaders or to positions on boards — if their companies were struggling…. For instance, Ginni Rometty was handed what many on Wall Street agreed was a tough turnaround assignment when she became C.E.O. of IBM in 2012. And when Mary T. Barra was put in charge of General Motors, becoming the first woman to lead one of the major U.S. automakers, she was tasked with righting its course four years after it had declared bankruptcy.
Congratulations on getting to clean up the mess your male predecessors left you, Jane. Luckily, you're quite well-versed in that area.
Ms. Fraser… worked to clean up its Mexican subsidiary, which was reeling from a money-laundering scandal when she took over the Latin America region in 2015….

She is keen to apply lessons learned in other countries to challenges facing the U.S…. In Mexico, Citi started a system that allows people to transfer money using QR codes scanned by smartphones; anyone sending or receiving less than $400 can use it for free. Digital payments systems can increase financial inclusion by allowing people without bank accounts to send and receive money.
I mean, you don't get to so momentous a moment in your career without a fair number of operational wins under your best. But surely, however, on the eve of this milestone, Fraser's got a more holistic plan to change, you know, pretty much everything, given the state Citi's in?
Her management style is centered on empathy and is not much different from her predecessor's, she said.
Uh, Jane? Might you want to consider why you're getting this job in the first place?
Jane Fraser Has to Fix Citigroup. It Will Be a Tough Job. [NYT]