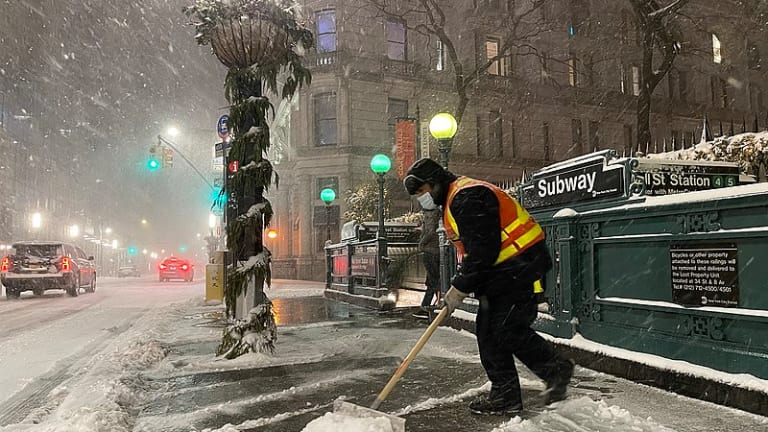 Opening Bell: 2.1.21
Cold day for New Yorkers, Greylock, business interests; Dan Loeb, Nasdaq not so much; and more!
Nor'easter could bury the Big Apple in up to 2 feet of snow [CNN]
The combination of heavy snow, gusty winds and coastal flooding will make travel difficult to impossible in the region and could knock out power over a wide area…. In Central Park, 5.3 inches of snow had fallen by early Monday. That's already more than the city saw during the 2019-20 winter, when 4.8 inches fell…. The storm could drop up to 21 inches by the time it ends Tuesday morning. If that happens, it will be the most snow New York City has seen since the January 22 to 24, 2016, storm that dumped 27.5 inches over a two-day period…. Farther north, Boston should see snow beginning Monday morning and continuing through the day into the overnight before tapering off late Tuesday morning. Total accumulations could be between 12 to 18 inches….
Greylock Files for Bankruptcy After Losses Spur Withdrawals [Bloomberg]
Assets under management at the emerging markets hedge fund -- which more than halved since 2017 to $450 million at the end of 2020 -- will drop by $100 million by the end of March in the absence of new investments, according to the filing…. The firm has no plans to shut down, according to a message from Greylock President Ajata "AJ" Mediratta. The hedge fund opened a small office in Stamford, Connecticut last year to make it easier for the firm's commuters, reducing the need for a large office in midtown Manhattan.
Wells Fargo slashed CEO Charles Scharf's pay by around 12% last year [BI]
Scharf's annual pay dropped from $23 million in 2019, according to the bank…. Wells Fargo reported its fourth-quarter earnings earlier this month of $3 billion or $0.64 per diluted share, on total revenue of about $17.9 billion, beating analysts' estimates on profits.
Loeb's Third Point Made Money in January Amid Hedge Fund Turmoil [Bloomberg]
Loeb's Third Point Offshore Offshore Fund gained 1.9% this month, according to an investor update seen by Bloomberg. His Third Point Partners LP fund gained the same amount, the update showed…. Third Point joins Coatue Management in skirting losses while a slew of investors saw their hedge funds plunge after shares of companies they'd bet against were driven up by frenzied trading, or from the ensuing market havoc. Firms including D1 Capital Partners, Melvin Capital Management, Point72 Asset Management and Viking Global Investors suffered losses this month.
Pause in Corporate PAC Spending Triggers Political Pushback [WSJ]
Democrats have also told companies that pausing donations from their political-action committees could weaken them politically, ultimately jeopardizing business priorities in Congress, some of the people said.
Separately, Republicans who voted with Democrats to uphold President Biden's win have told companies that cutting off their funding could hurt their election prospects and hinder them if they are challenged in a GOP primary by those who supported former President Donald Trump's unfounded claim that he won re-election, some of the people said.
Theo Epstein Joins Private-Equity Firm That Is Buying Stakes in Teams [WSJ]
Epstein, one of the most acclaimed executives in baseball history, has joined Arctos Sports Partners, a private-equity firm dedicated to buying minority shares of professional sports teams, as "executive-in-residence…." Led by private-equity veteran Ian Charles and former Madison Square Garden Co. president David "Doc" O'Connor, it has already invested in Fenway Sports Group, which owns the Boston Red Sox and Liverpool of the English Premier League, and is looking at other teams across North America and Europe….
Arctos has provided Epstein a lane to take his first steps into the ownership side of the sports world. At his farewell news conference with the Cubs in November, Epstein said, "Being part of an ownership group is something that has always appealed to me, but it can seem so unattainable that I haven't been really realistic about it yet."
Nasdaq Tech Chief Credits Cloud With Helping Manage Market Frenzies [WSJ]
Brad Peterson, the exchange operator's executive vice president and chief technology and information officer, said the company used prior peaks in trading activity as benchmarks to ensure it had enough computing capacity in its own data centers to handle sharp swings in demand…. "We engineered our systems for multiples of trading volumes," Mr. Peterson said….
On Thursday, popular online brokerages, including Robinhood Markets Inc. and Interactive Brokers Group Inc., restricted access to trading GameStop Corp. and AMC Entertainment Holdings Inc., among a handful of other companies, after individual investors prompted by social-media posts flooded the platforms to execute trades in the stocks…. So far, Nasdaq hasn't suspended trading in any of the stocks in question.