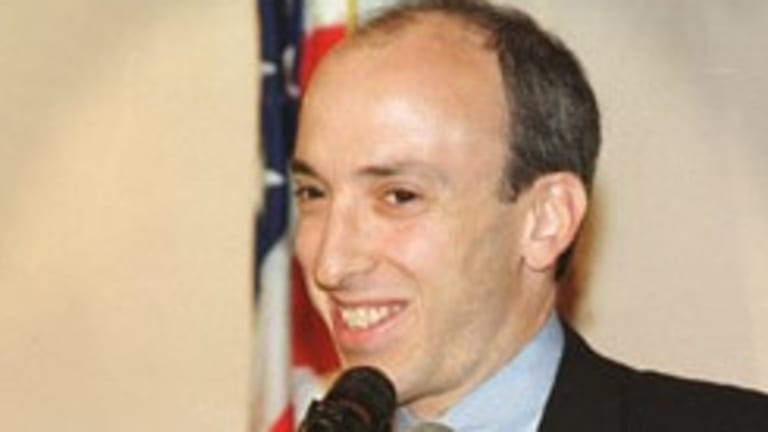 Opening Bell: 2.16.21
Bitcoin boom; what if things get worse?; you know, like they are for Crispin Odey; Gensler gains; and more!
Bitcoin surpasses $50,000 for first time as major companies jump into crypto [CNBC]
The world's largest digital currency by market valuable rose more than 3% to an all-time high of $50,487 at about 7:30 a.m. ET, according to data from Coin Metrics. It later fell below the mark.
Bitcoin has gotten a boost from news of large firms like Tesla, Mastercard and BNY Mellon showing support for crypto.
Federal Reserve to Test Ability of Largest Banks to Weather a Recession [WSJ]
In a "severely adverse" scenario, unemployment rises by 4 percentage points to reach nearly 11% in the third quarter of next year, as gross domestic product falls and asset prices drop sharply, including a 55% decline in equity prices.
Fund Boss Odey's Assault Trial Starts After Humbling Year [Bloomberg]
Prosecutors said at a hearing in September that Odey changed into a dressing gown, only to "launch himself" at the woman and assault her. The impact of the attack was both "immediate and long standing," the woman told police…. The woman, who was in her 20s at the time, worked at an investment bank that had Odey's fund as a client. It was an "abuse of trust" that required a "significant degree of planning," the prosecutor said….
Officials at the Financial Conduct Authority declared in November that three men were not "fit and proper" to work in the financial industry after they were convicted of sexual offenses -- the first time the FCA has taken such action.
Private-Equity Deals for Information Technology Soar as Companies Modernize Infrastructure [WSJ]
Investors spent $65.17 billion last year on 2,138 private-equity deals with U.S.-based information technology companies, down from $72.47 billion over 2,007 deals in 2019 but far outpacing investments in any other sector…. Nearly half of that spending came in the fourth quarter…. The amount spent on IT investments handily beat the next closest sector, healthcare, which drew in $9.26 billion in private-equity capital between October and December, the research group said.
Biden SEC Nominee Gary Gensler Worth as Much as $119 Million [Bloomberg]
Gensler, who was previously chairman of the Commodity Futures Trading Commission and a partner at Goldman Sachs Group Inc., disclosed the figures in a form filed with the Office of Government Ethics, as part of the confirmation process….
His biggest holding, of between $25 million and $50 million, was in the Vanguard Total Stock Market ETF.
Gensler also said he had $50,001 to $100,000 in capital gains from his holding of Tesla Inc. shares, the only individual stock that's listed. That asset is now fully divested, according to the filing.
'Super Mario' saved the euro. Fixing Italy's economy may be a bigger challenge [CNN]
With support from a broad political coalition and permission to spend an estimated €200 billion ($242 billion) in grants and loans procured by the European Commission, Draghi enters the role in a position of strength…. Draghi takes the reins of an economy that was still struggling to recover from the 2008 global financial crisis when the pandemic hit. In 2019, economic output grew by just 0.3% over the previous year, compared to 1.6% for the European Union as a whole./"Italy's most important, fundamental problem is they haven't grown enough for so many years," said Erik Nielsen, chief economist at the Italian bank UniCredit.
2 Americans Tied to Carlos Ghosn's Escape to Be Extradited to Japan [NYT]
Justice Stephen Breyer of the U.S. Supreme Court denied a request by lawyers for the two men — Michael Taylor, 60, a former Green Beret, and his son Peter Maxwell Taylor, 27 — to suspend a lower court order that cleared the way for them to be sent to Japan to face trial…. The men have not denied involvement in Mr. Ghosn's flight.