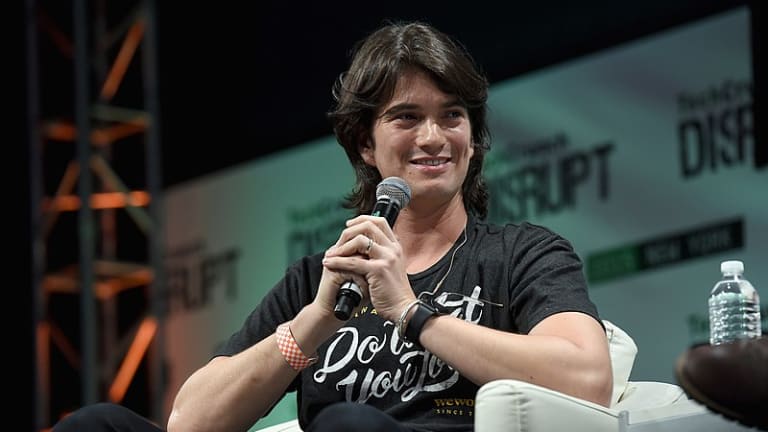 Opening Bell: 2.25.21
The everything rally powers on; business backs Biden; bad day for McKinsey chief; good one for Adam Neumann; and more!
GameStop shares surge 50% as Reddit favorites rally again [CNBC]
The stock was up nearly 50% when it was halted shortly after the opening bell. Investors piled into the bricks-and-mortar video game retailer on Wednesday following the reported ousting of Chief Financial Officer Jim Bell, sending the stock soaring 103.9% before trading was halted…. Another stock caught up in the retail frenzy, AMC Entertainment, was up 14% in early trade on Thursday, having climbed 18% during the previous session. The cinema chain has been bolstered by New York Governor Andrew Cuomo announcing that movie theaters in the city could open with limited capacity next month.
Meanwhile, headphone manufacturer and fellow Reddit favorite Koss Corp jumped 80% in the early hours of Thursday.
Dow Hits Record, Closes In on 32000 [WSJ]
The blue-chip index rose 424.51 points, or 1.3%, to 31961.86, its 10th closing high this year. Earlier in the session, the index crossed 32000 for the first time…. For the second straight day, major stock indexes opened in the red before reversing course, as investors have been reassured by Mr. Powell's testimony. The S&P 500 snapped a five-session losing streak Tuesday.
Airbnb's IPO Costs Expected to Widen Loss in Pandemic Year [WSJ]
Analysts polled by FactSet forecast a loss of $2.73 billion in the three months through December compared with a loss of $351 million a year earlier, as stock compensation tied to the company's initial public offering is expected to weigh on its bottom line. The latest loss is expected to bring the company's full-year deficit to $3.84 billion, more than its losses in the previous four years combined.
More than 150 CEOs urge Congress to pass Biden's Covid relief package [CNBC]
Notable signatories include Goldman Sachs' David Solomon, BlackRock's Larry Fink, Deutsche Bank Americas' Christiana Riley, and Blackstone's Steve Schwarzman — who previously backed former GOP President Donald Trump…. The Business Roundtable, a group consisting of CEOs of the largest companies in America, also wrote a letter Tuesday supporting quick passage of a Covid relief bill.
Head of McKinsey Is Voted Out as Firm Faces Reckoning on Opioid Crisis [NYT]
The last time a firm leader was denied a second term was in 1976…. Mr. Sneader, 54, did not even make it to the final round of balloting….
Bank Stocks Are Enjoying the Rate Party, Maybe a Little Too Much [WSJ]
As the 10-year Treasury yield has jumped so far this year from around 0.9% to about 1.4%, U.S. big-bank stocks have risen over 20%.... While banks' actions in past cycles have sometimes been accelerants to rising rates, now they may be something of a curb…. Banks are already swimming in deposits. So not only is there less pressure to sell mortgage bonds, they may even be likelier to be buyers.
WeWork's Adam Neumann to Get Extra $50 Million Payout in SoftBank Settlement [WSJ]
Part of the deal not previously reported sets Mr. Neumann apart from other shareholders. It calls for SoftBank to give the 41-year-old the $50 million special payout and extend by five years a $430 million loan it made to him in late 2019, the people said. SoftBank is also slated to pay $50 million for Mr. Neumann's legal fees.