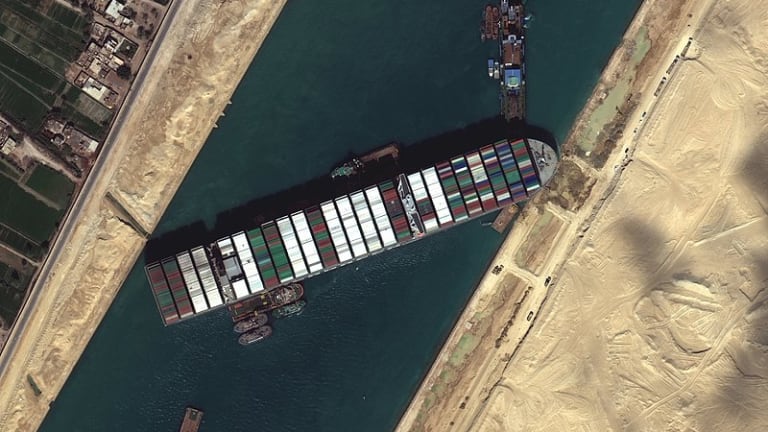 Opening Bell: 3.29.21
Suez ship slips free; Deliveroo just slips; Jay Clayton keeps busy; Leon Black less so; and more!
Giant container ship that blocked Suez Canal set free [AP]
Helped by the peak of high tide, a flotilla of tugboats managed to wrench the bulbous bow of the skyscraper-sized Ever Given from the canal's sandy bank, where it had been firmly lodged since last Tuesday….
It remained unclear when traffic through the canal would return to normal. At least 367 vessels, carrying everything from crude oil to cattle, have piled up on either end of the canal, waiting to pass.
Data firm Refinitiv estimated it could take more than 10 days to clear the backlog of ships.
Amazon-backed Deliveroo cuts IPO target range after investor backlash [CNBC]
The Amazon-backed company announced Monday that it will now sell shares for £3.90 ($5.40) to £4.10 each instead of £3.90 to £4.60 each…. Deliveroo said it's reacting to market conditions, which have taken a turn for the worse in the last week. Half of the tech IPOs in the U.S., and in Europe, the Middle East, and Africa, priced in the bottom third of their announced ranges last week….
Several large investors said they plan to shun the Deliveroo IPO on April 7 over workers' rights and the company's share ownership structure, which gives CEO Will Shu over 50% of the voting rights.
Cathie Wood's ARK Invest launches a space exploration ETF, to begin trading Tuesday [CNBC]
ARKX, the firm's eighth ETF, comes as an increasing number of private space companies prepare to go public later this year…. Wood has garnered a large following after Ark Innovation returned nearly 150% last year. However, her flagship fund, Ark Innovation, is down nearly 9% this year. Amid the recent rotation out of technology names and into value stocks from the pressure of rising interest rates, Wood has stayed the course.
Visa moves to allow payment settlements using cryptocurrency [Reuters]
The company told Reuters it had launched the pilot program with payment and crypto platform Crypto.com and plans to offer the option to more partners later this year…. The USD Coin is a stablecoin cryptocurrency whose value is pegged directly to the U.S. dollar….
If a customer chooses to use a Crypto.com Visa card to pay for a coffee, the digital currency held in a cryptocurrency wallet needs to be converted into traditional money.
The cryptocurrency wallet will deposit traditional fiat currency in a bank account, to be wired to Visa at the end of the day to settle any transactions, adding cost and complexity for businesses.
Ex-SEC Chairman Clayton to Advise Brevan-Backed Firm on Crypto [Bloomberg]
[Jay] Clayton will be one of three advisers to One River founder and Chief Executive Officer Eric Peters. The other two are Kevin Hassett, who served as chairman of the Council of Economic Advisers under President Donald Trump, and Jonathan Orszag, an economic consultant who previously worked in the Clinton administration….
"The digitization of our financial ecosystem isn't just is coming, it's already here," Clayton said in an interview. "Three years ago, I didn't believe we would be where we are today -- the number of respected investors who have embraced digital assets. I would not have predicted this level of take-up."
Leon Black to Step Down as MoMA Chairman [NYT]
The news that Mr. Black did not plan to run for re-election as the museum's chairman in June was the latest fallout from the revelation earlier this year that he had paid $158 million to Mr. Epstein for tax and estate advisory services — payments that began several years after Mr. Epstein had pleaded guilty in 2008 to soliciting prostitution from a teenage girl…. Mr. Black decided to tell the executive committee that as a longtime supporter of MoMA, he did not want to become a distraction to the institution by seeking another term, said two people briefed on his decision. He is expected to remain on the board after stepping down as chairman.