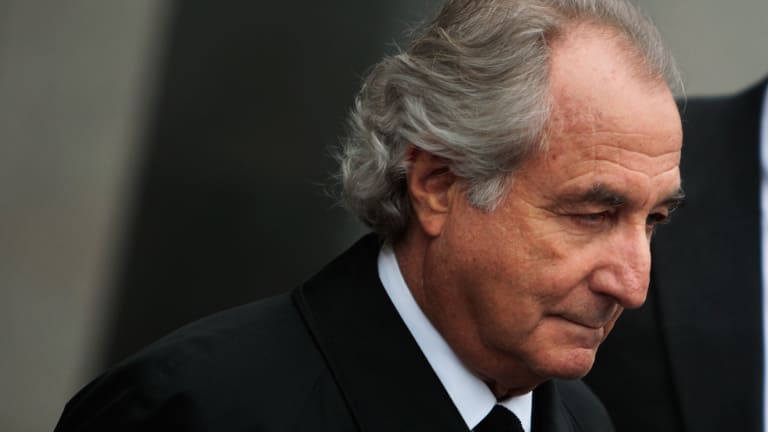 Goodnight, Sweet Ponzi Prince
Bernie Madoff goes to his reward.
For perhaps the first time in his life, Bernie Madoff was telling the truth: He really was dying.
Bernard Madoff, the infamous architect of an epic securities swindle that burned thousands of investors, outfoxed regulators and earned him a 150-year prison term, died in a federal prison early Wednesday. He was 82…. Last year, Madoff's lawyers filed court papers to try to get him released from prison in the coronavirus pandemic, saying he had suffered from end-stage renal disease and other chronic medical conditions. The request was denied….

His death was due to natural causes, a person familiar with the matter told The Associated Press.
Others have vied for his crown as king of the Ponzi schemers, but none has ever come close to challenging the undisputed master of the form, in sentence, style or scale, nor in his masterful nonchalance and panache. If there is ever a Cal Ripken to his Lou Gehrig, we shall be waiting at least as long. Perhaps it will take until the end of the sentence he'll never finish in 2159, after Bidenian hyperinflation has rendered $65 billion the equivalent of a few hundred thousand, if ever. Certainly, his kind will not be seen before the Mets he so loved and defrauded are again champions of baseball, a title for which he will justly have a posthumous claim, having helped make it possible by ridding Flushing of the scourge of the Wilpons.
But for now, he leaves no successor, save perhaps in the yard at Federal Correctional Institution Butner Medium, where the great man was accorded the respect he deserved and the Madoff gang ruled.
For who could retain such confidence, such brazenness, such boldness, even in disgrace? Who could play the SEC in such a humiliating way? What other man with his figure could pull off a belly button ring? Could live in a house like this?
No one, that's who. Rest in Ponzi, Bernie.
Ponzi schemer Bernie Madoff dies in prison at 82 [AP]
For more of the latest in litigation, regulation, deals and financial services trends, sign up for Finance Docket, a partnership between Breaking Media publications Above the Law and Dealbreaker.