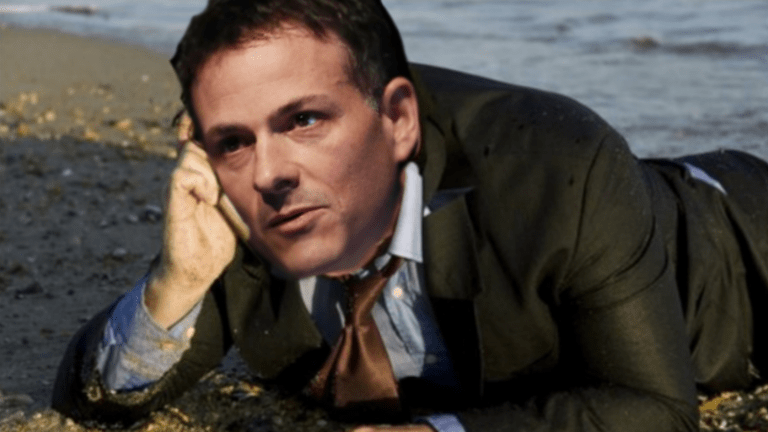 David Einhorn Makes It Through Quarterly Letter About 'Breaking Markets' Without Mentioning SPACs
Maybe because the SPAC cops are the only regulators left on a beat.
The stock market is setting new records a couple of times a week and people are throwing money at literally anything, and still David Einhorn managed to lose money in the first quarter, without—as far as we know—even shorting a meme stock. Understandably, then, he's a bit cranky, and has some choice words about the whole situation and the old adversary reveling in it.
"For the most part, there is no cop on the beat," Einhorn wrote. "It's as if there are no financial fraud prosecutors; companies and managements that are emboldened enough to engage in malfeasance have little to fear…."

"From a traditional perspective, the market is fractured and possibly in the process of breaking completely," he wrote in the letter. "Many who would never support defunding the police have supported — and for all intents and purposes have succeeded — in almost completely defanging, if not defunding, the regulators. For the most part, quasi-anarchy appears to rule in markets."

As an example of how regulators are allowing small investors to be harmed, Einhorn highlighted Hometown International, a microstock that he said owned a single shop in rural New Jersey, but was valued at $113m as of February 8 — despite sales of only $13,976 last year. "The pastrami must be amazing," he joked….

In his quarterly letter, Einhorn once again hit out at Tesla's founder Musk, this time for pouring "jet fuel" on the flames of the GameStop saga. He argued that comments at critical juncture from Musk and Palihapitiya — the latter an investor in a rival of the Robinhood brokerage at the centre of the saga — "further destabilised the situation".

Nonetheless, Einhorn doubted that any regulators would take action over the affair. "If regulators wanted Elon Musk to stop manipulating stocks, they should have done so with more than a light slap on the wrist when they accused him of manipulating Tesla's shares in 2018," he said. "The laws don't apply to him and he can do whatever he wants."
Speaking of markets broken or in the process thereof, Einhorn doesn't mention SPACs in his screed, but the blank-check frenzy—and its growing reliance on family offices like, you know, Archegos Capital Management—isn't likely to change his mind.
Family offices and firms linked to them have launched — or sponsored — at least a dozen SPACs that have raised about $4.5 billion in the past year with a further $1 billion in pending offerings…. Former hedge-fund manager Dan Och has been particularly active through his Willoughby Capital…. Barry Sternlicht's family office is affiliated with the creation of six SPACs. Meanwhile, a blank-check firm set up by a co-founder of Michael Dell's family office raised almost $600 million in its IPO last month, while Tom Barrack's Falcon Peak is sponsoring Falcon Acquisition, a blank-check company that's filed for a $250 million public offering….

The family office of payments-processing entrepreneur Ed Freedman, for example, is linked to the sponsor of Stable Road Acquisition Corp., which agreed in October to merge with space-transportation company Momentus…. If they fully vest, a group of shares the sponsor acquired for about $5 million will be worth more than nine times that amount — an 800% gain — even if the company's stock price remains at $10….
On the other hand, he might be heartened to see that whatever cops are on the beat, they seem to be having a least some effect.
Critical comments from regulators appear to be scaring off some investors and new offerings. Until last month, roughly five new SPACs hit the stock market every business day in 2021. In the past 14 days, 12 new SPACs have started trading, SPAC Research data show…. "The SEC effectively has now come in and stopped the party," said Matt Simpson, managing partner at Wealthspring Capital and a SPAC investor.
And indeed Einhorn does seem pretty upbeat for a guy who lost 0.1% while the broader markets rose enjoyed their fourth-straight positive quarter, convinced that, once again, a rising tide will eventually lift even his boat.
Einhorn believes that "inflation is only going one way—higher—and we are optimistic about our prospects," he wrote in a letter to clients…. The hedge-fund manager said that it believes that its strategies will ultimately pay off, however. Claiming that finally, "the wind is now at our backs."
'No cop on the beat': Greenlight's Einhorn blasts weak regulators [FT]
Einhorn's Greenlight has classic response to 2021 first quarter loss as the stock market is at records: 'The wind is now at our backs' [MarketWatch]
Family Offices Targeting 800% Returns With SPAC Economics [Bloomberg]
SPAC Hot Streak Put on Ice by Regulatory Warnings [WSJ]
For more of the latest in litigation, regulation, deals and financial services trends, sign up for Finance Docket, a partnership between Breaking Media publications Above the Law and Dealbreaker.