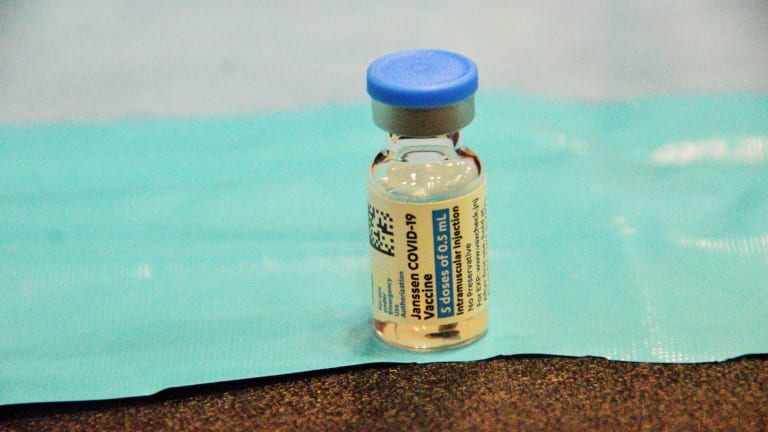 Opening Bell: 4.13.21
The opposite of a shot in the arm; of COIN and 'coins; GME needs CEO; and more!
Markets Fret Over Halt to Johnson & Johnson's Vaccine [NYT]
Six women between age 18 to 48 developed a rare disorder involving blood clots…. J&J's share price fell nearly 3 percent in premarket trading and U.S. market futures turned negative on the news.
How the Coveted 'COIN' Ticker Found Its Way to Coinbase [CoinDesk]
Back in 2015, Coinsilium became one of the first crypto-focused companies to go public, and the stock now trades on London-based Aquis Exchange (formerly NEX) – using the ticker symbol COIN…. "What we would have expected to happen would have been for checks to be made from their end," Palle said in an interview. "So either they did their checks and they didn't find us, which I find unbelievable, or they didn't do their checks and just thought, 'It's available on Nasdaq, so we'll take it.' Or they did their checks, found us and decided it doesn't matter, for whatever reason."
Bitcoin hits new all-time high above $63,000 ahead of Coinbase debut [CNBC]
Ether, the second-most valuable digital coin after bitcoin, also set a fresh record, climbing to $2,230.
Coinbase is set to go public on Wednesday through a direct listing that could value the company at as much as $100 billion — more than major trading venue operators like Intercontinental Exchange, owner of the New York Stock Exchange….
Bitcoin has more than doubled in price since the start of this year, as mainstream investors jumped into cryptocurrencies.
How Payment Processor Stripe Became Silicon Valley's Hottest Startup [WSJ]
Stripe's revenue last year rose nearly 70%, to about $7.4 billion, according to people with knowledge of the company's finances…. Dhivya Suryadevara, Stripe's finance chief, joined last year after holding the same position at General Motors Co. She expects Stripe's growth to continue. "I was quite blown away by just how much opportunity still exists," she said.
GameStop initiates search for new CEO – sources [Reuters]
GameStop's board is working with an executive headhunter on the CEO search…. Several GameStop board directors are involved in the search and have spoken with potential candidates from the gaming industry, as well as the e-commerce and technology sectors, the sources said…. Former Chief Financial Officer Jim Bell and Chief Customer Officer Frank Hamlin are among the senior executives who have left the company in recent weeks.
Wall Street Is Donating to This D.A. Candidate. Is That a Problem? [NYT]
As of January, [Talia Farhadian Weinstein] had raised $2.2 million, far more than her competitors, hundreds of thousands of it from Wall Street, where her husband is a major hedge fund manager…. "Whatever happened to the sheriff of Wall Street?" [George Arzt] added.