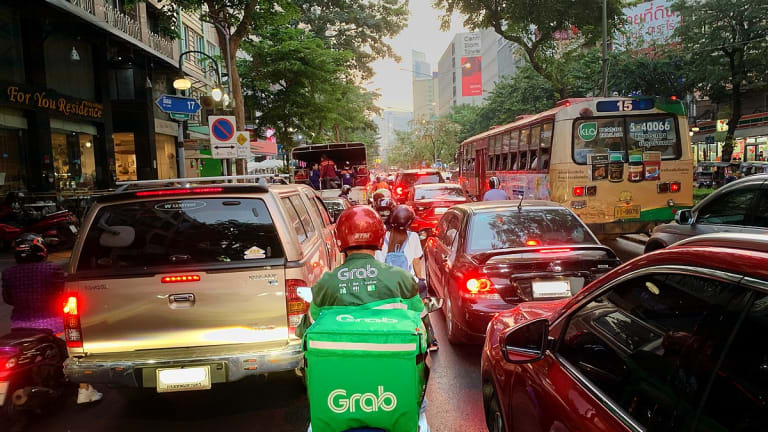 Opening Bell: 5.14.21
It's never good to attract the attention of something called the "Serious Fraud Office;" SPAC gags on Grab; banks are literally giving money away; and more!
SFO launches inquiry into Gupta firms, including Greensill finance links [Guardian]
"The SFO is investigating suspected fraud, fraudulent trading and money laundering in relation to the financing and conduct of the business of companies within the Gupta Family Group Alliance (GFG), including its financing arrangements with Greensill Capital UK Ltd. As this is a live investigation, the SFO can provide no further comment."
Grab's SPAC Vehicle Altimeter Near Record Low After 28% Dive [Bloomberg]
"SPACs have seen a bit of selloff so it reflects the general sentiment," said Angus Mackintosh, founder of CrossASEAN Research. The share price at current levels won't make a big difference from Grab's listing perspective, he added. "It just means profits your SPAC owners would realize are diluted to some extent. They have effectively locked in cornerstone investors at a $40 billion valuation. Whether Grab can sustain that lofty valuation after listing, given the competitive landscape, is a bigger question."
Hedge funds look to tap into surge in corporate dealmaking [FT]
Merger arbitrage funds gained 7.7 per cent in the first four months of 2021, according to research firm HFR, having finished last year up 5.2 per cent…. "We feel we're at the beginning of a really fertile period for merger [arbitrage]," said Donald Pepper, co-head of Trium and a former Goldman Sachs banker. "Animal spirits are coming back to corporate boardrooms, deal sizes are increasing and there's not as much money chasing merger arbitrage."
Audit Watchdog Proposes Framework to Help Implement New Trading Ban [WSJ]
The framework, which was presented on Thursday, would make it easier for the PCAOB to determine which audit firms outside the U.S. it cannot inspect. The Securities and Exchange Commission, which oversees the PCAOB, could then require additional disclosures from the companies audited by those firms and take other actions, for example issue a trading ban…. The SEC wants to use the PCAOB's data alongside other information to compile a list of businesses that are required to provide additional disclosure, for example, to demonstrate that they are not owned or controlled by a foreign government entity.
Need a Credit Card or Auto Loan? Banks Are Making Them Easier to Get [WSJ]
The net share of banks that loosened underwriting standards for credit cards hit a high in roughly the first quarter, according to a survey of loan officers conducted by the Federal Reserve. The net share of banks relaxing underwriting on other consumer loans such as installment loans also notched a record…. Loan demand is down. Many people are even paying off their credit-card balances. And while that signals that Americans are faring well even in the pandemic, it is problemat
Boston Globe Again Defeats Hedge Fund Founder's Defamation Suit [Bloomberg Law]
A story about sexual harassment claims against [Sam] Isaly by employees at OrbiMed Advisors LLC was published on the online news site STAT in 2017. Isaly is quadriplegic and he said that the story failed to adequately investigate whether his physical condition prevented him from engaging in the actions he was accused of doing.
The U.S. District Court for the Southern District of New York dismissed Isaly's suit.