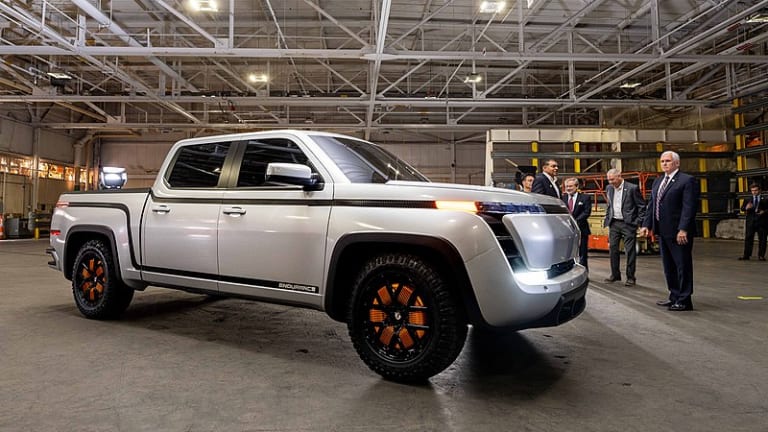 Lordstown Executives Showing Great Confidence In They're Not-At-All-About-To-Drive-Into-A-Ditch Company
What about selling 99.3% of one's shares in a company would make you think otherwise?
Electric-vehicle startup Lordstown Motors is, to put it mildly, in a bit of a trouble. Actually, it's in quite a lot of trouble, so much so that it's no longer clear which Tesla wannabe is presently in the most trouble. There's the Securities and Exchange Commission probe and fraud lawsuit and the fact that its president is making misleading statements in the same week that its CEO resigned for making misleading statements and that it's not, you know, making trucks, or really in any danger of making any trucks anytime soon. Healthy companies, after all, rarely throw open houses to show off a handful of half-built prototypes. Of course, top executives of healthy companies also rarely sell off much or just about all of their stock therein immediately in advance of an unhappy earnings report and an even unhappier short-seller's report. But, again, Lordstown is in a spot of trouble.
Five top executives, including the company's president and its former chief financial officer, sold more than $8 million in stock over three days in early February, according to the filings.

Lordstown Motors, which went public in October and plans to build electric trucks at a former General Motors Co. plant in Ohio, reported year-end results for the first time as a listed company in mid-March. Its net loss of 23 cents a share for the quarter was more than double analysts' expectations, according to FactSet.

One of its executives, Chuan "John" Vo, who oversees Lordstown Motors' propulsion division, sold almost all of his vested equity—99.3%—on Feb. 2, leaving him with 717 shares and proceeds of more than $2.5 million, the filings show….

On June 14, the company said a special committee formed by Lordstown Motors' board had looked into the executives' stock sales and concluded they "were made for reasons unrelated to the performance of the company."
Of course not. After all, why would Vo or any of his colleagues assume bad news would matter at all?
In the past month, it said it missed its targets on costs and production, acknowledged it overstated preorders, told investors it didn't have enough money to start full production and parted with its CEO and CFO.

Yet the company's investors are rather unfazed: Lordstown's share price is roughly the same as in mid-May….

"Normal fundamental and economic analysis would lead you to a pretty dire outcome" for some of the companies, said Jon Lopez, an analyst who covers the new-electric vehicle companies for Vertical Group. But the financial world is awash with money and starved for investments that grow quickly….
Lordstown Motors Executives Sold Stock Ahead of Reporting Results and Before Troubles Came to Light [WSJ]
EV Startups Are in Trouble. Investors Don't Care. [WSJ]
Lordstown Motors Opens Up Its Electric Truck Factory to Show Progress [NYT]
For more of the latest in litigation, regulation, deals and financial services trends, sign up for Finance Docket, a partnership between Breaking Media publications Above the Law and Dealbreaker.