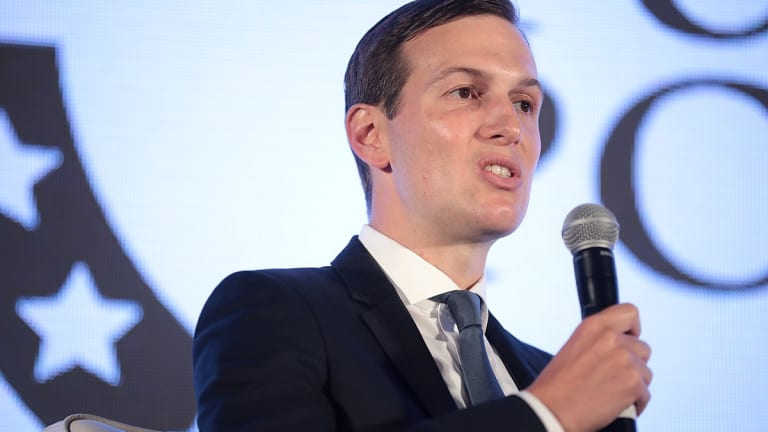 Kushner Kapital Korp. Nearly Ready To Accept The Thanks, Money Of Grateful Sheikhs Everywhere
Don't call it a comedown.
I think we can all agree that one of the great tragedies of the Trump administration, indeed probably the cruelest and most devastating, was the removal of one Jared Kushner from the ranks of American titans of industry for four long years. It is a blow from which the economy is only just beginning to recover.
Well, we have good news: While Kushner's father-in-law looks likely to win a third straight presidential election, at least by his own proprietary vote-counting methodology, in 2024, he'll have to do so without his most trusted adviser, who instead looks to spend the foreseeable future doing something much more important than helping guide the ship of state: running a hedge fund.
Kushner, the former chief executive of Kushner Companies, who served as the Republican president's senior adviser in the White House, is in the final stages of launching an investment firm called Affinity Partners that will be headquartered in Miami.

Kushner, who is married to Trump's daughter, Ivanka Trump, is also looking to open an office in Israel to pursue regional investments to connect Israel's economy and India, North Africa and the Gulf, said two people briefed on the plan, who spoke on condition of anonymity.
Of course! After all, is he not the man who finally brought a durable and lasting peace to that benighted region after centuries of bloodshed and strife, as evidenced by the Nobel Peace Prize hanging prominently in the reception area of Affinity's swish new offices?
The sources had no details about potential investors and said the firm was still in the planning phase.
Sure, no details, but is it not obvious? Again, the grateful people of the Middle East, who now bask in stability and tranquility and heretofore untold prosperity.
During his time as a senior adviser during the Trump administration, Mr. Kushner forged relationships with senior government figures in the Middle East, including the Saudi Arabia crown prince, Mohammed bin Salman.
So if you really want to profit from the Trump administration's many, many achievements, get your redemption requests into Mick Mulvaney's Exegesis Capital ASAP and get in line at the all-too-on-the-nose-named Affinity.
Jared Kushner to leave politics, launch investment firm – sources [Reuters]
Jared Kushner Is Launching an Investment Firm in Miami [WSJ]